Tips to Clean and Do House Chores With Less Low Back Pain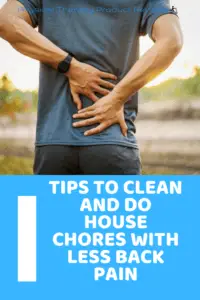 Trying to do everyday tasks like driving and cleaning become almost impossible when your lower back hurts. Unfortunately, life doesn't stop when you're injured, and household chores still need to be done. Don't despair though, because you can still tackle cleaning without making your back pain worse. Here are the best tips to help you do house hold chores with less low back pain.
Sweep With Less Back Pain
Brooms tend to be tall and can be used with little discomfort when suffering from lower back dysfunction. Sweeping can be painful because of the repitive twisting in a bent over position. Try to stand as tall as you can, push instead of pull towards, and twist less if that is the aggravating movement. When sweeping while in pain, you have to twist and bend down with a dustpan to remove everything you swept up. Luckily, dustpans come in a stand-up version that requires zero bending, twisting, or stooping.  With a stand up dust pan, you can remain standing while removing the mess you just cleaned up.
Vacuum With Less Back Pain
The important thing to remember about vacuuming with back discomfort is not to strain yourself by twisting or turning too much. To save your back make sure that you use a light weight vacuum that takes minimal effort to push and only vacuum one section of the carpet at a time. Do not push the vacuum too far out in front of you and make sure to push with your legs and not your back. Try to vacuum in straight lines and go methodical in your cleaning versus twisting and turning as much. Thinking of vacuuming can cause an increase in fear, and that alone, simply thinking of vacuuming has beens shown to increase pain levels in people with chronic low back pain. Try to get some confidence, go in straight lines, and try a lightweight vacuum like the Bissell Cleanview Vacuum.
Clean the Dishes With Back Pain
Something as simple as standing can be excruciating when you have lower back pain. One way to alleviate pain while standing is to use an anti-fatigue mat, which offers both support and softness when standing for long periods of time. The mat takes the pressure off of your legs and back while you are washing dishes and gives your feet more comfort compared to the bare floor. The less pressure on the structures of the back and the less pain you might have. You may also try opening one of the under sink cabinets and put one foot on the frame. This staggered stance helps alleviate pain and can help you stand longer.
Do the Laundry With Less Back Ache
Don't let an overflowing laundry basket discourage you when your back is aching. Carry your laundry to the washer in small loads keeping the clothes close to your body to avoid unnecessary strain on your back muscles. Only do one load at a time and make a laundry schedule that will give your back a rest in between loads. You may even need to use a step stool reach into the deeper drum washers to avoid end range bending. Finally, try and find a laundry basket with wheels. That way you don't have lift and carry your laundry but can push it to the washer with less pain.
Make the Bed with Less Back Pain
Making a bed requires a lot of bending and stretching, but there are things you can do to minimize your lower back pain. Make sure to have a partner stand across from you when making the bed to help with corners and straightening the sheets and blankets. Avoid putting decorative pillows and extra blankets that need to be folded on your bed, as these result in extra bending and twisting when you are in pain. Fpr activities such as these it's important to have a strong back and core to make these tasks easier. Start at the foot of the bed and then push the sheets towards the head of the bed, instead of standing and pulling the sheets. Finally, if nothing else works, try using a TENS unit for the duration of making the bed to reduce the severity of pain.
Disclaimer: The information provided in this post is for educational purposes only. This is not a substitute for a medical appointment. Please refer to your physician before starting any exercise program.