The Best Gift Ideas after a Total Hip Replacement to Speed Up Recovery
Total hip replacement surgery,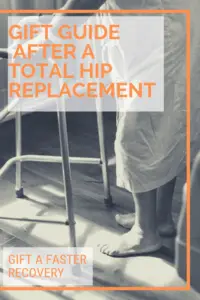 as you can imagine, is a major procedure. It involves several weeks of healing time as well as physical therapy, and sometimes even a short stay at a rehabilitation center. If you have a family member or friend undergoing hip replacement, you may be wondering what you can get them to help them out and show you care, aside from the traditional greeting card or a homemade meal. This list will help you choose a gift that is both thoughtful and will help your family or friend recover from their surgery faster.
A Circulating Ice Machine for the Hip Pain
The Vive Cold Therapy Machine offers relief from swelling and inflammation post-surgery, after physical therapy sessions, and exercise. Through the extra-long, insulated tube and into the flexible, contoured therapy pad, this machine delivers a continuous flow of ice-cold water for intervals of 30 minutes or less for a customized experience. This is the perfect gift if your friend or family member is having extra pain, especially from exercise, after his or her surgery.
Soothe Post Surgical Muscle Pain with a Self Massager
If you're looking for an inexpensive, but useful gift, the RENPHO Deep Tissue Massager may be just the thing. With strong, vibrating pulses, this massager can help relieve pain quickly whenever it is needed and without any set up. This product offers other convenient features, such as being cordless and rechargeable as well as a safety feature which turns the massager off automatically after 20 minutes of use.
Get Items from the Floor with a Reacher
This 2-pack of 32" folding, reacher tools is the perfect inexpensive gift if you still want something to help your friend out, but don't have a lot of money to spend. You are probably already familiar with these items as they are usually targeted towards the elderly on tv commercials. By simply extending the arm and squeezing the handle, your friend will no longer have to worry about getting up to retrieve small, fallen items, such as a tv remote or book. Plus, since this comes with two, the recipient can keep one in multiple rooms.
Get Them an Accessory Bag for the Temporary Walker
If/when your family member is utilizing a walker during their recovery, be sure to look into the Vive Walker Bag. This surprisingly versatile bag fits both wide and narrow style walkers and comes in several different patterns to choose from. With large inner pockets and several outer pockets, your family member will be able to tote almost any essential around the house with ease, such as medical supplies, valuables, and clothes. This gift is great because your family member won't have to worry about forgetting necessary items while using the restroom, leaving the house, etc.
A Mobile Ice Pack for Traveling and Car Rides
The Koo Care Large Flexible Gel Ice Pack is the perfect gift for a hip replacement recipient, whether they are healing at home or on the go. With the accommodating elastic straps and large ice pack (which can be frozen or heated in the microwave), the soft gel pack is great for using at home after therapy or exercising, general pain from the procedure, or as a preemptive measure before exercise or PT.
Take the Edge Off with a Pain Relieving Cream
No hip replacement care package would be complete without some pain relieving cream. Penetrex Pain Relief Therapy is formulated to help with inflammation, thus treating the problem and not just the symptoms, and works quickly to deliver long-lasting relief. With its convenient size (4 oz), this pain relief cream can be used at home when needed or easily stored inside of a purse, bag, or even a glove compartment while on the go.
Disclaimer: The information provided in this post is for educational purposes only. This is not a substitute for a medical appointment. Please refer to your physician before starting any exercise program.