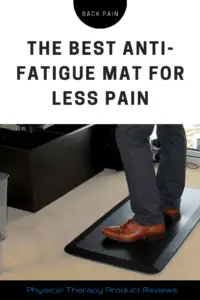 Back pain, that all-too-common foe that sneaks up on you at the most inconvenient times. Experts estimate that 80% of people will experience back pain at some point in their lives. If you are reading this article, you are probably part of that statistic at this very moment.
There is good news though. More often than not, back pain isn't caused by any serious health conditions, and simple lifestyle changes can reap positive long-lasting results. This holds true even if you are amongst those who have been diagnosed with a chronic condition such as arthritis or a slipped disc.
The body is incredibly well-connected, and what affects one part can have drastic effects on other areas. This is particularly true for lower back pain.
Bad posture, standing for long periods of time, and incorrect footwear can all wreak havoc on your body. For those who stand for long periods of time at their job or in the home setting, the subsequent pain can linger even after one has left the standing position! Luckily something as easy as an anti-fatigue mat can help.
What are Anti-Fatigue Mats?
Enter your new best friend: an anti-fatigue mat. These products have proven to be highly effective tools for preventing lower-back pain, and are particularly useful for those who have to stay on their feet for long periods of time.
In one University of Michigan study, participants who performed four hours of standing work reported a reduced level of discomfort when utilizing an anti-fatigue mat.
You might be wondering what is so special about a mat. Won't carpet or the regular doormat you buy at the local home improvement store suffice? Not really.
What separates anti-fatigue mats from their more decorative peers is in their design; they have been specifically engineered to lessen the impact the body endures while standing on hard surfaces. Put simply, they place a buffer layer between your footwear and the floor. This material can be made of rubber, wood, and many other materials. It sounds simple, but it can make a significant difference!
Who Would Benefit from an Anti-Fatigue Mat?
An anti-fatigue mat might be a good choice for you if you are:
Elderly
Recovering after an injury (this includes knee injuries and neck injuries, not just lower back injuries—remember, the body is more connected than we sometimes realize!)
Standing in one position for long periods of time
Anyone that also has other joint pain such has hip or knee pain
What to Look for in an Anti-Fatigue Mat?
Material – Mats are made of a number of materials, including cork, rubber, and even carpeting material. Consider your environment—will the mat be placed outdoors? In the rain? Will there be chemicals nearby?
Weight – Will the mat be frequently re-located? If so, consider one that is easier to move—lifting heavy mats around is not going to do any favors for anyone's lower-back pain!
Cushioning – One thing to remember is that thicker doesn't necessarily mean better. Think of mattresses—sometimes soft mattresses can actually make back pain worse, and vice versa. The right anti-fatigue mat will provide just the right amount of stability; when engineered correctly, it triggers almost indiscernible muscle movements in the body that increase blood flow to the legs and feet, reducing the potential for pain and other health risks.
Aesthetics – Mats come in all sizes, shapes, and colors. Some are even beautifully patterned! One thing to keep in mind is that some mats are easier to clean than others.
Durability – Some mats are designed to last for years, while others fall apart fairly quickly, depending on the environment and frequency of use. If you suspect your mat is in for a rough ride, you might want to look for one that has a guarantee or warranty of some kind.
FAQ About Standing Mats
Do Anti-fatigue Mats Actually Work?
Standing mats do work, especially for anyone that has to stand in a position for any length of time. In a study muscle fatigue in the back muscles improved when standing on an anti-fatigue mat.  
Where Should You Use an Anti-Fatigue Mat?
The best answer is anywhere that you have to stand for long periods such as at a desk, in a workshop area, or in front of the kitchen sink. 
You can have different mats for different locations. Researchers found the mat time didn't matter as much as long as people stood on an anti-fatigue mat they would get relief.
The kitchen sink is especially helpful for anyone that has a long history of back pain.
Are Standing Mats Bad or Dangerous?
Standing mats are not bad and the only danger that they present is a tripping hazard. In households that have anyone that is a fall risk, we recommend getting a brightly colored mat to make it obvious it's there.
How Long Can You Stand on a Standing Mat?
You can stand on a standing mat as long as you want but we recommend shifting side to side or taking a sitting break every 40-50 minutes. 
Is Standing Long Periods Bad for Your Back?
Standing in one position can be detrimental to your spine. Our bodies were not designed to be in one location for more long periods and were meant to move constantly. 
The Best Standing Mat for Low Back Pain
 Kangaroo Original 3/4″ Standing Mat
Summary:  The Kangaroo Original 3/4″ Standing Mat is one of the best. With over 2,700 positive reviews on Amazon (with more than 80% of the reviews being 5 stars) this product is a solid choice, especially when you consider the price point. Waterproof and made of light-weight foam, it is easy on the pocketbook and a good option for co-working spaces.
Pros: Affordable, Waterproof, Phthalate-free, Available in multiple shapes and sizes
Cons: Some customers felt that the mat had a distinctive odor when they first unpacked it; another concern was that it didn't always stay in place, particularly on tile surfaces.
GORILLA GRIP Original 3/4″ Premium Anti-Fatigue Comfort Mat
Summary: The Gorilla Grip Anti-Fatigue mat has 1400 high reviews, this is another solid, affordable choice. Made from foam, and at a solid 3/4" thick, this model is priced slightly lower than its similar Kangaroo competitor.
Pros: Affordable, Waterproof, Phthalate-free, Available in multiple shapes and sizes.
Cons: As with many mats on the market, some reviewers mentioned the mat slipped around their floor, particularly around kitchen sink areas. Other reviews pointed out a distinctive odor.
Sky Solutions Anti Fatigue Standing Mat
Summary: The Sky Solutions Anti-Fatigue mat has over 3,000 positive reviews on Amazon and a price that comes in just shy of $40, this anti-fatigue mat seems to be a crowd-pleaser. With several colors and even some decorative patterns, it might even add a dash of style to your space.
Pros: Ergonomically-designed foam, beveled edges, wipes clean. Customers specifically like the non-slip bottom, which was one thing its competitors lacked.
Cons: Reviewers mentioned less durability and that the material began to bubble and peal after varying periods of use.
KIMODE 2 Piece Anti Fatigue Mat
Summary: While boasting a fewer total number of stellar reviews, the Kimode Anti-fatigue mat PVS leather mat delivers on style. With designs such as "Colorful Leaves" and "Dark Bohemian" it may be a better choice for less trafficked areas.
Pros: Thinner at 7mm, Low-profile, Non-slip
Cons: Delivered rolled, which caused it to arrive torn and/or creased for some customers.
Oasis Kitchen Anti Fatigue Mat
Summary: If you are looking for a company that seems to care about its customers and stands behind its products, this might be your best bet. The Oasis anti-fatigue mat description show dedication with phrases like "goldilocks perfect amount of cushion" and "let the Rockettes chorus line come dance on it." You can't help but feel assured the customer service level is going to be quality should there be any issues that come up with the product.
Pros: This mat comes in just under $30, which places it amongst the most cost-effective models.  Customers raved about the leather grain texture, that it is non-slip. Many reviewers appreciated the "humorous" and responsive customer service.
Cons: Reviewers mentioned less durability and that the material began to bubble and peal after varying periods of use
Conclusion:
Considering the costs versus the benefits, and with studies suggesting they are effective at reducing lower back pain, anti-fatigue mats are a powerful tool in any pain management arsenal.
Sources: 
Ninds.nih.gov. (2014). Low Back Pain Fact Sheet | National Institute of Neurological Disorders and Stroke. [online] Available at: https://www.ninds.nih.gov/Disorders/Patient-Caregiver-Education/Fact-Sheets/Low-Back-Pain-Fact-Sheet [Accessed 1 Aug. 2019].
Long-Term Muscle Fatigue After Standing Work. M.G. Garia, T Laubli, B.J. Martin, 2015. https://www.ncbi.nlm.nih.gov/pubmed/26048874 
Other Great Rehab Related Articles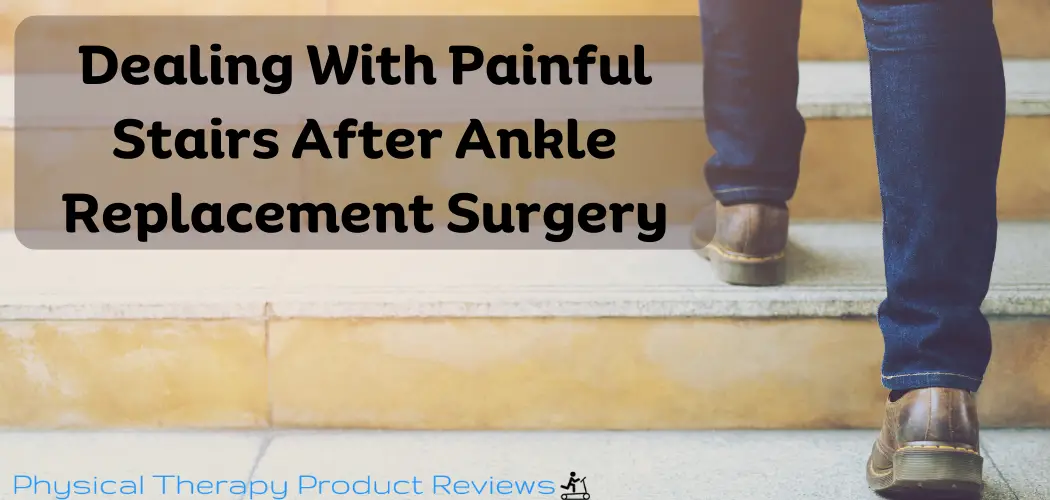 After undergoing an ankle replacement surgery, patients may experience pain when climbing stairs. The level of pain can vary from mild discomfort to severe pain, …
Disclaimer: The information provided in this post is for educational purposes only. This is not a substitute for a medical appointment. Please refer to your physician before starting any exercise program.