The Best Gift Ideas after a Total Knee Replacement to Speed Up Recovery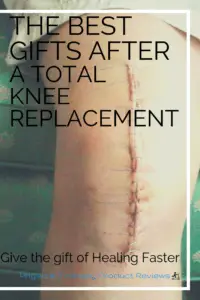 Total knee replacement surgeries open up a vastly improved quality of life for many people—the surgery provides increased mobility and a reduction in pain.
Unfortunately, the recovery from the surgery can be arduous. If you have a family member or friend going through this process, you may want to show you care—but flowers, greeting cards, and other traditional gestures aren't going to cut it.
Perhaps consider gifting them with something that helps them get through this time of healing and back on their feet a bit faster. To help get you started, here are a few ideas—any one of them could make a significant difference in your loved one's recovery.
The Best Gifts to Speed Up Healing After a Total Knee Replacement
A Circulating Ice Machine for Pain after a Total Knee Replacement
Studies show that cold compression therapy is one of the best things a patient can do after knee replacement surgery (1). Not only does ice provide pain relief, it also eases swelling which in turn promotes healing. Unfortunately, circulating through a continuously thawing rotation of ice packs can grow frustrating, not to mention exhausting when one has difficulty walking in the first place. A circulating ice machine like this one provides a continuous flow of ice, targeted to the knee. Customers rave about how easy it is to move around and use, and that it is quiet—it will not interrupt Netflix binge-watching (a must-have for coping with a long post-operative recovery period). Our favorite ice machine is the Vive Cold Therapy Machine with compression pads.
How to Use a Ice Machine for Total Knee Replacement
Soothe Post Surgical Muscle Pain with a Self Massager
When used correctly, massage can be of incredible benefit—not only for coping with pain relief, but also for increasing blood flow, flexibility, and even for decreasing the presence of scar tissue. This self-massager uses custom speed settings to create a percussion motion; the adjustable level of pressure is critical, depending on what phase of healing the knee replacement is in. It is always best to seek medical advice on how to best use such a device to help speed up the healing process. Our favorite self massager after a total knee is the Renpho Self Massager.
Pick Up Items from the Floor with a Reacher
It is the classic film trope—that moment in a movie or a TV show where a newly injured patient takes a bad situation (for example, a recent injury or surgery) and makes that situation incredibly worse by reaching for an object that is out of their reach. They inevitably fall to the floor and worsen their injury—and depending on what you are watching, either the zombie apocalypse occurs or comedy ensues. But in real life, sustaining an injury from such a fall isn't funny, and being unable to reach everyday objects is simply frustrating. This problem is easy to solve with a gripper tool, and the price-point makes it a must-have on any gift list of this type. A simple reacher like the foldable reacher here can save from an impending injury and make life easier.
Crutch Pads to Save from Armpit Pain
One of the often-overlooked nuisances of using crutches when going through the knee-replacement recovery is the wear-and-tear it leaves on the underarms. Armpit pain may not sound pretty, and it isn't. These crutch pads add a layer of high-density foam to the crutch's, reducing chafing and even wicking away moisture to help prevent odor. It also saves the nerves in the underarm area from any damage. These Vive Crutch Pads come in fun colors and are the most comfortable.
Ice Pack for Traveling after a Total Knee Replacement
Most people are already familiar with the benefits of icing an injury; ice packs are a staple of most home medical kits. When one is traveling, however, these ice packs quickly become impractical. This larger ice pack such is designed to withstand greater lengths of time before defrosting, allowing those who've just had knee-replacement surgery to be unchained from the freezer (and their critical supply of ice packs). It may not make the journey perfect, but it will definitely make it easier! The Koo-Care ice pack is large enough for all body parts and comes with a strap to keep it in place.
Decrease the Pain with a Pain Relieving Cream
Sometimes the smallest things provide the greatest benefits, and this is true with pain creams. Penetrex Pain Relief Therapy cream boasts over 4k reviews, and most of these are at an almost perfect 5-star score. Users rave about its ingredients that reduce pain without the smell of menthol or the acidic feel on the skin. The product packs a potent dose of arnica, vitamin B6, and MSM. Scientists are particularly interested in the anti-inflammatory properties of MSM (2). Pentrex is one of the best pain releiving creams on the market and without breaking the bank.
Conclusion
Successfully caring for someone after knee replacement surgery can be challenging. Every person and situation is unique, but the above tools can go a long way in making sure your loved one is physically and emotionally up to the task.
Works Cited
Block, J. 2010 Jul 7. Cold and compression in the management of musculoskeletal injuries and orthopedic operative procedures: a narrative review. [online] PubMed Central (PMC). Available at: https://www.ncbi.nlm.nih.gov/pmc/articles/PMC3781860/ [Accessed 1 Aug. 2019].
Butawan, M., Benjamin, R. and Bloomer, R. (2017). Methylsulfonylmethane: Applications and Safety of a Novel Dietary Supplement. [online] US National Library of Medicine National Institutes of Health. Available at: https://www.ncbi.nlm.nih.gov/pmc/articles/PMC5372953/ [Accessed 1 Aug. 2019].
Disclaimer: The information provided in this post is for educational purposes only. This is not a substitute for a medical appointment. Please refer to your physician before starting any exercise program.