The Best TENS Unit for Sciatica and Low Back Pain
Please see bottom of article for each individual review of the TENS Unit.
The Best TENS Units for Low Back Pain
What is a TENS Unit and How Does It Work For Back Pain?
A TENS unit, or Transcutaneous Electrical Nerve Stimulation, is used most commonly for low back pain treatment. It is usually powered by a small rechargeable battery  or AAA batters that expels a low voltage electrical current to electrodes placed in an area of pain.
The TENS unit has been a staple in pain relief and Physical Therapy for a long time dating back to the 1960's when the Gate Control Theory of pain was first being developed. In the Gate Control Theory, stimulating a nerve it would close a proposed "gate" at the level of the spinal,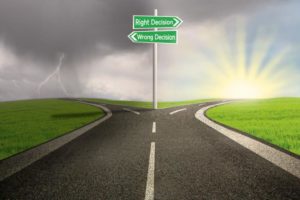 which theory decreases the sensation of pain from reaching the brain due to the "gate" being closed. It's similar to closing one road at an intersection, vehicles can now only go down one of the forks in road. Thus the pain road is closed and the sensation of tingling/electricity road is open.
The other medical theory of why using a TENS unit for low back Pain is successful is the Endorphin Release Theory. In this theory it is thought that the use of an electrical current helps stimulate the body's own feel good hormones called endorphins. The natural pain killer hormones then block pain signals from reaching the brain similar to pharmaceuticals only using the body's own system.
Will a TENS Unit Help with Sciatica and Low Back Pain?
Initially and in the short term, a TENS unit will likely help. The use of TENS does have research that supports a TENS unit with acute injuries and the initial time after an injury. A TENS unit is great for sudden increases in pain, flare ups, and those new injuries that prevent one from sleeping or doing daily chores.
Despite the widespread use of TENS use in Physical Therapy, the scientific literature has little support for use of TENS for long term improvement. For long term results, it often seems to help during the actual treatment but the pain relieving effect often stops once the treatment ends. However, there is a subset of patients that absolutely love their TENS and use it frequently with good results.
Why You Should Buy a TENS Unit for Sciatica and Low Back Pain
A home TENS unit is great for those that have trouble falling to sleep due to low level pain. Do a quick 10-15 minutes right before bed to help you fall asleep and get the needed rest and recovery for a new day. I'd rather you do this then take pills.

A TENs Unit helps you become more active! If the TENS unit takes the edge off enough to allow you to go for a walk, do the dishes, or mow the lawn and you couldn't previously then it might be for you.

You recently had or are going to have surgery and are worried about the use of Opioid pain medication this may be a good alternative in providing pain relief until you return to your prior level of function

You've tried everything else and can't find anything that works.
How do I Use a TENS Unit?
Make sure that the batteries are fully charged or that the batteries have sufficient charge. Make sure that the unit is turned off prior to use and placing the pads or you may feel a little shock.

Use rubbing alcohol to clean the skin where the electrodes will be placed. This will help increase the lifespan of the electrodes

Connect the ends of the electrode wires to the electrodes and ensure that the wires are firmly plugged into the machine. This is a common problem found when machines shut off.

Place the electrodes in a cris-cross pattern over the area of pain. You may need assistance from a partner to reach the area. Do not put over any open wounds. You can also place tape over the electrodes to insure that they stick if you are going to moving around.

Turn the machine on and increase the intensity until you feel a tingling feeling. The machines should be turned up until the sensation is moderately comfortably as your body will adjust and the sensation will become less.

Hook the TENS unit to your belt or place it in a pocket and make sure that the timer is set
How to Prolong the Life of Your Electrode Pads for TENS Units
The Best TENS Units for Low Back Pain and Sciatica
iReliev PlayMakar TENS 
The iReliev Playmaker Tens is the TENS of the future. Easy to use, no wires to fuss over, and great results. The unit has 8 TENS programs and 6 EMS settings making it great for athletes. This provides pain relief and also the ability to perform muscle conditioning. The unit is designed to be incredibly portable and is easy to use. Our favorite feature is the TENs Pods. It takes only one electrode when it normally takes the job of 2 electrodes. It also is wireless making it so much easier to use.
Pro's
No wires!!!
Easily portable and easy to perform other tasks while wearing
Comes with both TENS and EMS
14 modes
Rechargeable lithium ion battery
The latest and greatest on the market!
Con's
Snapping the smaller units may be difficult
United Surgical TENS 7000 
Ol' faithful. The United Surgical TENS 7000 has been a mainstay in pain management for a long time. This tried and true unit has over 4,500 customer reviews on Amazon. Easy to use, no frills, and reliable. This unit is hard to beat for the price and simply works. This thing is nearly indestructible, so if you are likely drop your unit this may be the one for you.
Pro's
Easy to use
Inexpensive
Reliable and sturdy
Con's
Battery operated
only 5 modes
only comes with 4 pads
Nursal Rechargeable Tens Unit 
The Nursal Rechargeable Tens Unit also comes in at a great price point. It has more options than the United Surgical unit with easy to use pre set settings for different parts of the body. For example, if your elbow hurts you select the elbow mode which is pre set for the best settings for the superficial nature of the elbow. This unit is also a crowd pleaser for looks.
Pro's
Easy to use touchscreen with pre-selected body parts
Inexpensive compared to others
Rechargeable lithium ion battery
Con's
Durability concerns over 6 months of use
Can't modify frequency/duration, only select modes
Auvon Rechargeable TENS Unit 
The Auvon Rechargeable TENS Unit is a another very affordable unit that is easy to use. It comes with a rechargeable lithium ion battery, easy to use 16 modes to help with all types of pain relieving settings and comes with a solid 12 month warranty. The year long warranty is one of our favorite aspects of anything we recommend.
Pro's
Easy to use touchscreen
Inexpensive price point
Holds a long charge for 10 hour usage
Good Warranty
Con's
Occasional power complaints
Healthmate Forever T2AB2 TENS Unit
The cadillac version of TENS units. The Healthmate Forever T2AB2 is the best model out there but does comes at a higher price. Why is that expensive? It has an easy to use touchscreen unrivaled by the others, 24 pre-programmed settings, and has separate channel capabilities. This means you can treat 2 body parts at once. 20 levels of frequency with adjustments. The Healthmate line has over 10,000 five star reviews over the course of it's existence on Amazon.
Pro's
Gorgeous touchscreen
80 minutes programs
Long life pads
USB charging capabilities
Multiple channels and modes
Con's
None that we can find, best Tens we can find
More expensive that the other units
Healthmate Forever Pro TENS Unit 
The Healthmate Forever Pro TENS unit is the second best unit on the list but at a more affordable price tag than the other Healthmate device at near $150. This unit has some of the same features but at less than half the cost. 2 Independent channels to treat 2 body parts at once, easy to use touch screen, 15 pre programmed modes, 20 levels of frequency adjustment, adjustable timer, and long lasting lithium ion battery.
Pro's
80 min sessions
Easy to use touchscreen
Rechargeable Ion battery
Great intensity levels
Long life pads
Con's
Lifetime warranty that may have exceptions
Higher pricepoint
Kedsum Tens Unit
The Kedsum TENS Unit is another great bang for your buck TENS unit. It comes with 20 level intensity, adjustable timer, LCD screen and 2 independent channels to treat a large area or 2 smaller areas. Also comes standard with 16 pre-programmed modes. Currently an Amazon choice TENS Unit.
Pro's
Great price point with a touch screen
16 different modes
Easy to use instructions
Rechargeable battery
Con's
Potential durability issues, may stop working unexpectedly
How to Best Use your TENS Unit
Now that you have a TENS unit it's best to know how to use to get the most out of your new toy. A TENS unit will not cure your low back pain but it may help mitigate it. For those with back pain it is best to use it for various reasons:
Reduce use of pain medication

Perform low back specific exercises to fix back pain for good

Improve quality of sleep

Get to sleep faster

Sit or stand longer

Get back to work faster
For example, for those with low lo back pain we recommend using it better move and with less pain. Try putting the TENS on and performing stretches and strengthening exercises to do a little more than you would with out.
Put the TENS unit on and go for a 20 minutes walk instead of your normal 15 minutes walk. Try not to simply use the TENS as a pain reducer but use to perform something, ANYTHING, better or with less pain.
Maybe you put it on 15 minutes before bed so that falling asleep isn't so difficult.
Disclaimer: The information provided in this post is for educational purposes only. This is not a substitute for a medical appointment. Please refer to your physician before starting any exercise program.