If you experience lower back, you're not alone. It's estimated that 31 million Americans are experiencing it right along with you. And if they don't have back pain now, statistically speaking, they probably will soon. Experts say 80% of the population will experience lower back pain at some point in their lives.  
Sure back pain hurts, but to add insult to injury,  it's super expensive, too. Lower back pain accounts for 264 million lost workdays each year. Health care costs are estimated to be about $50 billion annually. If you add in all those lost workdays and lowered productivity rates, the estimated cost of lower back pain balloons up to $100 billion a year. 
It doesn't make it any better to hear you're not alone, right? Luckily for you, I've got some ideas about what will.  
Treatments for lower back pain can include costly trips to the chiropractor, prescribed medications, and in extreme cases, surgery. Before you schedule the first of many pricey appointments, it might be worth your while to look into purchasing a back stretcher for a safe and inexpensive at-home treatment.
What is a Back Stretcher?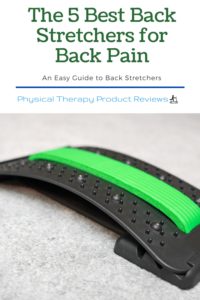 There are many types of back stretchers. They range in materials and design, and some are much more complicated and space-consuming than others. One of the most cost-effective and convenient options is the half-moon shaped lumbar stretcher. It's compact, simple to use, and takes up much less space(and money) than more complicated chair stretchers. As a bonus, it doesn't require you to hang upside down.
What are the Benefits of Using a Back Stretcher?
A back stretcher offers users more than just relief from lower back pain. The benefits of using a back stretcher include: 
Loosening of muscles

Creating space between vertebrae

Improving circulation

Relieving back pain

Correcting posture
How to Use a Back Stretcher
The half-moon shaped lumbar stretcher is super simple to use. It can be summed up in 3 easy steps. 
Choose the desired height setting. Most models come with 3 setting options. I suggest starting with the lowest one first. 

Position the back stretcher on the floor, on the bed, or behind you in a chair. Use whichever placement is most comfortable for you. You might have to move it around a bit to get it in the correct position for optimum comfort and stretching. 

Once you have it in the desired position, lay or sit back on it for the suggested time. This will vary based on device suggestions, but most recommend intervals of 5 to 15 minutes.
That's it! Some people say it is uncomfortable at first, but many agree it gets more endurable and enjoyable as you get used to the stretching and acupuncture points that many stretchers have. 
How Long Should I Lay on a Back Stretcher?
This will vary by device, but most suggest using the back stretcher in intervals of 5 to 15 minutes. 
Does Using a Back Stretcher Help with Posture?
Yes! Using a back stretcher strengthens back muscles which can help improve your posture. 
How Often Can I Use a Back Stretcher?
Consistency is key to correcting and preventing back pain. Find what works for you, but most recommend using it at least every other day or as often as twice a day.
How to Use a Back Stretcher
The Best Back Stretcher to Help with Low Back Pain
Summary: This lumbar stretcher has 3 adjustable settings and 96 massage points. For added comfort, there is a cushion down the middle for your spine. It's made of durable ABS material and can hold up to 220 pounds. 
Pros: It seems very sturdy and the different settings make it easy to find what is comfortable and effective for you. 
Cons: One customer mentioned that it was not flexible enough to provide comfort while stretching.
Summary: This back stretcher has 3 height settings and 88 plastic pins for a relaxing effect. It is designed to improve flexibility in the back and shoulders. 
Pros: It has 3 adjustable height settings and, according to several customers, makes it possible to stretch those "hard to stretch" places. 
Cons: Some customers complained the strip in the middle was too narrow to provide comfort, putting it together was a tad difficult, and the hard plastic pins caused some discomfort.
Summary: This sturdy back stretcher supports up to 300 pounds. It has 96 massage points and a cushion down the center for added comfort. 
Pros: It feels very durable, supports more weight, and is easy to assemble. 
Cons: The center cushion doesn't provide enough comfort. 
Summary: The PGFUN back stretcher has 3 adjustable levels, 10 magnetic dots, and 96 acupuncture massage points. It can hold up to 220 pounds.
Pros: It's very portable and effective. 
Cons: At the time of this post, this back stretcher has all 5-star reviews, none of which mention a complaint.
Summary: The Jeteven back stretcher has 10 magnetic points, 88 plastic pins, and holds up to 330 pounds. It also has 3 levels of height and a removable memory foam cushion that runs down the middle. 
Pros: The memory foam cushion is comfortable and easy to adjust. 
Cons: The assembly instructions are a little hard to follow.
Other Great Health Related Articles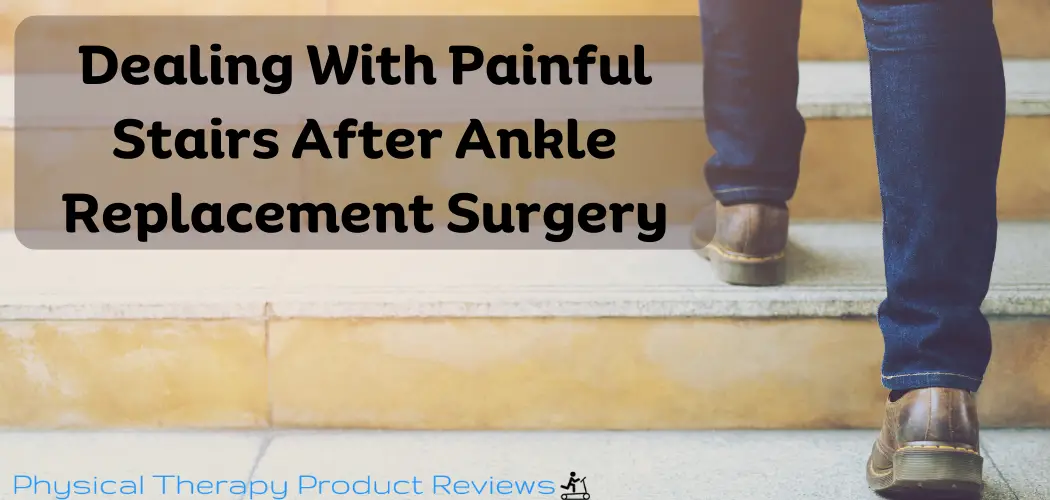 After undergoing an ankle replacement surgery, patients may experience pain when climbing stairs. The level of pain can vary from mild discomfort to severe pain, …
Disclaimer: The information provided in this post is for educational purposes only. This is not a substitute for a medical appointment. Please refer to your physician before starting any exercise program.