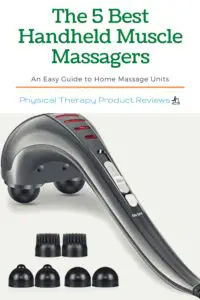 With busy schedules, hectic deadlines, and the stress of everyday life, it's no wonder millions of Americans suffer from chronic muscle pains and body aches. Most muscle pain is benign in nature and can be attributed to tension and stress. This pain can typically be relieved with a visit to a massage therapist who can have you feeling back to normal in no time.
It's not always feasible to visit a massage therapist every time your muscles start to ache. Massage appointments can be hard to arrange with work and family schedules. They can certainly drain the wallet before too long. Sometimes a spouse can lend a hand with a back rub but this novelty can wear off quickly. A great alternative to traditional massage methods to treat sore, achy muscles can be found with a handheld muscle massager.
What is a Handheld Muscle Massager?
A handheld muscle massager is a safe, effective device that delivers penetrating vibrations to targeted muscle tissue. These vibrations warm up the tissue which in turn increases blood flow to the muscles providing instant relief where you need it most. Most massagers include several different attachments to help you achieve the specific relief you need. Some common attachments include:
Ball head:

This is the most common attachment you'll find with the handheld massagers. It's versatile enough to use on muscles all over the body to provide overall relief.

Bullet:

This attachment is shaped just like it sounds. It provides targeted relief to trigger points, stubborn knots, and anywhere ligaments attach to the muscle.

Fork head:

This attachment is pronged like a fork and is great for traipsing up and down the spinal column.

Dome:

The dome attachment has a softer tip and can be ideal to use on sore muscles on the days you hit the gym.
What are the Benefits of using a Handheld muscle massager?
Not only are handheld muscle massagers effective at reducing muscle aches, but they also help warm muscles up before exercise and aid muscles in cooling down after activity. They have been known to reduce scar-like tissue, called adhesions, to help lengthen muscle fibers.
What Should You Look for In a Handheld Muscle Massager?
When you begin your search for a handheld muscle massager, you will find every option available under the sun at every price point imaginable. It can get overwhelming quickly. Here are some key features to consider in selecting the best massager for your needs. 
Speed

Noise

Battery Life

Ease of Cleaning

Attachment options

Weight

Power Source

Warranty
How to Use a Handheld Massager
The Best Handheld Muscle Massagers
MIGHTY BLISS™ Deep Tissue Back and Body Massager
Summary: The Mighty Bliss percussion massager delivers 3,700 pulses/ minute into targeted muscles with six different massage heads and numerous adjustable speed levels. It boasts it can relieve pain in merely seconds. 
Pros: The Mighty Bliss Deep Tissue Massager has a great battery life, is relatively light-weight, and has minimal noise. You also have the option to continue to massage while charging this device. 
Cons: The rubber coating of the attachments can cause some discomfort on skin and ha
RENPHO Rechargeable Hand Held Deep Massager
Summary: The RENPHO handheld massager offers a long ergonomically designed handle which allows you the option to massage your own back. It has the option to use while plugged in to the wall or the option to go cordless. It features an auto shut off safety mechanism to ensure the massage gun won't overheat after continuous use. This massager packs a powerful punch with a small price tag and definitely requires a closer look.
Pros: The RENPHO massager is lightweight but powerful.
Cons: This device may be too strong to use around delicate areas on the body such as around the cervical spine and neck.
Wahl Lithium-Ion Deep Tissue Cordless Therapeutic Handheld Massager
Summary: The Wahl Lithium-Ion Deep Tissue Massager has "deep kneading power" and provides four attachments as well as a dial to control the intensity of the percussion massage. The price is on the lower end of the spectrum compared to other massagers. 
Pros: This massager is quiet, powerful, and easy to use. 
Cons: The weight of this massager is a bit on the heavy side and may be a cumbersome to some people.
TYMO WHITE WHALE Handheld Massager
Summary: The TYMO White Whale Massager offers a luxurious massage plus the added bonus of up to 110 degrees of heat therapy. The five massage heads are covered in a soft, skin-friendly material to ensure all aspects of using this massager are enjoyable. It contains 5 speeds and 3 different modes to ensure you find the perfect level of bliss.
Pros: This massager delivers the right amount of intensity, feels good while traveling across the skin, and has a great price.
Cons: The heat function could be a little warmer.
Vivreal Handheld Massager
Summary: The Vivreal Handheld Massager was designed by a company with over 20 years of experience. It offers six interchangeable massage heads with six speed options. This massager offers a 1-year warranty.
Pros: It has a great ergonomic design to allow ease in massaging your own neck and back. Lightweight, decent charge time and powerful results are some of its top features.
Cons: This device may offer more of a vibration massage than percussion type massage.
Other Great Health Related Articles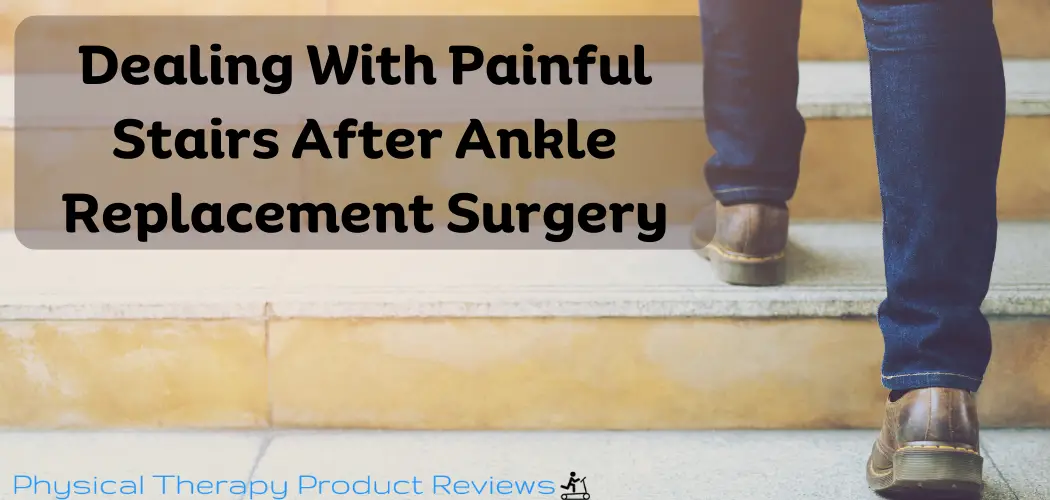 After undergoing an ankle replacement surgery, patients may experience pain when climbing stairs. The level of pain can vary from mild discomfort to severe pain, ...
Disclaimer: The information provided in this post is for educational purposes only. This is not a substitute for a medical appointment. Please refer to your physician before starting any exercise program.