Back pain is extremely common in the United States. Back pain is commonly felt in the lower back as it's responsible for carrying the weight of your upper body. According to the Mayo Clinic, back pain is one of the most common reasons for a doctor visit. It can account for days lost at work, low quality of life, and is the leading cause of disability worldwide.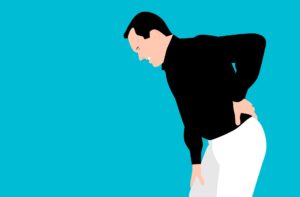 It is estimated that 80% of the population in the U.S. will experienceback pain at one time or another. It is so common that Americans spend an astonishing $50 billion on back pain per year.While the numbers are high, there is good news about lower back pain.  Most cases of lower back pain can be treated at home and in a matter of just a few days or weeks. There are simple, effective ways we can help reduce lower back pain at home.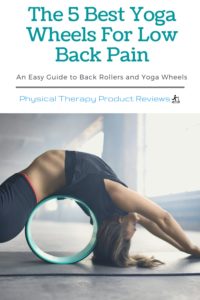 A back roller, also more commonly known as a yoga wheel, is one piece of equipment that can help relieve lower back pain. It's an accessory used in fitness and yoga that is made out of either plastic or wood and covered by a thin piece of foam. You can find back rollers in various sizes in diameter, but the width of the roller is typically 5-6 inches.  The purpose of a back roller is to increase flexibility, create a deep stretch in your lower back, and help make back stretches more effective for your body.
What are the Benefits of using a Back Roller?
There are many health benefits of using a back roller.  When it comes to treating lower back pain, a back roller assists in releasing tension and soreness by acting as a back massager.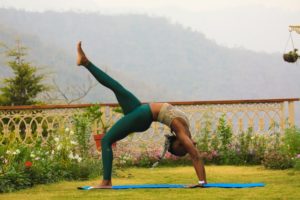 Back rollers can also increase flexibility by allowing you to get a deeper stretch. This helps strengthen your muscles and release tightness. Lastly, the health benefits of using a back roller regularly include strengthening your core and lengthening your spine. The combination of these two things strengthens back muscles and releases built-up tension to help relieve back pain.
A deep backbend, or fish pose, yields a lot of relief from lower back pain. To use the back roller in this way, simply position the back roller in the center of your back and lay face-up on top of the wheel with your arms stretching outward while your head hangs back. Try to keep relaxed in this posture for three minutes.
To use as a back massager, place the back roller at the base of your spine and start to lean your weight onto the wheel.  Use your feet to push your weight back and forth as the back roller supports your weight. You will start to feel the tension release in no time!
How often can I used a Back Roller?
You can use a back roller as much as you want. Depending on your back pain levels you can do it multiple times a day or only once or twice a week. It really depends on the amount of relief you get. It's great to do before or after exercise to get the most benefit.
Can you do any Damage to the Back with using a Yoga Wheel?
No, yoga and back wheels are really safe to use. Unless you recently had surgery or had a serious trauma then there is minimal risk of using a yoga wheel.
My Back Pops when I use a Back Roller, is that ok?
Absolutely, that pop is simply air pressure and nitrogen being released from the joint capsule. Most pops and clicks are harmless and actually beneficial. Unless is it accompanied by a sharp pain there is no need to worry.
The Best Yoga Wheels and Back Rollers
ATIVAFIT Sports Yoga Wheel
Summary: The ATIVAFIT Sports Yoga Wheel is made from eco-friendly TPE instead of PVC. It's a durable yoga wheel that can withstand weight up to 220 pounds.  The thick padding protects your palms, feet, and back while you exercise and it's sweat-resistant!  There are three sizes available: 12 inches, 10 inches, and 5-inch. The 12-inch yoga wheel fits best for the average size adult and offers soft pressure relief. The 10-inch yoga wheel is specifically designed for a medium pressure massage and to stretch your back and hips, while the 5-inch is designed more for a deep-tissue massage in your neck, back, and legs.
Pros: This back roller offers great value, it's very sturdy, and is made of high-quality materials.
Cons: The padding is a little thin, so it's not the most comfortable experience.
Summary: The Plexus Chirp Wheel is made with a molded rigid core that supports a weight of up to 500 pounds. The padding around the outside is ½-inch thick and it's sweat-resistant. The Plexus Chirp Wheel comes in three different sizes: 12-inch (gentle pressure), 10-inch (medium pressure), and 6-inch (deep tissue pressure).
Pros: The Plexus provides great back pain relief and the various sizes make it easy to find the right fit for anyone. 
Cons: This is not the most durable and the quality doesn't seem up to par with some of the others available.
Summary: The Shogun Sports Yoga Wheel is sturdy and supports up to 500 pounds. It's made from eco-friendly, skid-resistant TPE padding that provides a soft and comfortable experience.  This yoga wheel is sweat-resistant and comes in three different sizes: 12-inch, 10-inch, and 6-inch.  The 12-inch yoga wheel provides soft pressure relief and is great for back and side massages and stretching.  The 10-inch size is for medium pressure relief and is used more for stretching back and hips. The 6-inch size offers a deep tissue massage for your neck, back, and legs.
Pros: The Shogun Sports Yoga Wheel offers great quality, feels sturdy, and comes at a good price. These are lightweight and easy to use and comes with diagrams for suggested stretches. 
Cons: This yoga wheel is not the most comfortable. If you lose your balance, it's painful to land on the non-cushioned side.
URBNFit Yoga Wheel and Strap Set
Summary: The URBN Fit Yoga Wheel is a sweat-resistant, non-toxic yoga wheel with a 12-inch diameter. It is made with durable, anti-flex PVC and supports weight up to 550 pounds. This yoga wheel also comes with a 6-foot yoga strap which helps assist you in hard-to-reach poses. 
Pros: The URBN Fit Yoga Wheek is durable, great quality, and the strap is helpful for stretches.
Cons: This yoga wheel is only offered in one size.
Accumobility Ultimate Back Roller
Summary: The Accumobility Ultimate Back-Roller is made from EVA molded form and can support up to 1,000 pounds.  It is designed with a spine gap and therapeutic bump pattern to allow your spine to move freely as you roll. The Accumobility Ultimate Back Roller comes in one size: 11.5-inch.
Pros: The Accumobility Ultimate Back-Roller is comfortable to use, effective, sturdy, and offers great quality.
Cons: The hard material may be painful to some customers.
Other Great Health Related Articles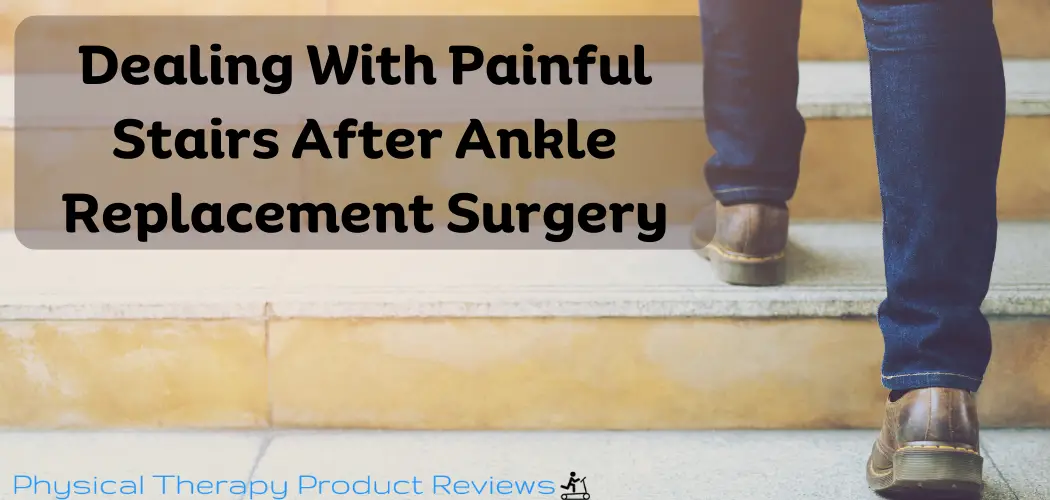 After undergoing an ankle replacement surgery, patients may experience pain when climbing stairs. The level of pain can vary from mild discomfort to severe pain,
Disclaimer: The information provided in this post is for educational purposes only. This is not a substitute for a medical appointment. Please refer to your physician before starting any exercise program.