Chronic knee pain can be a real drain, especially when it comes to staying fit and healthy. Problems with the joint make exercising hard, so fitness is often put to the side. It can be hard for a family member or friend to see someone that they care about being affected so greatly by joint pain. 
If only there was something that you could do to help? When looking for gifts to improve your loved one's quality of life, here are some great ideas to combat chronic knee pain.
Get Non-Weightbearing Exercise with a Stationary Bike
Stationary bikes are perfect ways for individuals with chronic knee pain to fit active. Unlike other exercises, stationary bikes are low impact, easier on joints than other activities like running on a treadmill.
The stationary bike also allows an individual to work out in the comfort of their own home, providing an additional benefit. No matter the weather, the bike is always ready! This can be extremely important for individuals whose joints are extra sensitive when the weather gets colder.
These reasons show that a stationary bike is a great gift to someone who suffers from chronic knee pain!
Give the Gift of Stability with a Knee Compression Sleeve
Compression sleeves are a chronic knee pain sufferer's best friend. Compression sleeves offer immediate relief from pain and soreness, clinging tight to the joint and surrounding areas to provide support.
Most compression sleeves are breathable and comfortable, allowing users to wear them just about anywhere. This gift will surely be met with a cheer, as it will let the user get back to a somewhat normal, active life.
Coupled with another item on this list, an individual is back on their way to an active lifestyle with less pain, thanks in part to the soothing relief provided by a functional compression sleeve.
Help Loosen Sore Knee Muscles with a Foam Roller
Foam rollers may not seem glamorous, but they are truly effective at providing great benefits, whether you have chronic knee pain or not. When dealing with chronic knee pain, foam rollers can provide relief by loosening the surrounding muscles and promoting greater blood circulation. This is especially important to someone with chronic knee issues, as those two benefits will surely pay dividends as it relates to their knee pain.
Foam rollers also have the benefit of not taking up too much space, so the gift recipient won't have to worry about where to store it. While not in use, a foam roller can easily be stashed in a closet or even a corner without seeming out of place.
Foam rollers are a simple gift to aid in pain relief, making it a great idea for someone with knee pain!
Sleep Through the Night with a Knee Pillow
Often, even sleeping at night with chronic knee pain offers another painful experience to maneuver through. Give the gift of sleep with a knee pillow! Not many people would think of this gift, but a sufferer of chronic knee pain will surely be happy to receive a gift of this nature.
Knee pillows offer support for knees, hips, and your back that promote restful, painless sleep. These pillows allow for proper alignment in your joints as you sleep, relieving tension and pain.
As with others on the list, this gift comes in a small size, allowing for easy storage and portability.
Give the gift of sleep to someone who suffers from chronic knee pain with a functional knee pillow.
Tackle Muscle Tension with a Trigger Point Massage Gun
Who doesn't love a good massage? A trigger point massage gun offers all the benefits of a traditional massage in a nifty, compact package! This gift will allow chronic knee pain sufferers to routinely massage out problem areas surrounding the knee, removing soreness and tension in the muscles near the joint. Like the foam roller, the massage gun will promote positive blood circulation, aiding in the bounce-back process.
No one wants to spend a fortune on regular massages, so this gift is a gift that keeps giving at a price that's unbeatable. Your loved one with chronic knee pain will jump for joy at the sight of a trigger point massage gun and will be able to relieve the soreness immediately after jumping!
Reduce Pain Levels with a TENS Machine
Looking for something less involved but still super beneficial for someone with chronic knee pain? A TENS muscle stimulator could be the perfect gift!
TENS units offer muscle stimulation for the muscles surrounding the knee, offering respite from the pain associated with chronic knee issues. The great thing about machines such as this is the fact that they are lightweight and portable, allowing users to take them almost anywhere. These machines can also be used while you do other restful activities, like reading or watching your nightly shows.
The gift of pain relief is possible with a TENS unit, so it should be on any gift giver's list when searching for gifts for those with chronic knee pain.
Put a Pause on Pain with Knee Lidocaine Patches
Another great way to provide pain relief is by gifting knee lidocaine patches. Not the most exciting gift in the world, lidocaine patches will provide immediate relief when placed on or around the knee.
Contrary to other more involved treatments, lidocaine patchers offer an easy, affordable way to combat knee pain. The calming lidocaine will soothe achy joints, providing some respite for a bit.
As is fairly obvious, lidocaine patches are a great gift for those with knee pain, whether as a stocking stuffer or as a combo gift.
Improve Knee Strength with a Suspension Trainer
As mentioned in the above stationary bike, working out while suffering from chronic knee pain can seem like a no-go. However, there are ways to exercise with chronic knee pain. Another way is through the use of suspension trainers, a low-impact way to exercise. These helpful straps allow a user to focus on core and leg strength and are incredibly portable, allowing you to exercise almost wherever.
When looking for additional ways to get your loved one back on the exercise horse, suspension trainers offer a great way to do just that.
Try Voltaren - A Topical Pain Cream That's Prescription Strength
Another gift that may not seem to be the most exciting but packs a powerful punch, topical pain cream will soothe achy knees. This is something that a person may not buy for themselves but has always wanted to try. Used in tandem with other gifts on this list (potentially the knee compression sleeve), a chronic knee pain sufferer's outlook on life will change.
This gift is a perfect add-on for other gifts, but don't be fooled into thinking that it's not beneficial just because it's small. This gift will provide immediate gratification, aiding in pain relief almost from the moment it's put onto the skin.
In Review
Someone with chronic knee pain will surely enjoy any of these gifts, whether it be a gift that relieves immediate pain or one that allows for increased fitness. The possibilities are seemingly endless, so mixing and matching gifts also works. Regardless, your loved one will benefit from any of the gifts on this list, improving their chronic knee pain. 
Other Great Rehab Related Posts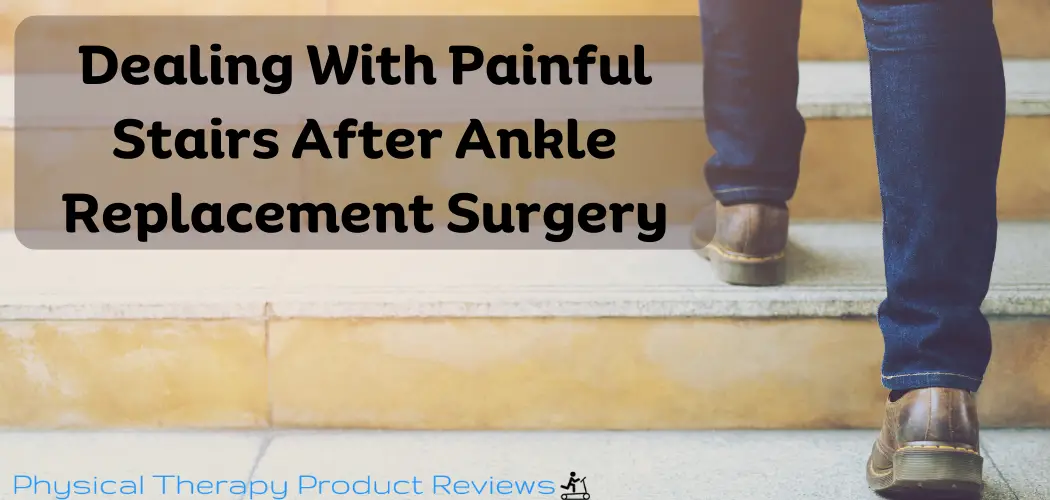 After undergoing an ankle replacement surgery, patients may experience pain when climbing stairs. The level of pain can vary from mild discomfort to severe pain,
Disclaimer: The information provided in this post is for educational purposes only. This is not a substitute for a medical appointment. Please refer to your physician before starting any exercise program.