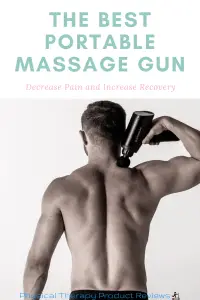 Massage guns have grown in popularity as the demand for them has increased over the past few years. For anyone looking to get a massage in while on-the-go, a portable massage gun is a great choice.
Many people enjoy massaging their muscles before and after a workout, and having the portability to do it right then is very beneficial.
Also, injuries can flare up anytime and anywhere, so having your portable massager with you on go can speed up recovery and performance.
What is a Percussion Massage Gun
A portable massage gun is a battery-powered handheld device used to massage muscle tissue often after an injury. It is shaped something like a gun for ease of use by hand. There is a piece at the end of the gun that pulsates into the spot that it is aimed at. This ultimately releases a tight muscle and improves blood flow to the area.
What are the Benefits of Using a Massage Gun
The more muscles are used, the more they break down and need to recover. When they aren't recovering properly, the probability of an injury happening increases. The greatest benefit of using a muscle gun is that it speeds up this recovery and decrease muscle soreness. The process of using a portable gun also alleviates stiffness and muscle tightness that is inevitable after exercising regularly.
Another benefit that people often seek out of using a gun is the clearing of lactic acid that builds up in the body after strenuous activity. Using a massage gun increases local blood flow which can flow out swelling and bi-products of muscle breakdown that can occur after working out.
Lastly, massage offers a form of stress relief that is perfect to continue after a good workout. Massage decrease the nervous system stimulus which releases stress, decreases muscle tension, and causes a systemic relaxation.
How to Use a Percussion Massage Gun
The first step is to turn the gun on and rest it on the spot you are working on. Applying pressure is not necessary. If the area is large, let it flow over the skin moving throughout about an inch per second. If you discover a knot, let the percussion gun sit in that spot for a few moments and work its magic.
Things to Consider when Buying a Massage Gun
Battery Life
You can get through many exercise sessions before the lithium-ion battery life ends. The battery life of the massage guns listed in this article ranges from 3 to 6 hours.
Speed 
Most guns operate at 3 different speeds; Low, Medium, and High. On the highest speed, it will rotate more than 3,000 times per minute.
Noise Levels
 The noise level of massage guns is described as moderate to quiet at under 55 decibels.
Attachments
There are many different attachments. You can change the massage head to a cone, flat head, small ball or large ball to name a few. 
Size and Portability
The portable massagers listed in this article range from 2 lb. – 6 lb.
What Makes a Massage Gun More Expensive?
There are 3 reasons why a gun might be more expensive: amplitude of the massage head, level of noise, and the quality of the massage heads. 
Amplitude 
Is the amount of movement up and down the massage head moves during use. The more movement there is, the deeper the massage feels and can get while still being comfortable.
Noise Level 
This is improving across all models as compared to when the first massage guns came out. In the more expensive models you won't even think about the noise level when using.
Massage Heads
The massage heads all come in similar shapes and sizes but it's the material that's important. Some of the cheaper guns use cheaper material. This material has less give in the soft once, and the firms heads are plastic instead of metal. 
Comparing the Battery Life of Massage Guns
All of the guns have a battery life between 3-6 hours per charge. Almost all are simple plug and charge in the wall while the Theragun Pro has 2 interchangeable batteries that each have a charge of 2.5 hours each. 
| Massage Gun | Battery Life (hours) |
| --- | --- |
| Hydragun | 6 hours |
| Theragun Pro | 5 Hours |
| Hypervolt | 3 Hours |
| Recovery Volt | 5 Hours |
| Damkee Massage Gun | 3-6 hours |
| Opove Massage Gun | 4 Hours |
Comparing the Noise Leve of Massage Guns
Most of the guns are under 50 decibels (dB). To more easily compare a whisper registers at 25 dB and a normal conversation is 60 dB. The lower the decibel level the quieter the gun. The noise level is listed in a range from the lowest to the highest settings.
| Massage Gun | Noise Level |
| --- | --- |
| Hydragun | 30-50 dB |
| Theragun Pro | 45 db -55 db |
| Hypervolt | 65-70 dB |
| Recovery Volt | Under 55 dB |
| Damkee Massage Gun | 35 dB - 55 dB |
| Opove Massage Gun | 45 dB - 63 dB |
Comparing the Amplitude of Massage Guns
Most of the massage guns are within 10 mm-16mm in terms of amplitude. The more amplitude that a gun has the deeper the massage might feel. However, the power and torque also play a large role in how deep the massage feels and how comfortable that massage feels.
| Massage Gun | Amplitude |
| --- | --- |
| Hydragun | 12 mm |
| Theragun Pro | 16 mm |
| Hypervolt | Unlisted but feels in the middle of the pack |
| Recovery Volt | Unlisted but feels in the middle of the pack |
| Damkee Massage Gun | 16 mm |
| Opove Massage Gun | 15 mm |
Comparing the Weight of Each Massage Gun
Most of the massage guns are between 2-3 pounds of weight. Weight is important because you will often be holding the massage gun for 10 minutes at a time working on a sore area. After a few minutes and holding the gun in awkward angles for hard to reach muscles, heavier guns can cause more fatigue.
| Massage Gun | Weight in Pounds |
| --- | --- |
| Hydragun | 2.3 lbs |
| Theragun Pro | 3 lbs |
| Hypervolt | 2.8 lbs |
| Recovery Volt | 2.2 lbs |
| Damkee Massage Gun | 1.98 lbs |
| Opove Massage Gun | 2.2 lbs |
The Best Portable Massage Guns
Hydragun Portable Massage Gun
Summary: The Hydragun is our new favorite massage gun. The Hydragun is solid, sleek, and packs in a ton of performance. When you are holding it, you know it was made with quality in mind. We love the powerful torque the gun puts out to help with sore muscles, it's extremely quiet, and it has the longest battery life for any gun we've tested, It's also the quietest massage gun that we have tested so far. See our complete review  on the Hydragun.
Pros:
Great Torque and power, can get down deep to those sore muscles
Quiet! The quietest gun we have tested
Extra long battery life, over 6 hours. We didn't have to charge it even after using it for a week
Comes with 6 different massage heads
We love the carrying case it comes in to take where ever we go
Cons: 
None that we have found. Price is in line with other premium massage guns or even less.
Summary: The Theragun Pro is the most expensive premium massage gun on our list for good reason. It is extremely quiet, comes with the theragun app, and has 2 rechargeable lithium ion batteries. We love that the massage arm can rotate and change positions to make it easier to get certain muscles. The unique design is comfortable hold and lightweight. 
Pros:
Rotating massage arm to get hard to reach muscles
2 Lithium-ion batteries provide 5 hours of use
Per the company, gets a 60% deeper massage
Lightweight and comfortable handle to hold
The Theragun app is nice to have 
Cons:
Price. It's is 2x the price of the Hydragun and the Hypervolt gun
Hypervolt Portable Massage Gun
Summary: The Hypervolt Portable Gun is a top of the line premium gun. It comes with 3 different percussion settings, it very quiet, and connects via bluetooth to the Hyperice App. The Hyperice App has guided treatments and recovery advice.
Pros: 
Extremely quiet
Has a 3 hour battery life
6 different Treatment heads 
Cons:
Recovery Volt Massage Gun
Summary: The RecoveryVolt massage gun comes equipped with a rechargeable Samsung battery that lasts up to 5 hours. There are 3 custom speeds to choose from, and it also comes with 5 attachments to interchange. It also produces 55 pounds of force to help loosen those muscles but with a quiet economic design.
Pros: It is quiet, it is great for low back pain
Cons: It is powerful, so may aggravate an injury if not careful
Summary: The Damkee massage gun comes built with 20 different speeds and of the highest speeds at 3,400 rpm. It has an LCD screen to make it easier to see the frequency and duration. In addition to the 20 different speeds it also had 6 different heads. It has a 24v brushless motor and a quiet glide technology.
Pros: Fast, many options
Cons: Not as durable
Summary: The OPOVE M3 Pro has Unique Quiet Glide technology built in. It can also be as quiet as 35 decibels.The case comes with an anti break shell of Nylon 66 and glass fiber which can survive from dropping from 6.6ft high.
Pros: Comes with high-torque motor
Cons: Can be too powerful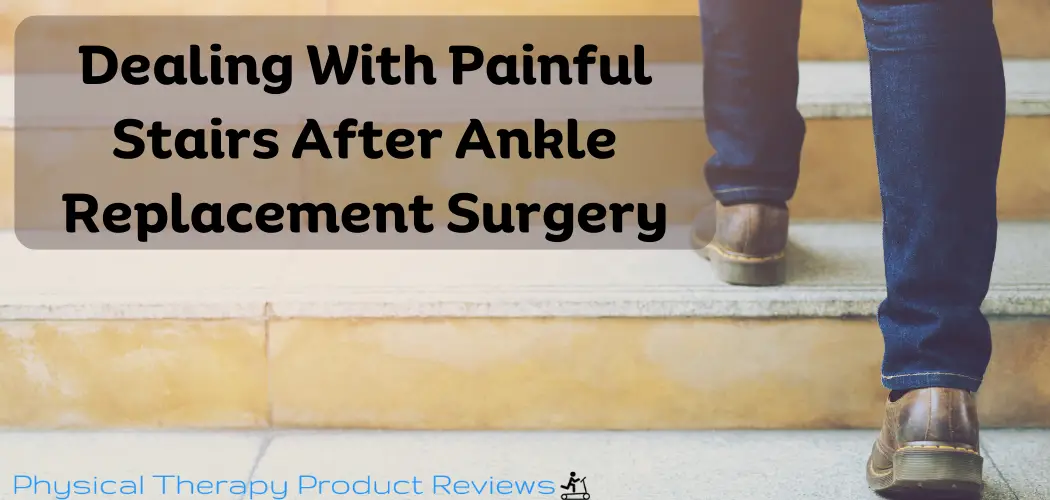 After undergoing an ankle replacement surgery, patients may experience pain when climbing stairs. The level of pain can vary from mild discomfort to severe pain,
Disclaimer: The information provided in this post is for educational purposes only. This is not a substitute for a medical appointment. Please refer to your physician before starting any exercise program.