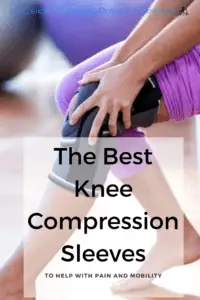 Did you know that one-third of Americans experience knee pain at one point in their life or another?
It is the second most common cause of chronic pain. Knee pain can trouble just about anyone, including the young, elderly, and even those in great physical shape.
Depending on the type and cause of knee pain, it can be very limiting on everyday and leisure activities, such as climbing stairs, running, and even just standing up. Luckily, many knee pain sufferers can treat themselves with a knee compression sleeve.
What is a Knee Compression Sleeve?
Knee compression sleeves are usually made out of stretchy, neoprene material so that you can slide over your knee, getting the perfect fit. They do come in different sizes and thicknesses, though, so you'll want to be sure you find the right one for you. A loose compression sleeve won't provide the same amount of benefit. The compression can help with improved blood flow, decrease pain, and help after an injury.
How Do You Use a Knee Compression Sleeve for Knee Pain?
Knee sleeves serve the purpose of preventing future injuries to a previously injured knee. They also reduce pain and swelling during and after exercise by increasing blood flow to the area. They can provide support for knee injuries and compression for swelling in new and acute injuries.
Who Would Benefit From a Knee Compression Sleeve?
Many people can benefit from wearing a knee sleeve, provided their knee isn't too unstable. (There are other types of knee braces out there that may be better suited for unstable joints.) Individuals who would benefit from a knee compression sleeve include:
runners
weightlifters
those trying to prevent further, future injuries
veteran athletes who already have significant wear on their knees
those suffering from mild arthritis
FAQ About Knee Compression Sleeves
Does a Knee Compression Sleeve Help with Arthritis?
A compression knee sleeve can help reduce the pain and swelling that is associated with arthritis. People with arthritis are often able to be more active and do more while wearing a compression sleeve.  
If a knee compression sleeve helps you walk further or ride a bike easier then we are big supporters. 
Can you Wear a Knee Compression Sleeve with an ACL Tear?
Absolutely you can. As with other injuries, a knee compression sleeve helps with pain and swelling and might be beneficial before and after surgery. 
According to the research, knee compressions sleeves are also beneficial in improving muscle coordination and balance in individuals with a torn ACL.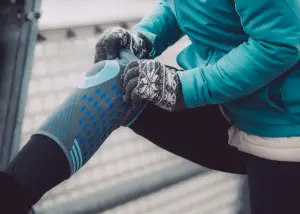 Does a Compression Sleeve Help with a Meniscus Tear?
A knee compression sleeve with help with some of the pain and swelling associated with a meniscus tear. It will not be able to help heal the tear in the meniscus or stop any "catching" that might occur. 
Do Knee Compression Sleeves Cut Off Leg Circulation?
No, knee sleeves should not cut off circulation at all. If you are wearing a knee compression sleeve that is cutting off circulation then that brace is too small for you or it is being worn incorrectly. Be sure to avoid letting a knee sleeve roll up while you are wearing it, this could cut off circulation.
Can Knee Compression Sleeves Cause Blood Clots?
No knee compression sleeves do not cause blood clots. If anything, compression sleeves may help prevent blood cots by preventing the pooling of blood in the veins behind the knee.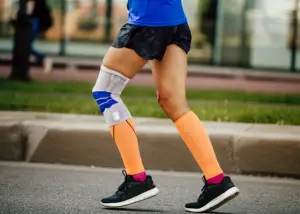 Can you Wear Knee Compression Sleeves at Night?
You can if it helps you sleep. We typically recommend waiting to wear a knee compression sleeve during the day when swelling and pain are more related to movement. 
However, if you can't sleep because of throbbing pain try rubbing some topical cream on your knee such as Penetrex and then wear the compression sleeve over the top of it. This should help with pain control throughout the night.
How Long Can I Wear a Knee Compression Sleeve? 
You can wear your compression sleeve as long as you want without causing damage.  We recommend using it for an hour or two initially and then wearing it more or less depending on what activities you are doing that day.
The Best Closed Patella Knee Compression Sleeve
Crucial Compression Knee Compression Sleeve
Summary: The Crucial Compression Knee Compression Sleeve is great for all types of athletes as well as those with physically demanding jobs, such as construction workers. No-slip, lightweight, breathable, and surprisingly soft.
Pros: 100% perfect fit guarantee; This one also comes in a pair.
Cons: Not as supportive; some people have had allergic reactions on their skin from part of the sleeve near the top.
POWERLIX Knee Compression Sleeve
Summary: The form-fitting, yet breathable Powerlix Knee Compression sleeve helps to keep your knee stable. Great for both everyday activities and working out. It is one of the most popular compression sleeves with over 5,000 reviews on Amazon and comes with a 100% money-back guarantee.
Pros: Fabric is anti-slip and roll. Ergonomically designed for the full range of motion. The fabric helps keep optimal joint temperature.
Cons: Sizing chart not always accurate for some people.
BLITZU Flex Plus Compression Knee Brace
Summary: The BLITZU Flex Plus Compression Knee Brace designed to help relieve arthritis pain and recovery from strains, sprains, and surgeries. It helps keep your knee in the proper position, also aligning your ACL, PCL, and more.
Pros: Fabric is antimicrobial, breathable, washable, and even provides sun protection! Comes in a pair as opposed to a single sleeve.
Cons: Some people have issues with sizing; might be on the tight side for those with bigger thighs.
Shock Doctor Compression Knee Brace 
Summary: The Shock Doctor Knee Brace is made with lightweight and comfortable neoprene weaving technology for breathability and the perfect fit. It helps reduce stiffness, swelling, inflammation, and more. Designed to support ACL and Meniscus tear recoveries.
Pros: One of the best compression sleeves on the market
Cons: Tends to roll down
AIvada Knee Brace Compression Sleeve
Summary: The AIvada Knee Brace Compression Sleeve is great for getting back into intense sports after an injury, such as running and weightlifting. Designed to allow freedom of movement without being restricting, helping your knee to strengthen itself over time.
Pros: Wicking and odor control; Also helps with ACL and MCL injuries.
Cons: Only 3 sizes to choose from.
Choosing the Best Compression Sleeve That's Right For You
No matter what the reason, a sport's injury, arthritis, post-surgery healing, or something else, hopefully, this list has given you some great leads on the best-closed knee compression sleeve for you. With some proper sizing and careful reading through reviews, you'll find the right one in no time.
Works Cited:
Other Great Rehab Related Articles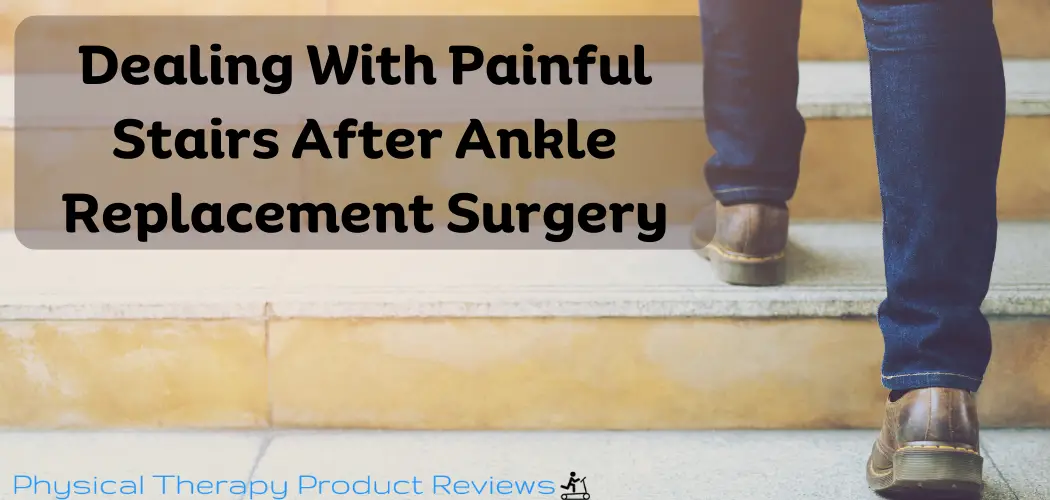 After undergoing an ankle replacement surgery, patients may experience pain when climbing stairs. The level of pain can vary from mild discomfort to severe pain, ...
Disclaimer: The information provided in this post is for educational purposes only. This is not a substitute for a medical appointment. Please refer to your physician before starting any exercise program.