We all know how important it is to get a good night's sleep. It's essential to our overall health and well being,  and also gives the body time to repair itself.
An estimated 67-88 percent of people who suffer from chronic pain are affected by disruptions to their sleep.
When you're hurting, it's difficult to get comfortable when it's time to sleep. Pain causes tossing and turning, which results in a lack of sleep. Not getting a consistent, good night's sleep can soon start to have a detrimental domino effect on work-life, productivity, health, and even family life. Stress and anxiety levels will rise. One of the best remedies for those suffering from chronic pain and lack of sleep is to try a knee pillow.

A knee pillow is specifically made to fit in between the knees while sleeping on your side. This pillow creates a functional space between the knees that helps keep the hips and spine remain aligned.  Maintaining the proper alignment of the spine alleviates back strain which in turn reduces pain and allows the muscles of the back to relax.
There are many different types of knee pillows to consider.
Body Pillow

Half Moon

Hourglass

Wedge

Cylinder
What are the Benefits of using a Knee Pillow?
The benefits of using a knee pillow are widespread. Pain is reduced from keeping the spine and hips aligned. Lower back and hip strain are alleviated. Sciatica and radiating pains can be diminished giving you a deeper and more restful night's sleep. A knee pillow is an affordable option for those looking for a better night's sleep.
What to Consider When Buying a Knee Pillow
There are several things to keep in mind when searching for a knee pillow. With so many styles and options available, it can get overwhelming. Some of the following factors may help you weed out the pillows that won't work for you to help you find the perfect fit for your needs. When looking for a knee pillow, consider: 
Shape

Size

Type of Support

Ease of Cleaning

Temperature Control and Materials

Warranty Information

Price
How Knee Pillows Can Help Alleviate Back Pain
The Best Knee Pillow to Help With Back and Hip Pain
ComfiLife Orthopedic Knee Pillow
Summary: The ComfiLife Orthopedic Knee Pillow is made of 100% memory foam and designed in an ergonomic shape for the most comfortable night's sleep. It has a lifetime warranty and offers nighttime relief from sciatica, back, and hip pain.
Pros: The ComfiLife Orthopedic Pillow offers a removable machine-washable cover for easy cleaning, has a durable construction, and helps temperature regulation by staying cool throughout the night.
Cons: Reviewers say this pillow is a bit on the thin side and some sleepers experience the pillow going flat after a few hours.
5 Stars United Knee Pillow
Summary: The 5 Stars United Knee Pillow is made of premium quality memory foam and is effective at not only alleviating back and hip pain but also eliminating restless leg syndrome. It boasts a 100%  money-back guarantee if you are not completely satisfied with your purchase. 
Pros: It provides good overall support, has a soft removable cover, and is an affordable option.
Cons: This pillow may be too thick for some body types. Also, the removable cover can be hard to get on and off when laundering.
Beautiful Life Memory Foam Pillow - Half Moon
Summary: The Beautiful Life Memory Foam Pillow offers a unique half-moon shape composed of premium visco-elastic memory foam. This pillow can be used as a multi-positional support tool for under knees, as a spacer between legs, lumbar support while sitting, or to elevate ankles or legs to alleviate varicose veins. 
Pros: This pillow offers firm support and retains its shape well. Most reviewers say it is easy to change positions while sleeping with this pillow in place between the knees. 
Cons: The main complaint seems to be that this pillow can run a little warm.
Contour Legacy Leg & Knee Memory Foam Support Pillow
Summary: The Contour Legacy Leg and Knee Pillow was invented back in the early '90s and this company sure knows their stuff about knee pillows. This pillow has an hourglass shape that supports both of your legs and knees at the same time for optimal sleep and relaxation. The memory foam is also ventilated to allow air circulation to help achieve a cooler night's sleep.
Pros: This pillow retains its shape well and stays in place. The pillow itself is covered in a soft material that helps keep you cool while you sleep.
Cons: The main downfall of this pillow is that the cover is not machine washable.
Abco Tech Memory Foam Knee Pillow with Cooling Gel
Summary: The contoured design of this orthopedic pillow aids the pillow in comfortably resting between the knees for a good night's sleep. It has a cooling gel pad that helps keep you cool at night while reducing inflammation and alleviating back pain.
Pros: This pillow got a lot of praise for its ability to stay cool throughout the night. It offers a comfortable fit while it contours to your shape and offers an optimal amount of thickness. 
Cons: You may have to readjust frequently at night to ensure it stays in its proper position.
Other Great Health Related Articles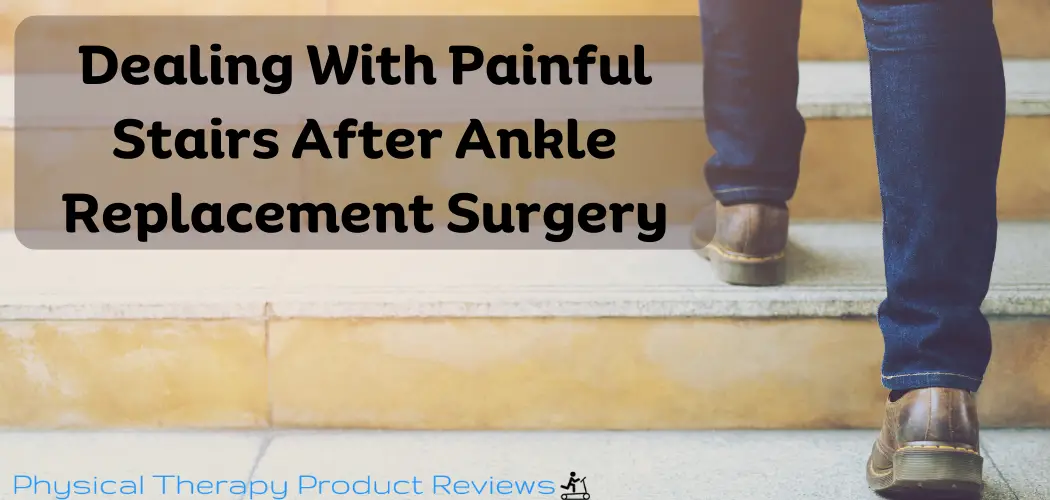 After undergoing an ankle replacement surgery, patients may experience pain when climbing stairs. The level of pain can vary from mild discomfort to severe pain, ...
Disclaimer: The information provided in this post is for educational purposes only. This is not a substitute for a medical appointment. Please refer to your physician before starting any exercise program.