Most orthopedic doctors will issue you a knee immobilizer after you have an injury or knee surgery. The immobilizer is to prevent you from moving your knee in an awkward position that could further injure it. 
The problem with a knee immobilizer is comfortably sleeping with it. Certain positions are better for sleeping with an immobilizer than others.  Sleeping on your back with pillows underneath or sleeping in a recliner are two of the best positions.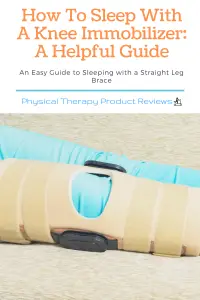 Read through this helpful guide to decide how to get some good sleep while using a knee immobilizer.
What is a Knee Immobilizer?
Knee immobilizers are pieces of medical equipment that prevent your knee from moving. It can be either a non-functioning hinged brace designed to keep your knee straight and prevent it from bending. 
The brace is typically made of fabric, plastic and perhaps has a metal rod that keeps the knee straight. It buckles around the leg to keep it in place and typically rests from the mid-thigh to mid-calf.
Two types of knee immobilizers are on the market. They are the non-functional and functional versions. 
Non-functional knee immobilizers are those that keep your leg completely still. You can't move much in these because they will slide down to your ankle with a lot of movement. You will likely be issued one of these if you get your knee immobilizer from the emergency room.
Functional or hinged knee braces are made so you can move. They are best used for those involved in therapy or recovering from a sports injury.
Typically, a doctor will first issue a non-functional knee immobilizer immediately after surgery or the injury. 
You will move into a functional knee-brace as you recover.
Who Should Sleep with a Knee Immobilizer and Why?
A doctor will advise you whether to use a knee immobilizer. Typically, they are issued by the doctor after surgery or after a serious injury such as a patellar dislocation. It could also be used when there is a fracture and the doctor wants to keep your leg straight while recovering. 
A doctor can also issue a knee immobilizer if you injure your knee. This type of injury could be a strained ligament or a type of muscle injury where the doctor wants it to remain immobile while recuperating, such as torn quadriceps. 
Most doctors will advise you to wear the immobilizer on a limited basis and incorporate a physical therapy program into your recovery.
If your medical professional does not tell you that you need to wear a knee immobilizer, then you should not be wearing one. Keeping your knee from moving when you don't need to can cause serious issues later on.
Who Should Avoid Sleeping with a Knee Immobilizer?
Most people can wear a knee immobilizer easily without a problem. Your doctor will give you guidelines for when to wear a knee immobilizer based on your case.
Typically, most don't need to wear an immobilizer to bed because it can cause stiffness or weaken muscles. 
However, some cases exist where doctors will instruct you to wear a knee immobilizer to bed. One of those will be post-surgery or immediately after an injury.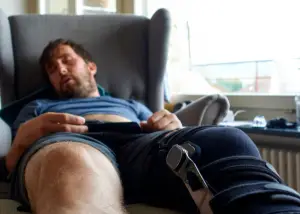 A knee immobilizer isn't meant to be worn for long periods and usually can be discarded or switched to a functional knee brace quickly, depending on the injury or surgery.
Other reasons a doctor will tell you to stop using a knee immobilizer include it fitting poorly, not providing relief, causing discomfort, or skin irritation.
Best Positions for Sleeping with a Knee Immobilizer Brace
The positions you choose for sleeping with a knee immobilizer have one goal: to keep your leg straight. This limits your options but protects your knee after a surgery or injury. Here are some possible solutions.
Sleeping on your back.
Sleeping on your back is one sure way to keep your leg straight but this can be uncomfortable if you typically don't sleep this way or have other joint issues such as back pain.
You can increase your comfort and reduce the pain in your leg by using pillows and special knee wedges to elevate the injured leg.  Be sure that you support the entire leg with pillows to make sure the knee stays straight. 
This position helps with draining if you have a post-surgical drain. 
Do not just place a pillow behind the knee.
Sleeping on your side. 
This position can be comfortable if you use a knee wedge pillow between the knees. You will need a knee pillow because one knee can cause pain to your injured one. 
The best side position is to put your injured leg on top of your other one to relieve pressure on the injured one.
A knee pillow also reduces lower back pressure. 
Sleeping on your stomach.
This can be a tricky position for those who like sleeping on their stomachs because of feet position.  Hang your feet off of the bed to keep them in line with your straight leg. 
Your ankles will be more comfortable this way as well.
Sleeping in a recliner.
Recliners can be great for sleeping because they have an elevated footrest that, depending on the recliner, can be adjusted for comfort. Some recliners have an electric footrest so they are easy to operate and will extend to a near-flat position. 
Many knee patients state a recliner is the best place to sleep for the first two weeks after surgery.
FAQ About Sleeping with a Knee Immobilizer
Can I take the knee immobilizer off at night?
The general rule is to wear it until a doctor or physical therapist tells you not to.
After that, you are to wear it whenever you are out of bed and can remove it at night. This DOES depend on your specific issue and you need clearance from your doctor.
This depends on your doctor, your injury, and your case. Some doctors want you to take it off at night because it can cause stiffness. 
If you are unsure, call your doctor's office and ask when you can sleep without it. 
Sleeping with an immobilizer too long can cause damage and stiffness that can be a serious issue.
Can I wash a knee immobilizer brace?
Most knee immobilizers can be washed with a washcloth and a mild soap.
You can handwash the removable pad with a mild soap. The hook and loop parts of the brace can be scrubbed with a brush to get the hair and dirt out.
Be sure to rinse well and air dry. 
Can I loosen my knee immobilizer brace at night?
Loosening your knee immobilizer defeats the purpose of keeping your leg still. If anything, you will need to adjust the straps to make your knee immobilizer tighter at night. Just be sure you don't cut off circulation.
Should I shower with a Knee Immobilizer on?
No, you should not shower with your knee immobilizer on. You can take off the straight leg brace but be sure to keep your leg straight and don't put any weight in your leg while showering if you are not allowed to. 
One recommendation is to get a shower chair to sit on to help prevent falling and to keep the knee straight.
Conclusion
A knee immobilizer can be a pain and usually means that something unfortunate has happened to you.
A knee immobilizer's inconvenience is most noticeable when you are trying to sleep.
We've provided helpful tips on how to sleep with the knee immobilizer to get good sleep and protect the knee at the same time. 
Leave us a comment below and let us know if you have found a good solution to sleeping with a knee immobilzier.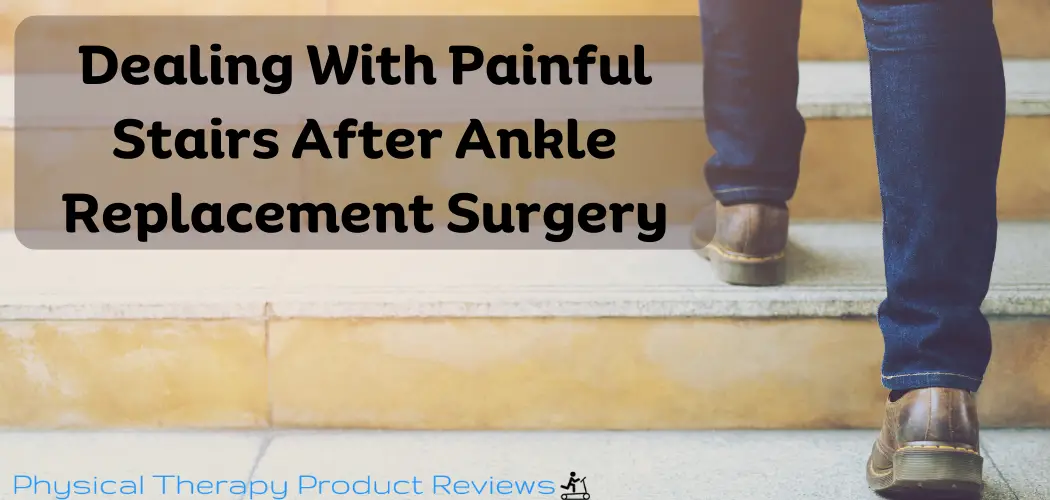 After undergoing an ankle replacement surgery, patients may experience pain when climbing stairs. The level of pain can vary from mild discomfort to severe pain,
Disclaimer: The information provided in this post is for educational purposes only. This is not a substitute for a medical appointment. Please refer to your physician before starting any exercise program.