Recovering from surgery is often a long, painful experience. Lack of sleep due to discomfort can add to your stress and make it even hard to get through. Sleeping post-surgery is especially difficult if you've been instructed to keep your head, back, or arms in specific positions while sleeping.
Often times the most comfortable location to sleep after surgery is a recliner. They are great for keeping your knees straight and keeping shoulders safe.
Sleep is one of the most important parts of recovery after surgery. If you don't sleep well, it's hard to heal. Investing in a recliner can be very beneficial for patients who want proper sleep and comfort during their recovery process.
What are the Pros and Cons of Sleeping in a Recliner?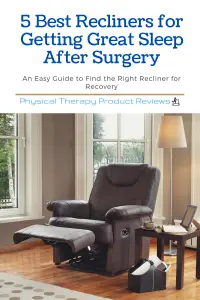 Sleeping in a recliner has several advantages as well as disadvantages. Some surgeries require patients to maintain a certain position while sleeping (i.e., head up, head to the right, back straight). A recliner makes it easier to stay in these positions while sleeping by providing various adjustment options. 
A person sleeping on a bed is more likely to move around and possibly end up on their stomach when they are not supposed to. Another advantage is that a recliner forces users to be more aware of their sleeping positions. Since the recliner is smaller, the user is more likely to hit an arm handle and wake up if they try to turn too much. This will prevent them from accidentally being in a sleep position they are not supposed to be in.  
The patient having to wake up more often can also be a disadvantage of sleeping in a recliner. In a bed, the patient will be more comfortable. The larger size will allow the person to sleep longer and more comfortably without interruptions. 
What to Look for in a Recliner for Sleeping?
When looking for the perfect recliner for sleeping, there are several qualities to keep in mind. 
Heating options

: If you like to be warm while sleeping, or if your home stays at a cold temperature, you will want to look for a recliner with heating options.

Vibration level

: If you like your massages to be deep, make sure you get a recliner with a high vibration setting. 

Lift:

if mobility will be a concern, a lift will make it easier to get out of the recliner.

Manual or Automatic Reclining:

If arm mobility will be a problem, consider a recliner with an electric recline function. 
FAQ About Sleeping in a Recliner After Surgery
Can you Sleep in a Recliner after Back Surgery?
Yes, you can. Sleeping in a recliner after back surgery can even be more comfortable than crawling into a bed. The reclined chair can be less stressful for your back than an upright chair or a bed.  
Can you Sleep in a Recliner following Shoulder Surgery?
Yes, you can. In shoulder surgery, a sling usually has to be worn at all times, even while sleeping. Sleeping in a recliner instead of a bed allows patients to rest without allowing them to turn over during the night and put more stress on their shoulders.
What's the Best Way to Sleep in a Recliner After Surgery?
The best way to sleep using a recliner after surgery is to sleep with the warm setting on if it makes you more comfortable. The leg rest in the up position provides extra comfort and a pillow under your hand and elbow. This will allow for faster recovery following surgery.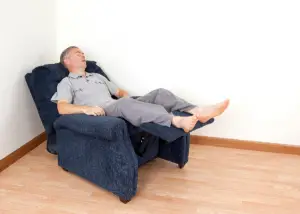 Does Sleeping in a Recliner Increase the Risk for Blood Clots?
No, it shouldn't, especially if you are wearing your leg compression stockings for the first 2 weeks after surgery. There can a small increased risk of sleeping sitting up for DVTs if you don't move in one position for many hours, but this is rare as most people still move in their sleep. Overall, sleeping sitting up isn't harmful and at times more comfortable than your normal bed.
Benefits of Sleeping in a Recliner
Getting a Good Night Sleep After Surgery in the Right Recliner
MAGIC UNION Power Lift Massage Recliner
Summary: This MAGIC UNION Power Lift Massage Recliner is great for sleeping in. The recliner is made of faux leather and can hold about 300 lbs. The dimensions of the item are 31 x 33.5 x 41.3 inches.
Pros: There are many advantages of having this MAGIC UNION recliner. The chair is easy to use and comes with two remote controls. The chair is also easy to assemble. Another advantage is that this recliner comes equipped with a footrest for added comfort. There is also a power lift option that pushes the entire recliner up from the base so seniors can easily stand up. 
Cons: The wheels on the chair do not lock, so it slides too easily on hardwood floors. The item also has to be returned in two boxes which total about $91, so it can be quite expensive to return the chair if you are not happy with it.
Signature Design by Ashley Ballister Contemporary Power Lift Recliner
Summary: This Signature Design by Ashley Ballister is a contemporary Power Lift Recliner. The chair has a rustic design and weighs about 154 lbs. The dimensions of the chair are 41 x 36 x 42 inches.
Pros: This recliner has so many wonderful qualities. First of all, it is simple to assemble. The chair also has foam cushions inside supple polyester for a very comfortable sitting experience. This chair also has a 4-motor design which allows separate control of the backrest, leg rest, headrest, and lumbar support.
Cons: One customer claimed that the lumbar support on the chair was placed too high. Also, a customer who was 6'2 in height stated that the recliner was too small for him.
Best Choice Products Electric Power Lift Linen Recliner
Summary: This Best Choice Product is an electrically powered lift linen recliner. The recliner weighs about 113.5 pounds and can carry up to 330 pounds.  
Pros: This Best Choice Recliner has several great qualities. The recliner comes equipped with built-in cup holders for added convenience and lounging. The recliner also comes with two heat settings to keep you nice and warm on colder days. The chair also has three massage modes at multiple intensities. These modes can target your thighs, lumbar, lower legs, or back.  
Cons: The remote control of the chair only controls the heat setting. You can not adjust the lift or recline using the remote control.
Domestic Renu Leather Power Lift Chair Recliner
Summary: The Domestic Renu is a recliner chair made of leather. The frame is made of alloy steel, and the power lift chair recliner can carry up to 300 lbs.
Pros: The Domestic Renu recliner is very easy to assemble. It takes under ten minutes to assemble the chair. The chair also comes with full padding and plush for added support when sitting on it. Furthermore, the chair comes equipped with a controller that can help users get in or out of the chair. 
Cons: Many customers complained that the chair stopped working in under one year. Another customer stated that the chair's recliner is very limited to how far it can be adjusted.
EVER ADVANCED Power Lift Massage Recliner
Summary: The EVER ADVANCED Power Lift Massage Recliner is made of Iron and can carry up to 350 pounds. The dimensions of the item are 29.1 x 34 x 40.5 inches.  
Pros: This recliner is made of high-quality faux leather that can be cleaned easily. The chair also comes equipped with USB charging ports so you can easily charge your electronic devices. The chair also has a heating mode and massage feature for added comfort and leisure.  
Cons: One customer stated that the chair leans to the left too much, which can be uncomfortable. The seat can also be too short for some individuals. 
Other Great Health Related Articles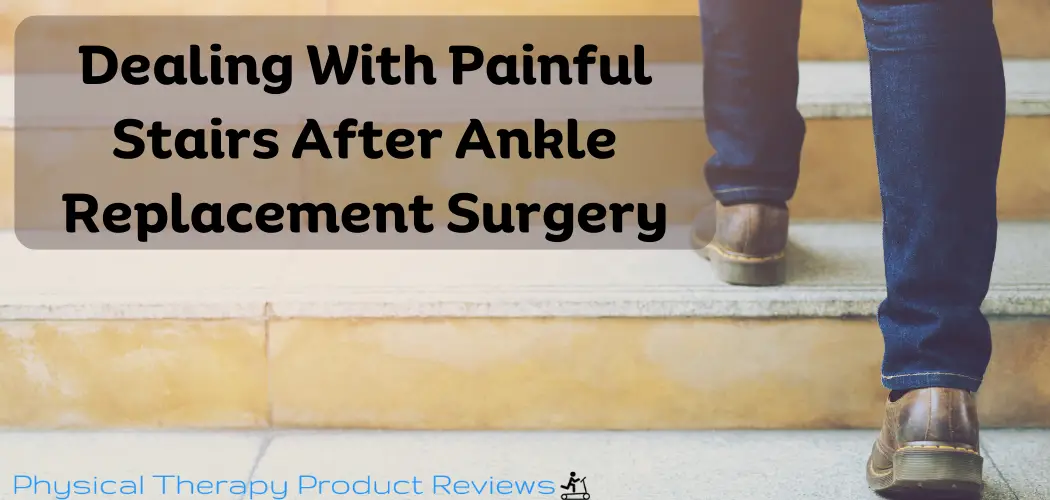 After undergoing an ankle replacement surgery, patients may experience pain when climbing stairs. The level of pain can vary from mild discomfort to severe pain, …
Disclaimer: The information provided in this post is for educational purposes only. This is not a substitute for a medical appointment. Please refer to your physician before starting any exercise program.