A shower chair is a vital product for some, allowing them to bathe alone without the added risk of having a potentially serious fall. Shower chairs are chairs that are safely attached to prevent falls. The chairs are water proof, can be operated independently operated, and easy to use. The chairs provide safety, comfort, and independence for people that may fall in the shower. They are extremely resourceful for people who lack the ability to stand while showering.
Who Would Benefit from a Shower Chair?
A shower bench can be beneficial to many people who would otherwise require assistance to clean themselves. For example, the chair could work wonders for the elderly, paraplegics, people who have had recent surgery. Anyone that has a medical condition preventing them from standing in the shower or showering safely would benefit from a chair. Family members also love the assistance of a chair so that they don't have to worry about their loved ones falling and getting hurt.
Using a Shower Chair After Surgery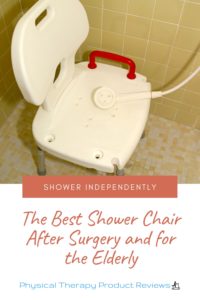 One of the most common times use a shower chair is after a surgery to the legs and back, especially if your surgery is expected to have a long recovery such as an Achilles Tendon repair or a total knee replacement.
If you can't put weight on your surgical leg then a shower chair allows you to sit down and not use help from anyone else.
If you can put weight on your surgical leg, a shower chair is still beneficial because its a place that you can sit down and rest for a minute. Standing for a whole shower after a large surgery can become quite painful.
What to Look for in a Shower Chair
A shower seat should easily provide independence, stability, and comfort. This should be kept in mind when searching for a chair to purchase. Easy installation is a major factor that should weigh in when buying a chair, especially if the user does not have assistance from others. The necessary cleaning process also should not be overly difficult.


Many shower seats have armrests and a back support, which may sometimes be removable, for added stability. Chairs with compartments can allow the user to have easy access to toiletries and a handheld shower head. The chair of choice should be tall enough for one's feet to be touching the floor with the knees bent at a 90-degree angle. The legs should be rust and slip-resistant, in order to avoid accidental falling of the chair.
Also important, the seat should be comfortable. Many shower benches are padded in order to ensure maximum convenience. The chair's height and width also must fit into the bath/shower, and of course the bathroom itself and sufficient room to successfully maneuver the chair. In addition, a good shower is able to support the user's weight. The majority of the seats work for people up to 250 pounds.
Do you have pain in the front of the knee? See out reviews on the Best Braces for Patellar Tracking Dysfunction
How to Use a Shower Chair
FAQ About Shower Chairs
Does Medicare Cover Shower Chairs?
Medicare typically does not cover a shower chair for home use. However, some medicare advantage plans may give an allotment to spend on medical supplies. A shower chair would likely be covered in that case but you would need to check with your specific insurance plan.
How to Clean a Shower Chair?
It depends on the material but if you used soap and water then you should be fine. We do recommend disinfecting at least 1x a week with a bleach and water spray mixture.
Where to Donate a Shower Chair?
Shower chairs are a huge need! If your shower chair is no longer needed there are a few places that you can donate them to. These include:
Hospice
Your local hospital
Local elks club
Donate and give away on facebook marketplace or craigslist
The Best Shower Chairs to Prevent Falls while Bathing
Nova Shower and Bath Chair
Pros: The NOVA Shower Chair allows the user to safely and comfortably bathe. The padding on the easily removable arms of the chair are providers of support and stability, allowing for ease in getting out of and in the chair. The chair is also easily assemble, able to be put together and taken apart within minutes without tools.
Cons: Some complaints of leg durability
Carousel Sliding Transfer Bench with Swivel Seat
Pros: The Carousel Sliding Transfer Bench is a professional grade sliding transfer shower chair with an easy, tool-less 5-minute assembly. Its sliding and pivoting capabilities allow for effortless transfers into and out of the tub. The chair's padded and slip resistant seat, back, and armrests allow for comfort while cleaning and do not absorb any water. The material from which the padding is made also makes it simple to disinfect. Its swivel seat is designed to be safer than a standard seat and save space, allowing there to be an adequate amount of room to properly maneuver the chair.
Cons: Some complaints of insufficient depth for larger people.
Carex Tub Transfer Shower Chair
Pros: The Carex Tub Transfer Bench chair is adjustable seat height makes it a breeze to place it at the desired height based on the user's size. As one side if the bench sits on the outside of the tub while the other sits on the inside, it is easy to enter and exit the tub. The sturdiness and slip-resistance of the bench allow for people of larger stature to utilize the product, all while only weighing 11 pounds itself. The shower seat also assembles and disassembles quickly, which is useful for storage or travel.
Cons: The fact that part of the seat goes outside of the tub makes it difficult to use a shower curtain, which may make a wet mess outside of the tub.
The Original Teak Shower Chair
Pros: The Teak wooden shower bench chair is made up of stainless steel, non-corroding hardware with rubber gripping feet, allowing for added stability and durability. It can be assembled and disassembled within minutes and is also easily cleaned. This chair also comes with a five-year warranty which we absolutely love.
Cons: It can take longer to dry and clean
NOVA Rolling Shower Commode Chair
Pros: The NOVA Rolling Shower Commode Chair is comfortable and safe, as it has padded armrests and seats. This also makes the cleaning process simple. The swing-away removable footrests can easily attach and detach within seconds and are adjustable for optimal fit and comfort. There is no assembly required, as the shower chair comes put together.
Cons: Works best with walk in showers
Disclaimer: The information provided in this post is for educational purposes only. This is not a substitute for a medical appointment. Please refer to your physician before starting any exercise program.