Your knees take a beating playing volleyball. Volleyball is a game of constant movement, jumping, landing, twisting, sprinting, and diving. It's easy to understand why Volleyball has a higher than average rate of knee injuries compared to other sports.
Healthy knees are crucial to withstand the constant shifting, pivoting, squaring up, leaping, and running forward. 
A knee brace can help avoid a future knee injury. They also help get back to court sooner after a knee injury. 
Can You Wear A Knee Support While Playing Volleyball?
Not only can you wear one, but it's also a prevalent feature in the sport.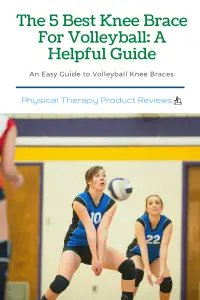 If you want a challenge, try to catch a single volleyball game where not one player on the court is wearing a knee brace. If you happen to find one, go buy a scratch-off, right now. 
Even if you have healthy knees and never sustained an injury there, wearing knee support just makes sense.
The Marine Corps will be the first to tell you that it's not the running that destroys the knees over time, it's the impact on hard surfaces. 
Cause of Knee Pain In Volleyball Players
The primary cause of knee pain in Volleyball is simple overuse with bad landing mechanics.
Every part of your body needs a break from time to time and a short game of volleyball is nothing more than a series of constant, explosive movements, over and over again. 
The primary cause of knee injuries in volleyball is landing poorly.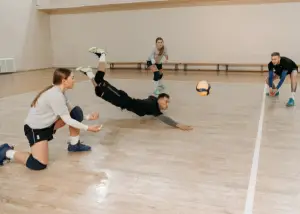 This puts the knee at risk for ligamentous injuries such as ACL tears which is common on Volleyball. 
It's one of the most fundamental understandings of how the body works, repetitive use is destructive over time. 
ACL and Ligamentous Injury:

Poor landing mechanics can cause ligament tears

Patellofemoral Syndrome:

Pain in the kneecap (Jumper's or Runner's Knee)

Patella Tendonitis:

Inflammation in the tendon connecting the kneecap to the shin

Patella Bursitis:

Inflammation of the "Bursa" in front of the kneecap

IT Band Syndrome:

Iliotibial band—runs from your hip to your shin and is irritated from overuse
Why Do ACL Tears Happen in Voleyball
Even though ACL tears are less common in Volleyball compared to other women's athletics, they are still quite prevalent. 
Recently, researchers have found ACL tears in Volleyball to account for nearly 9% of all ACL tears sustained during the high school athletics year. This is just behind girls soccer and girls basketball.
ACL tears are 7x more likely to occur during competition than during practice and are more likely to occur in front of the net during single-leg landing. 
The cause of ACL tears in Volleyball is multifactorial however there are a few common aspects of injury:
Female gender
Landing on a Single Leg
During Competition as compared to practice
Most occurred in the opposing leg of the dominant hand in wingers
What To Look For In A Volleyball Knee Brace
There are several things that you want to look for in a volleyball knee brace and, no matter how good the brace is, it's going to be difficult to find anything that can cover every, single aspect of your game. 
Knee brace material
Overall weight and durability
Ease of use
How comfortable the knee brace is so that you'll use it
 The material is vastly important in terms of its efficiency and capability in reducing the strain of twisting, bending, and impacting the earth while also maintaining its ability to keep your knee as stable as possible. 
You want that happy medium, where you still have a free and open range of movement while your knee is held in a stable and supportive position.
5 Best Volleyball Knee Braces
Bauerfeind Sports Knee Support
The Bauerfeind Sports Knee Brace is designed with a medical-grade level of compression.
This particular knee brace allows for a free range of movement while maintaining a positive level of reinforcement and stability.  
It's a comfortable design as well, with AirKnit technology that keeps your lower thigh, knee, and upper shin area from becoming a sweaty mess. It doesn't bunch up or roll up from the bottom or down from the top, which causes pinching and a good deal of discomfort.
It does lack a soft, inner lining which can cause friction and skin irritation if worn for long periods.  
Pros
Cons

AirKnit Tech
The knee pad disperses pressure
Pressure points and lateral wings provide support
Medical grade compression

Lacks a soft, inner lining
These McDavid Hex Knee Pads are extra long for added stability, resistance to scratches and abrasions, and its made of non-slip material. The non-slip material keeps it from rolling up, pinching, and chafing the back of your knee.
It's designed for maximum compression that doesn't restrict your range of movement, with hex material that's crafted to provide comfort and impact resistance. The Moisture Management Technology wicks away sweat to keep your knee dry and comfortable. 
Pros
Cons

Closed Cell Foam Padding that's impact-resistance
hDc moisture-wicking tech
Non-slip material
Extra-long design for added protection and comfort

Sizes are off
They don't last long
DLS Knee Brace with Lateral Support
DLS Knee Braces are known as "compression socks," and are designed for those who want stability but aren't currently injured.  They're best as a preventative or for those who have recovered from a previous knee injury and want to prevent another. 
There are a lot of threads that go into this compression sock, creating a compression that's stabilizing, superior in comfort, long-lasting, and very durable. The material is very breathable, so you won't sweat profusely underneath it. 

With lateral stabilizers and gel padding, you get outstanding support without the material being overly thick and uncomfortable. 
Pros
Cons

Lightweight with excellent compression
Lateral stabilizers and gel knee pad
Very breathable material
Comfortable, stretchy material

Tends to roll up on long legs
McDavid Knee Pad with Thick Gel
The primary focus of the McDavid Knee Pad is the thick, gel insert for impact absorption. Volleyball players often have to land on their knees to reach the volleyball and this is the perfect knee pad for that. It's a low profile, compressed fit, with very breathable material.

The back of the knee is seamless to avoid the material bunching up and pinching. 
Pros
Cons

Highly breathable latex material
Low profile, compressed fit
High-impact gel knee pad
Seamless back-of-knee
The Incrediwear has managed to create a sleeve that is focused on anti-inflammation while retaining its high-quality, compression capability.
The material is designed from the elements of semiconductors and is highly breathable, comfortable, and long-lasting.
The semiconductor material improves circulation by reacting to the increased heat of your working body.
Pros
Cons

Anti-inflammation, blood circulating tech
Designed for 24/7 wear
Moisture-wicking fabric
Relieves muscle soreness

Sizes run on the small side
Conclusion
Volleyball is an intense sport for the knees with jumping, diving, and twisting. The impact on the floor and jumping can take its toll. Try one of our recommended knee braces to keep your knees healthy all season.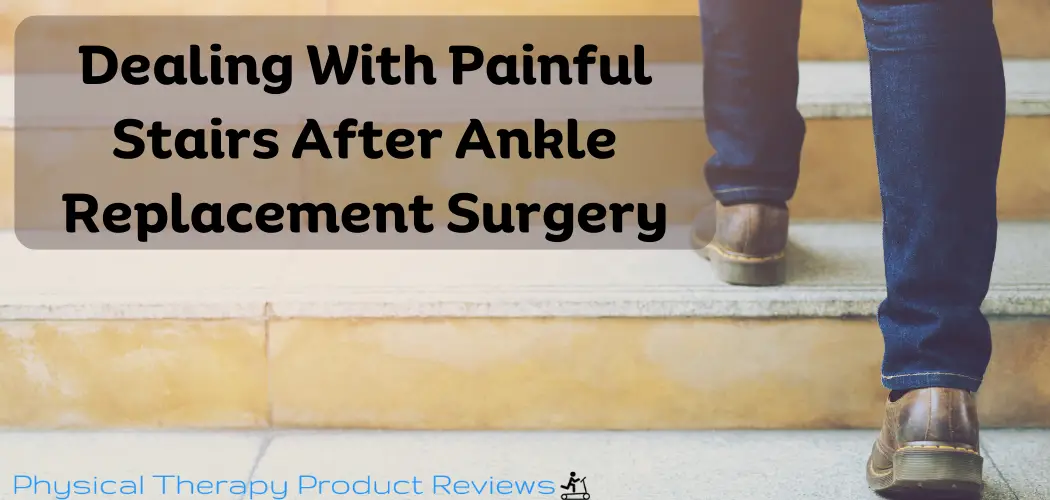 After undergoing an ankle replacement surgery, patients may experience pain when climbing stairs. The level of pain can vary from mild discomfort to severe pain,
Disclaimer: The information provided in this post is for educational purposes only. This is not a substitute for a medical appointment. Please refer to your physician before starting any exercise program.