Knees, like the other important joints in our bodies, we take them for granted until they give us pain or give out on us. The knee joint is quite complex, there's a lot that can go wrong and many different components that we can injure.
Millions of people–athletes and non-athletes alike–deal every day with knee pain and knee injuries.  And because knees are so central to our mobility, an injury can really put a crimp in our style. Our knees rely on stability from ligamentous more than any other joint. One of the common injuries sustained in the knee is an LCL Sprain.
Comparing LCL Knee Braces
What is the Lateral Collateral Ligament (LCL)?
An important component of the knee that is subject to injury is the Lateral Collateral Ligament, the LCL. 
It is one of four critical ligaments involved in stabilizing the knee joint. Because it's a ligament, it connects bone to bone–in this case, the thigh bone to the lower leg bone.
It's located on the outside of the knee and stabilizes from the side. LCL injuries happen when there's a blow to the inside of the knee or a twisting motion causing a stretch on the outside of the knee.
The good news is that sprains of the LCL are less common that other serious ligamentous injuries and they often heal on their own with bracing and a regular home exercise program.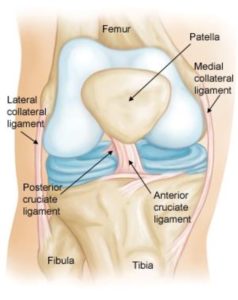 Grades of LCL Knee Sprains
A sprain results from a tear of the tissue, and obviously we can tear more or less of the tissue in any given injury. LCL sprains are assigned grades depending on their severity.
Grade 1 LCL Sprain
The ligament is taxed, but doesn't tear. If there are tears they are small and don't cause the knee to be unstable
Grade 2 LCL Sprain
The ligament has experienced larger tears. The sprain causes looseness in the knee, pain, and swelling. It's also possible that you'll see bruising. In a Grade 2 sprain, the ligament is not completely torn.
Grade 3 LCL Sprain
The ligament is completely torn. A Grade 3 sprain causes a lot of pain, swelling, and bruising on the inside of the knee. Because of the severity of the sprain, the knee will be unstable and if you're not careful, the instability could cause further damage to other parts of the knee or leg.
Symptoms of an LCL Sprain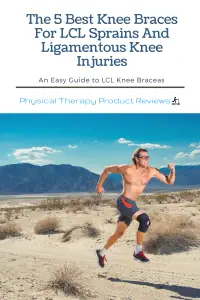 The LCL stabilizes the outside of the knee. It can become injured when you take a hit or a blow to the inside of your knee. 
Depending on how badly you have injured the ligament, you may feel just pain or stiffness, or you may experience looseness of the knee as well as bruising and swelling. You might also have trouble walking.
Difficulty walking, going down stairs, or standing on one leg
Tenderness to touch on the outside of the knee
Feeling of the knee giving out on uneven ground
Swelling on the outside of the knee
Pain with squatting or bending down
Do You Need Surgery with an LCL Tear?
In the vast majority of LCL tears you won't need surgery to make a full recovery. 
You might need to rest the knee and take time to let it heal fully. If it's somewhat worse, and it continues to give you problems, you might need to seek the care of a physician or a physical therapist.
Grade 3 tears with other injured knee structures may require surgery if you are a high level athlete and needing to get back to field at a high level.
Isolated LCL tears rarely require surgery, but may be repaired if other ligament damage was also sustained.
What to Look for in an LCL Brace?
If your health care professional recommends a brace for stability while your knee heals, you'll want to get one that has features that make it work well for you and your knee.
Hinges–these help with stability and keep your knee from moving out of alignment. There are rigid and soft hinges.
Breathability–this makes sure the brace is comfortable to wear all day.
Stability–this feature is key to insuring healing of the knee.
Easy on/off–this feature will help you by making sure the brace is convenient and easy to live with
FAQ Regarding LCL Sprains
How Long Does it Take For an LCL Injury to Heal?
Most LCL injuries take anywhere from 4-12 weeks to heal depending on the severity. Most people will feel fairly good by 8 weeks after the injury but ligaments can take 3 months or more to heal.
How to Tape an LCL Sprain?
Taping an LCL sprain is actually quite easy. We typically use kinesio tape because it's easy to use and effective enough in the case of the LCL. Here's a video on how to tape the LCL.
Why Does it Hurt to Bend and Straighten Your Knee After an LCL Sprain?
The LCL and MCL go through changing amount of tension during the full range of motion in the knee. Some of the greatest tension occurs around 30 degrees of knee flexion and can cause discomfort each time the knee bends to that angle.
Where Does an LCL Sprain Hurt?
The most common location for an LCL sprain is directly over the ligament itself. There can be some discomfort into the lateral shin and even up into the IT band region as the body compensations.
Can You Run After an LCL Sprain?
Absolutely, but it's important not to rush it and risk further injury. For severe cases wait until after 2-3 months from the date of injury to begin running or contact sports again.
Can You Bike After an LCL Sprain?
Biking is fairly easy on the LCL and can be resumed based on pain tolerance. We typically have people wait 3-4 weeks after the injury to let some of the torn fibers heal before hopping on the bike. 
How Common are LCL Sprains?
Isolated LCL sprains are actually quite rare when compared to other knee injuries as the ACL or Meniscus injuries. Some research studies have the incidence as low as 1.1% for LCL sprains alone. 
The Best Braces for LCL Sprains
DonJoy Performance Bionic Knee Brace
Summary: The DonJoy Bionic Knee Brace can be used to support the knee for ACL, MCL, and LCL injuries and can be used for sports. It's lightweight with a premium neoprene material. It is one of the highest rated braces on the market and one of the easiest to take on and off. Despite the ease it taking off we are really impressed with how tight and supportive the braces feels.
Pros: hex-shaped opening for the knee allows for free movement, quick and easy on/off, closures allow for precision fit
Cons: more expensive than other similar models, doesn't fit well over a long period of time
 Mcdavid 429X LCL Knee Brace
Summary: The McDavid 429x knee brace offers "maximum" support and compression for "moderate to major instabilities." It has one hinge on each side of the knee. This is a great brace for the moderate and severe LCL sprains, or if anyone has underlying knee arthritis. It is going to provide the most support of any brace on this list.
Pros: heavy duty, solid brace, comfortable, holds knee in place well
Cons: be careful with sizing
Zamst ZK-7 LCL Knee Brace
Summary: The Zamst Zk- 7 Brace has resin stays to provide support as well as their x-strap and parallel straps for front to back stability. Great for any ligament injury but is great for a LCL sprain. The flyweight lightweight material is designed with V-Tech flow which allows for greater airflow while wear. This brace was recently worn during rehab by Von Miller of the NFL.
Pros: It's made of lightweight material but doesn't shift around, "fits so well that I forget it's on"
Cons: may run small; go up a size if in doubt, does not have metal structural support
Summary: The Bracoo Knee Brace  is a knee "support" more than a brace. It offers comfortable support for those grade 1 and grade 2 sprains. It comes with an open patella design for breathability. The velcro straps allow for customizable fit for all different sizes of legs and is one of the easiest braces to take on and off.
Pros: fully customizable so it fits well, inexpensive, neoprene encourages circulation, can be worn under clothing
Cons: some users found it didn't stay in place
Summary: The EzyFit Knee Brace offers "substantial" support; it has two stabilizers, but it's flexible and breathable. It comes with a non-slip design and the open patella allows for more airflow and more breathable.
Pros: velcro can be placed anywhere on the brace, good for all sizes–especially for plus sizes, easy on and off, and light weight
Cons: velcro may not last over the long haul
Conclusion:
If a brace or a support is what helps you get back in the game, these products offer the help you need.  They will keep that knee in place so it can get back to serving you. These knee braces can help you get back to normal work and play while your LCL heals.
Works Cited:
Other Great Rehab Related Articles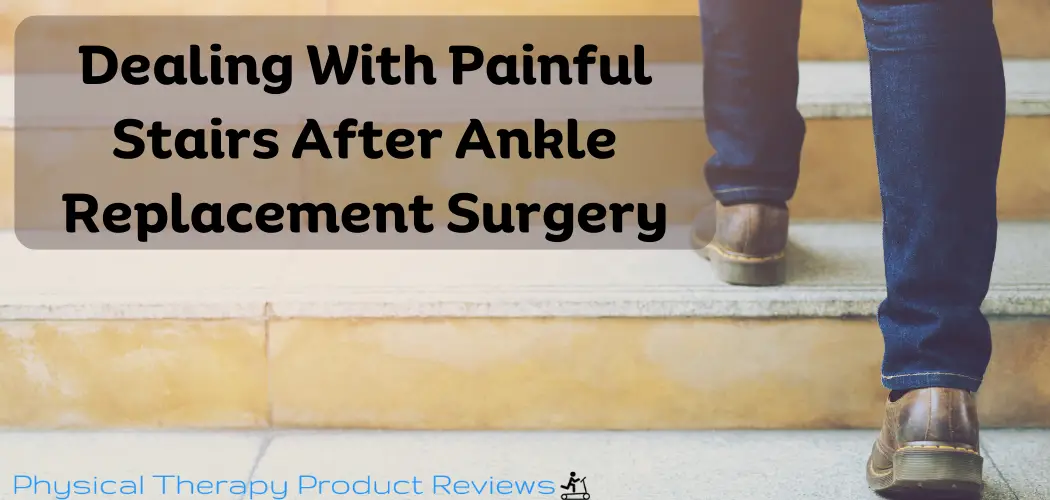 After undergoing an ankle replacement surgery, patients may experience pain when climbing stairs. The level of pain can vary from mild discomfort to severe pain,
Disclaimer: The information provided in this post is for educational purposes only. This is not a substitute for a medical appointment. Please refer to your physician before starting any exercise program.