You've seen the bright colored tape at the Olympics for years now and you're probably wondering "does that stuff even work?" You might even want to try it yourself to help recover from an injury faster. Kinesiology Tape is a great way to get extra support to a joint or muscle in a way that most people can treat themselves. Continue reading our helpful guide to learn more about KT tape and how to use it.
In a Hurry?
Our favorite kinesio tape that we use in the clinic and at the house for personal use is Rock Tape. We like it because it seems to stick better and hold its support longer.
What Is Kinesiology Tape?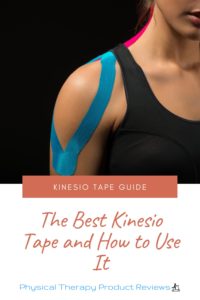 Kinesiology Tape, Kinesio Tape or KT tape is an elastic tape made from cotton, spandex and adhesive that is used to stimulate or relax muscles. It was originally invented in the 1970's by Kenzo Kase. He set to find a way to the body heal while they were between and undergoing treatment. The original claims when the tape was invented was to help with pain, reduce inflammation, relax muscles, enhance performance, and support muscles during a sporting event.
How Do You Put On Kinesiology Tape?
Kinesiology Tape is stuck directly to clean, dry skin over the affected muscles or joints that effected. Usually it is stretched over the length of a muscle, leaving a few inches un-stretched at each end. Although there are many specific patterns and advanced techniques that can be used.
How Long Can I Wear Kinesio Tape?
For the most part Kinesiology Tape can be worn comfortably for 3-5 days and still get benefit. Once it is adhered it usually does quite well with sleeping and bathing. If for any reason you notice itching or increased redness around the tape, then take it off in case of an allergic reaction. There is no magic amount of time that the tape needs to be worn.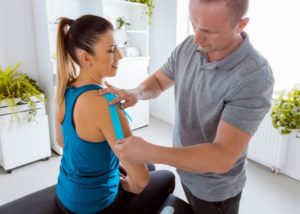 Can Kinesiology Tape Get Wet?
Kinesiology Tape is water resistant and designed to still perform when wet, although some brands are more water resistant than others. It is important that the tape is applied to dry skin before getting wet.
Are Different Colors Of Kinesiology Tape Better?
There is no practical difference between the colors of Kinesiology Tape. Colors can be used to match team colors, for increased visibility, etc. Though some clinicians swear that some colors seem to stick better than others, this likely isn't true.
Can I Wear Kinesiology Tape If I'm Allergic To Adhesive?
If you are severely allergic to adhesive, you should avoid using Kinesiology Tape. If an allergy is suspected, a small test piece of tape should be applied first for a short time to test for any irritation.
Is Kinesio Tape Latex Free?
Most of the Kinesio tape brands are latex free. If you have an allergy to latex please double check with the individual manufacture first before using.
Is Kinesio tape Safe During Pregnancy?
Absolutely! In fact, it is commonly used for both low back pain during pregnancy and at times to help support the abdomen in the final months of fetal growth. For help with how to apply KT tape during pregnancy you can watch this helpful video.
Do you have pain in the front of the knee? Check out our reviews of the best Braces for Patella Femoral Disorder
Is Kinesio Tape Effective and Does it Work?
Kinesiology tape does work but it may not work in the ways that it is mostly advertised. KT tape is not going to turn muscles on, turn them off, or fix any immediate injury. 
What it likely does is help influence the nervous system and how the sensory information is being relayed to the brain, provide a superficial support to an area, and provide mental support after injury. 
KT tape can aid in the recovery of an injury but is not a replacement for strengthening or mobility exercises.
Does Kinesio Tape Help With Tendonitis?
Taping can be beneficial for tendonitis. This true for both the arms and the legs. In a study on forearm tendonitis, kinesio tape was found to help in relieving pain, restoring grip strength, and improving functionality in rehabilitation.
Does Kinesio Tape Hep with Arthritis?
Does Kinesio tape help with Low Back Pain?
KT tape is an easy to use adjunct to help more easily perform physical therapy and exercise. In a systematic review, researchers found that KT tape is best used in conjunction with other therapies and can best improve the ability to perform those exercises. 
Does Kinesio tape help after a total knee replacement?
Kinesio tape has been show to be effective for recovery after a total knee replacement. In one study, the researchers found that kinesiology tape helps reduce postoperative pain, edema, and improve knee extension in early postoperative rehabilitation period
The Best Kinesiology Tape
There are so many Kinesiology Tapes on the market today. We've summarized some of the pros and cons of some top tapes below.
Summary: The Spartan Kinesio Tape is praised for its superior sticking power while often costing only half as much as some other top brands. Spartan Tape is sold by the roll which means you can always cut off just as much as you need, although some people prefer the convenience of pre-cut strips.
Rock Tape Kinesiology Tape
Summary: Rock Tape is one of the most popular brands of Kinesiology Tape, found in the offices of many Chiropractors and Physical Therapists. It stretches in all four directions, and claims to stretch more than twice as far as average tape. This means it stays on without limiting your movements, although it may not offer as much support.
Summary: KT tape is the Kinesiology Tape you're most likely to see on professional athletes or Olympians. As such it's a high performance tape, although sometimes a little pricier than other options. It's available in many colors and designs, even special edition national flags. It's optimized for dry performance so it's not as waterproof, which could be an issue if you need to use while swimming.
Summary: Physix Gear Kinesio Tape is sold by the roll, for you to cut as much as you need. It has a long lasting adhesive that keeps corners of the tape from peeling, even with much physical activity and water exposure. It also has construction that doesn't fray around the edges, keeping the tape looking neat day after day.
Kinesio Tex Kinesiology Tape
Summary: This is the brand of the inventor of Kinesiology Tape, Dr. Kenzo Kase, who originated the idea of Kinesiology Tape in the late 1970's. Kinesio Tex tape is praised for its comfort, with people saying that when properly applied you forget it's even there because it moves with your body and has adhesive that never irritates.
Summary: Mueller Sports Tape sticks very well initially, but usually doesn't work well longer than about two days. It doesn't offer the rainbow of colors some tapes come in. If you don't care about being flashy and only need an inexpensive tape for specific events, it's a good choice.
Hampton Adams Kinesio Tape
Summary: Hampton Adams Kinesiology Tape is perfect for those who just want to get the job done with no nonsense. It's extremely waterproof and lasts up to 10 days, twice as much as competitors. It's sold in rolls and has a handy ½" grid on the liner side to make measuring easy. It's mainly marketed to medical professionals, but people who tried it usually like it.
How to Use Kinesio Tape Instructional Videos
How to Use Kinesio Tape for Knee Pain
How to Use Kinesio Tape for Shoulder Pain
How to Use Kinesio Tape for Calf Pain
How to Use Kinesio Tape for Low Back Pain
In Review
No matter what type of tape you choose try different taping patterns until you find the one that works best for you. Kinesio tape can be an easy aid to help with pain and discomfort without any negative side effects.
photo credit: https://sportscarephysicaltherapy.com/kinesio-taping/
Other Great Rehab Related Articles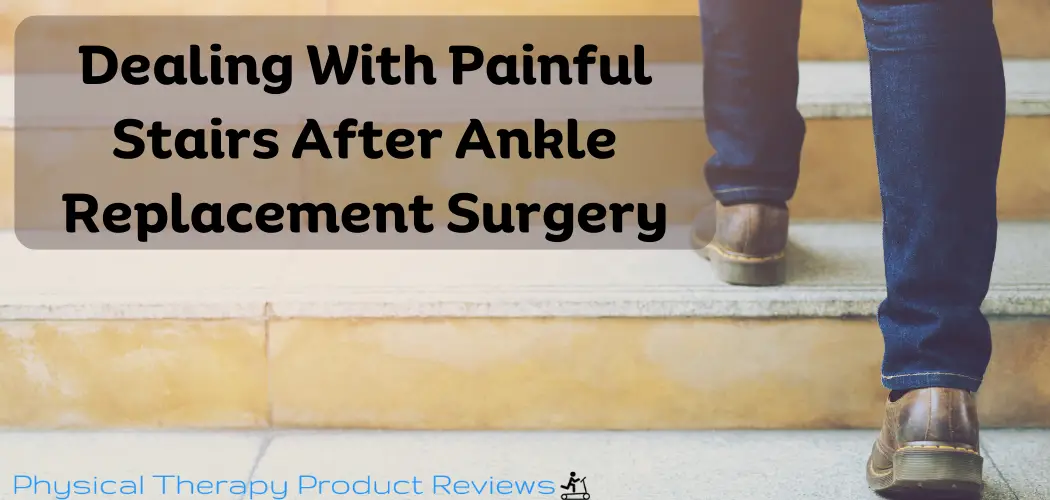 After undergoing an ankle replacement surgery, patients may experience pain when climbing stairs. The level of pain can vary from mild discomfort to severe pain, …
Disclaimer: The information provided in this post is for educational purposes only. This is not a substitute for a medical appointment. Please refer to your physician before starting any exercise program.