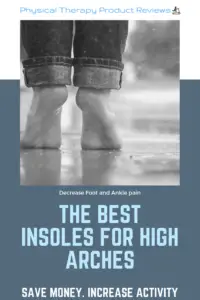 We depend heavily on our feet to get us around, but our feet and ankles can bark back by giving us pain. Sometimes the pain comes from a wrong step, but sometimes the pain comes from the hand we've been dealt in life–high arches.
Having high arches can sometimes predispose people to foot and ankle problems and that can interfere with their daily lives. However, you are in luck. High arches have been shown to benefit from the use of insole inserts to reduce pain and improve quality of life.
What are High Arches in Feet?
If the arches of your feet are high, this might cause pressure on the ball of your foot or your heels.  And then there's the Plantar Fascia, that band of connective tissue that runs along the bottom of your foot that connects your heel and your toes.
It could be affected by high arches as well. When you have high arches, your feet have more room to be stretched during each step as compared to someone with low arches. The more that the structures of the foot are stretched, there is a chance of causing pain and dysfunction.
How to Tell if you have High Arches
You can figure out if you have high arches with a simple test. You've probably seen the print your foot makes when your wet foot walks on a surface that shows the print, and that's all there is to this test.
To recreate your print as a test, just dip your foot in the water, shake it off, and step on a surface where you can get a good look at the resulting print.
If your print shows very little of the arch–the print curves heavily toward the outside of the foot, you probably have high arches or Pes Cavus. If you can see the whole imprint of your foot, you likely have flat feet or Pes Planus. 
Why Can High Arches Cause Foot Pain
Every action has a reaction, so if your arches are high, that pressure has to go somewhere.
Pronation is the "natural movement of your foot during walking or running." High arches can cause under-pronation and cause pain because when you use the foot, the pressure goes to the outside of your foot and smaller toes.  Your plantar fascia might give you pain as a result of the pressure on it.
The ball of your foot could become painful too. It stands to reason that high arches might translate the pain up your leg to your knee, hip, or lower back. In essence, the higher the arches, the further it has to stretch to tolerate the load of the body weight.
Do Orthotics Help with High Arches
If you have high arches, orthotics might help. Orthotics fit inside your shoe. They can help distribute the pressure more evenly and help lesson the load on high arches caused by the mechanics of your body. In fact, high arches have more current literature supporting the use of insoles than any other foot type. Therefore, if you have high arches, there is no reason not to try an insole for pain.
Also interesting, is that over the shelf orthotics such as Superfeet are almost, if not as effective, as custom orthotics in decreasing foot pain in people with high arches.
What to Look for in an Orthotic for High Arches
Comfort – How the orthotic fits in your shoe and makes your foot feel is really important since your goal is to alleviate pain and walk normally. The orthotic should feel "natural."
Arch support and height – In order to help, orthotics need to have enough height to take the pressure off of the balls of your feet and your heels. The orthotics may feel too high when you first wear them, but they do need firmness to do their work.
Cost – Off-the-shelf orthotics are available for much lower prices than custom-made orthotics. Insurance may cover orthotics.
Shock Absorption – The orthotic needs to be strong enough to absorb the pressure walking (or running) puts on the orthotic.
Heel Cup and Heel Control – The heel cup needs to be deep enough so that it cushions and supports the heel. The gel may be a plus to shock absorption in the heel.
FAQ with Arch Insoles 
Are Arch Supports Good for Flat Fleet?
Arch Supports can help with flat feet, especially in cases with Plantar Fasciitis and Tarsal Tunnel. The arch support prevents the ankle from collapsing or rolling into full pronation and putting stress on the structures on the inside of the ankle.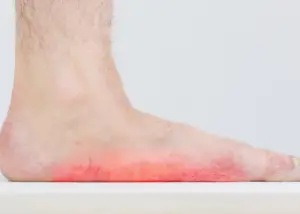 Are Arch Supports Good for High Arches?
Yes! In fact, that there is some good research that people with high arches may benefit more than people with low arches. 
People who have high arches in their feet and a longer distance for their feet to stretch out during each step. That greater distance can leave you at more of a risk for tendonitis and other overuse injuries.
How Do Arch Supports Help?
Arch supports help by preventing the foot from collapsing into excessive pronation. Some pronation is natural and needed for normal foot motion.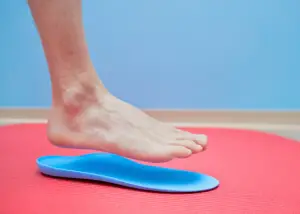 The arch support helps stop the excessive motion while still allowing for some normal motion to occur. 
Excessive motion can occur for many reasons including weakness in the foot and hip, genetics, previous injuries, etc.
Do Arch Supports Help with Plantar Fasciitis?
The Plantar Fascia is a thick band of connective tissue on the bottom of the foot. This connective tissue acts as a shock absorber with each step taken. 
If there is too much stretch on the plantar fascia is will pull on the insertion and cause micro-tearing and resulting pain. 
Insoles stop the foot from having too much stretch and stops the micro-tearing in the plantar fascia.
Can Arch Supports Help Improve Balance?
There is some early research that insoles may indeed help improve balance, particularly in elderly patients. 
The use of insoles may help improve foot awareness and help compensate for weakness in the hips and ankles that may be a cause for fall risk.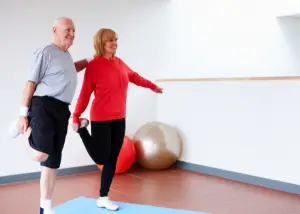 Are Custom Orthotic Inserts Better Than Over-the-Counter Orthotics?
Yes and no. There is some evidence that the vast majority of people will keep foot pain relief from using a high-quality over-the-counter orthotic. 
Prefabricated orthotics are also less expensive and more easily replaced when they wear out. 
There are some situations where custom orthotics will be more beneficial than regular pre-fabricated orthotics. This includes severe foot injuries, metatarsal head pain, and those with chronic flat feet pain.
The Best Insoles For High Arches to Decrease Foot Pain
Superfeet GREEN Insoles High Arch
Summary: The Superfeet insoles are one of the best in the game and are at the top of the list for a reason. Each insole has "heavy-duty shock absorption and legendary support." It has the highest arch of the Superfeet products. Superfeet got famous for its durability and customer support.
Pros: Deep heel cup, keeps its shape, and is durable over the long haul
Cons: Some users said they squeak and didn't have a cushy feel. Be careful about sizing. 
Physix Gear Sport Full Length Orthotic Insoles
Summary: The Physix Gear Sport Full-length orthotic insoles are strong and serve to correct a number of foot problems including plantar fasciitis. The insoles are made of medical-grade Dual Base Layered High-performance EVA foam. The sport design means that these will stand up to high use.
Pros: They support the entire foot. They provide excellent support with no break-in period. Users found them to be a good value.
Cons: Some users felt they were too hard–not enough cushion. Some also said they were too wide.
Tread Labs Stride Insoles
Summary: The Tread Labs Stride Insoles are billed as "semi-custom." They are comprised of a two-part system. These are now the soft cushioning insoles you see your grandma wear but will help with your high arches. These offer superb quality with 4mm polyurethane foam top covers. These also come with replaceable top covers and the best part is they come in 4 different arch heights to get the best fit.
Pros: They're guaranteed for life. The insoles are made from "medical grade" materials. Doctors recommend them before custom products.
Cons: They're not for everyone–they don't have the "pillowy feel" that other products do.
Walk Hero High Arch Insoles
Summary: The Walk Hero High Arch Insoles product provides "firm and resilient" support. These come with a designed deep heel cup to prevent your subtalar joint from moving excessively and to stabilize the foot. The EVA material helps with shock absorption and pain relief while keeping your feet cool. They're for everyday use and come with a money-back guarantee.
Pros: deep heel cup, very affordable by comparison to other insoles, some users described them as proving "instant comfort."
Cons: Less padding on the edges.
Sof Sole Insoles Men's High Arch
Summary: The Sof Sole Insoles Men's High Arch Foam insert for use in casual and athletic shoes, can be used for high arches, or just more support. These come with a deep heel cup, moisture-wicking technology, and the company offers a 1-year replacement warranty against defects.
Pros: One user noted they fit perfectly without any cutting, many users noted "instant relief" when using this product
Cons: One user noted," the liner keeps peeling off." 
Other Great Rehab Related Articles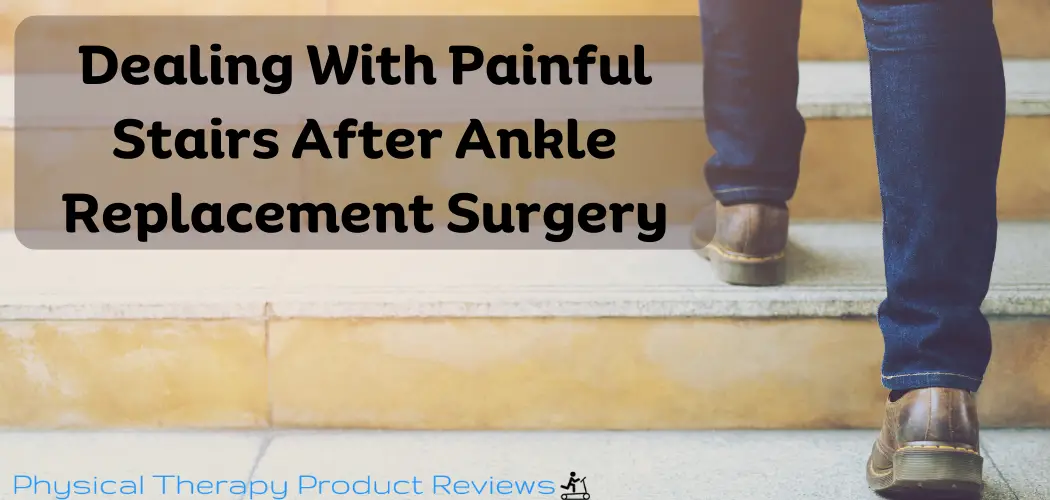 After undergoing an ankle replacement surgery, patients may experience pain when climbing stairs. The level of pain can vary from mild discomfort to severe pain,
Disclaimer: The information provided in this post is for educational purposes only. This is not a substitute for a medical appointment. Please refer to your physician before starting any exercise program.