Low back pain is the single leading cause of disability worldwide, preventing people all over the world from engaging in work and other everyday activities. Low back pain costs Americans at least $50 billion in health care each year.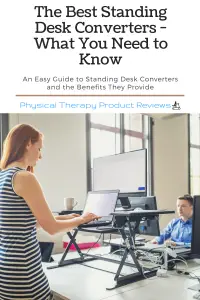 Most cases of back pain are not caused by serious conditions. In fact, back pain commonly starts with a single injury, like a muscle strain, or develops gradually from the stress and strain of daily activities.
Studies are also increasingly pointing out the various ways in which excessive sedentary time is bad for our health. Prolonged sitting has been linked to the obesity epidemic, cardiovascular disease, and diabetes.
According to a recent study published in the journal, Obesity, sedentary time correlates directly with how much fat we build around our organs, according to the new study. One of the best ways to combat low back pain and help with obesity at work is a standing desk converter.
What are Standing Desk Converters?
A standing desk converter is a product that is placed on top of, or attached to, a desk or table that allows you to stand while working. Within a matter of minutes, a standing desk converter can relieve the stress on your back by shifting between sitting and standing position as you work.
Who Would Benefit from a Standing Desk Converter?
Standing desk converters are ideal for anyone with a desk job, recovering from an injury, or stuck in one position too long.
If you're looking to transform your desk in the blink of an eye or are too impatient to put up with installers assembling a new unit and disrupting your work, then a standing desk is perfect for you.
Converters can also help anyone dealing with weight gain. In a recent study, standing (as compared to sitting) was linked with 0.15 more calories burned per minute. This means that if an adult weighing 143.3 pounds replaced sitting with standing for 6 hours every day, they would burn 54 calories more than their sedentary counterpart.
What to Look for in a Standing Desk Converter?
When choosing a standing desk converter, consider these factors: material, ease of use, adjustable height, and durability.
Material 
Materials used in the standing desk converter will determine the quality of construction. Products with low-quality mechanics, electronics, and platforms score lower. Although first impressions are often good of a brand new product, torquing their frame helps expose weaknesses and susceptibility to racking forces.
Ease of Use 
Generally, the easier to assemble and install the better. How easy is it to set up on your desk? What are the dimensions of your work surface? Is there room for you to type? How much does the unit shake while you type and work?
Adjustable Height 
How high does the work surface raise? How low does it descend? Nearly all convertible standing desks, except for desktop risers, have a height adjustment mechanism for changing work surface height. The range of the work surface is an important factor to consider, especially if you are a taller worker.
Durability
Are the component parts durable? Is the design structurally sound? Cheaper plastic parts will not last as long as their higher-quality competitors. Imported, 'knock-off' converters with short warranties should be avoided.
FAQ About Standing Desk Converters
How Often Should You Switch from Sitting to Standing?
We recommend switching from sitting to a standing position and vice versa about every 30-45 minutes. This helps change the loads on your spine and should help keep you comfortable for the day. 
How Long Should You Stand at a Standing Desk?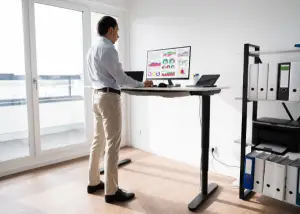 The most we recommend to stand at your desk is 45 minutes to 1-hour. Even though prolonged sitting known to be an issue for low back pain so is prolonged standing. Studies found that workers who stood most of the day did not have any lower rates of back pain. 
The best predictor of decreasing low back pain is the number of times that you change positions each day, not how long that participants stood.
What is the Correct Height for a Standing Desk?
The average proper desk height is 44 inches for the average size person but this all depends on your own height. 
The two key things to look at for the correct height of a standing desk is that your elbows are bent at 90 degrees and the top of your monitor is just about eye level or slightly below.
Why is a Standing Desk Better Than Sitting?
A standing desk lets you change the areas of pressure in your back and hips. Instead of pressure being in the same areas 8 hours a day you can give them a break every 30-45 minutes.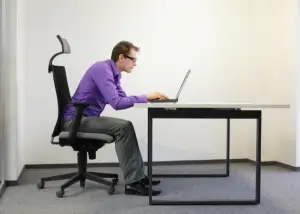 As mentioned above standing all day is exactly better. It's the ability to switch between the two positions that make the difference. "Motion is lotion for the spine"
Do Standing Desks Burn More Calories?
Yes, but not as much of a difference as you might think. In this research study, they found participants who were standing burned an extra 24 calories, or slightly less than a cup of Brocolli. 
The biggest benefit for weight loss is a quick 15-30 minute walk during break time or at lunch which can burn more than 100 extra calories or more to help achieve weight loss.
Does Insurance Cover a Standing Desk?
Yes, insurance will pay for a standing desk but only in certain situations. 
These include having a medical diagnosis that warrants a standing desk, having a written prescription from a medical doctor, and in many cases, you will need a letter of medical necessity from the doctor explaining why it's needed.  
Does a Standing Desk Help with Neck or Back Pain?
Yes, using a standing desk or a standing desk converter can help with low back and neck pain. Even though we need more clinical research on the subject, people with low back pain that use a standing desk tend to report less back pain and discomfort with being able to change their positions during the day.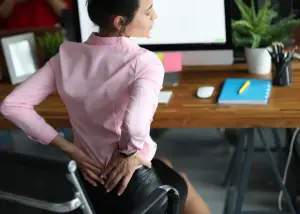 Do Standing Desks Improve Work Performance?
Yes, it does! This might be your best selling point to your boss if you want to get a standing desk converter. 
In a study comparing the performance and attention in workers in sitting and standing, they found that the cognitive performance and attentional investment were greater in standing.
The Best Standing Desk Converters to Help Prevent and Manage Low Back Pain
FlexiSpot M3B Standing Desk
Summary: The FlexiSpot M3B Standing Desk offers a more spacious desktop space with 47" width and allows to support two screens up to 27". The single-handle design makes it super easy to safely adjust the height of the desk.
Pros: Flexispot rises and lowers vertically, saving valuable space in your workstation and offering better stabilization. Other products often extend outward while raising. Very strong and spacious.
Cons: Product aires on the heavier side and may need assistance to set up.
VIVO Black Adjustable Stand up Desk Converter
Summary: The VIVO Black Height Adjustable Desk Converter enhances your work experience with a dual-tiered platform that sits on top of your current desk. A keyboard tray is included and can be removable for user preference. Adjust to your perfect height level with unlimited adjustable points between 6.5" and 17" from the desk surface.
Pros: Total assembly time is just under 5 minutes (the desk comes almost entirely assembled). The quality for the price is excellent.
Cons: Platform for keyboard may not be ergonomic when seated. Not meant for gaming.
TechOrbits Rise-X Light Standing Desk Converter
Summary: The TechOrbits Rise-X Light Standing Desk Converter is designed to hold your entire workstation, featuring gas springs and a heavy-duty aluminum frame that can comfortably support up to 33 lbs of gear with ease.
Pros: The only standing desk converter brand out there to offer a lifetime warranty. Setup, raising, and lower is efficient and easy.
Cons: The product may lack flexibility in minimum height.
SIMBR Standing Desk Converter
Summary: The SIMBR Standing Desk Converter allows you to easily transition from sitting to standing in seconds with dual gas spring force! Adjust to your proper comfort level by using the innovative simple touch height locking mechanism.
Pros: Single-handle design makes it super easy to safely adjust the height of the desk. Competitive price compared to other brands.
Cons: The product can not sit flat on your desk if you do want to sit- it lowers but not low enough to be completely comfortable.
FEZIBO Adjustable Stand up Desk Converter
Summary: The Fezibo Standing Desk Converter has a two-tiered platform that sits on top of your desk. It comes almost completely assembled, transforming your workspace with no complicated instructions or tools.
Pros: This desk converter is sturdy, adjusts to any height, and has an easy-to-use single handle.
Cons: The keyboard height is fixed and may not be adjustable to a lower position.
Other Great Rehab Related Articles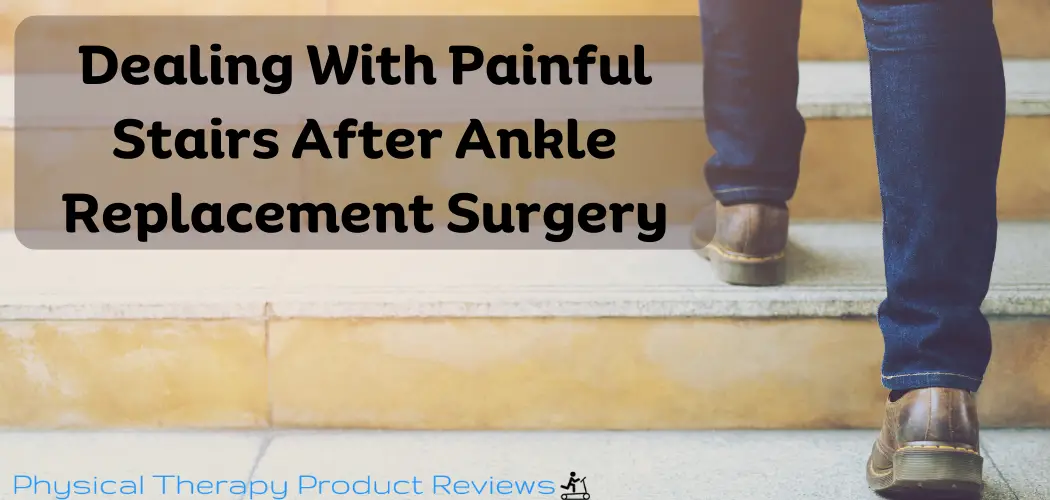 After undergoing an ankle replacement surgery, patients may experience pain when climbing stairs. The level of pain can vary from mild discomfort to severe pain,
Disclaimer: The information provided in this post is for educational purposes only. This is not a substitute for a medical appointment. Please refer to your physician before starting any exercise program.