Shoulder injuries are tough to deal with in any form, whether it's from a sports injury, a fall, or some other traumatic event. With so many ligaments and tendons making up the complex shoulder joint, it's no wonder they're such a painful hassle. While most shoulder injuries don't require surgery, they can still be painful need a little extra support. In those times we recommend a shoulder brace or compression sleeve to aid in recovery and help minimize pain.
A shoulder compression brace is lightweight, inexpensive, and something that you can take on and off throughout the day until your shoulder starts to feel improvement. You can use it as little or as much as you need and there is no harm to wearing on. 
Shoulder Compression Brace Comparison Table
What is a Shoulder Compression Sleeve?
A shoulder compression sleeve is worn snugly around the shoulder and upper arm. Some models have straps that loop around the body and under the opposite arm, while others fit over one shoulder like a sleeve. These devices reduce pain and inflammation while promoting stability and immobilization by supporting the muscles of the shoulder and rotator cuff. These braces also help with proper shoulder position, or proprioception, to prevent re-injury.
What are the Benefits of using a Compression Sleeve for Shoulder Pain?
Benefits of using a compression sleeve for shoulder pain include: 
Reducing swelling and inflammation

Alleviating pain and discomfort

Preventing re-injury

Speeding up the recovery process by eliminating unnecessary stress
When Should You Consider Wearing an Arm Compression Sleeve?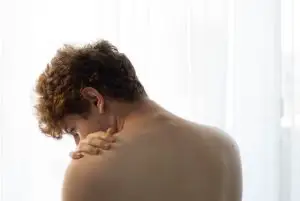 Arm compression sleeves help improve circulation to injured areas and alleviate pain in joints. Consider wearing a shoulder compression sleeve if your shoulder pain continues to persist after your injury has healed.
FAQ About Shoulder Compression Braces
What do shoulder compression sleeves do?
Shoulder compression sleeves allow your shoulder to still move while compressing the shoulder muscle and tissues. It relieves pain and swelling while aiding your shoulder in recovering. They also make you aware of shoulder positioning, or proprioception, to help you safely move about your environment. 
How long should I wear a shoulder Compression Sleeve?
You should wear the shoulder compression sleeve as long as you feel the need and it is helping with pain levels. 
Start by wearing it most of the day and slowly decrease the amount of time you use the brace as you feel comfortable. This may be 30 minutes less each couple of days. You'll get to the point that you will only need it for certain activities such as work on the farm, in the yard, or at the gym. 
Athletes may want to wear their compression sleeves during times of training and practice to help prevent further injury. This is especially true if there is a history of shoulder dislocation.
Can I wash a Shoulder Compression Sleeve?
Most of the compression sleeves can be washed on a gentle cycle however we recommend air drying for better longevity of the brace.
Whether you can machine wash shoulder compression sleeves will depend largely on the brand and manufacturer recommendations. If you do machine wash your compression sleeve, it should be washed with cold water on the gentle cycle. For compression sleeves that cannot be put in the washing machine, hand-wash them with cold water and a mild detergent in between uses.
Will my Muscles Weaken if I Use a Shoulder Brace?
No, your muscles will not automatically weaken if you use a shoulder brace. Remember, the goal of the brace is to use it only when you need it such as during activity and/or sleeping. As long as you are still using and moving your arm as much as you can your muscles won't automatically weaken.
How to Put on a Shoulder Compression Brace
The Best Shoulder Compression Sleeve for Painful Shoulders
When it comes to shoulder compression braces, there are a lot of options on the market. Some factors to consider are: 
Price

The material of the brace – is it comfortable to wear against your skin

How easy it is to use ice or heat therapy in conjunction with the compression brace

Care and Washing Instructions

Durability – how long with it last and hold its stretch
Here is a list of top contenders for you to consider. 
USWellcare Shoulder Brace
Summary: This shoulder brace provides a unisex design that can be used for either shoulder and comes with a pressure pad for hot or cold therapy. 
Pros: Has a strong Velcro closure and is concealable under clothing.
Cons: This brace may fit a little looser compared to others.
Summary: The Vive Shoulder Brace is composed of a neoprene blend that is washable and breathable. It offers an adjustable fit and a slim profile to fit easily under clothing. 
Pros: Is reversible for the left or right shoulder and provides support. 
Cons: The one size fits all adjustable fit may not provide as much comfort as a more fitted brace and can be difficult to put on.
Sparthos Shoulder Compression Brace
Summary: The Sparthos Shoulder Brace supports and stabilizes your shoulder without restricting movement while alleviating pain and discomfort. 
Pros: This brace is washable and has a pocket for ice. The 100% money-back guarantee makes this a safe buy. 
Cons: May not accommodate biceps larger than 16 inches.
Incrediwear Therapeutic Bilateral Fabric Shoulder Brace
Summary: Carbon and Germanium elements, which are semiconductors, are embedded in this Incrediwear Bilateral Shoulder Brace and are stimulated by body heat to increase circulation and reduce inflammation.
Pros: Helps to lower pain levels and offers solid support. 
Cons: The strap that fits under the armpit can be a little uncomfortable.
Vital Salveo Shoulder Compression Brace
Summary: The Vital Salveo Shoulder Brace is composed of elastic fibers that provide comfort while supporting and applying compression to the shoulder joint. 
Pros: Offers adjustable sizing to the torso and arms and provides comfort with the fabric material.
Cons: The Velcro attachment is a little small and can come undone.
Other Great Health Related Articles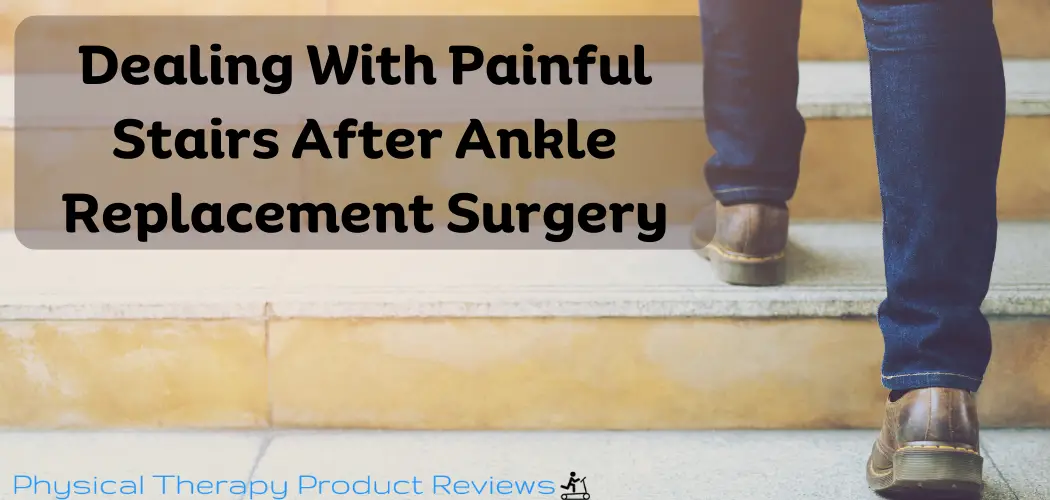 After undergoing an ankle replacement surgery, patients may experience pain when climbing stairs. The level of pain can vary from mild discomfort to severe pain, …
Disclaimer: The information provided in this post is for educational purposes only. This is not a substitute for a medical appointment. Please refer to your physician before starting any exercise program.