What is a Shoulder Dislocation?
One of the most common injuries that occurs in both sports and in our everyday lives is the dislocated shoulder. A dislocation shoulder occurs when the ball of the shoulder is forcefully dislocated from the Glenoid or shoulder socket. Nearly 95% of all shoulder dislocations occur in the anterior direction. A dislocated shoulder may make it difficult to use your arm properly if there is too much pain, numbness, or swelling for you to move it.
Shoulder dislocations are common because the shoulder is the most mobile joint in the body and therefore one of the least stable. Furthermore, when the humerus is dislocated from the socket other parts of the arm like tendons and ligaments are often damaged as well. Overall, a shoulder dislocation is quite painful and will require some treatment before you can use your arm normally again. One of the most challenging aspects of suffering this injury is that it has a high re-dislocation rate. The younger you are when the first dislocation happens, the higher your chances of it happening again without surgery or treatment. 
How Shoulder Dislocations are Treated
Once someone has sustained a dislocated shoulder it is paramount to seek medical attention to reduce the dislocation or put the shoulder back in to place.
The quicker a shoulder is re-located or reduced, the quicker the recovery.
This is best done in the emergency room or immediately on field but a medical professional. This with drastically decrease the pain and improve range of motion.
A shoulder sling
is then worn for 2-4 weeks depending on the severity of tissue damage. A course of physical therapy is usually initiated to restore range of motion, decrease the pain, and increase the strength and stability around the shoulder joint.
The majority of people make a near full recovery with minimal deficits except for the increased risk of re-dislocation, especially the younger you are when it occurs. Re-dislocation rates her been found to be as high as over 50% in some populations and can create further damage.This is why it's a good idea to wear a shoulder brace for activities such as contact sports, skiing, and other high risk activities.
How a Shoulder Brace Can Help with a Dislocation
Shoulder braces help shoulder with a previous dislocation in two ways:
By acting as a support and compression for newly dislocated shoulders. They help protect the shoulder and decrease pain. By holding your shoulder steady while your body goes to work in repairing the damaged tendons and ligaments. Keeping your shoulder still is important to reduce pain and thereby not damage the arm any further during the repair process. 

It helps prevent recurring dislocations when returning back to normal activities and sports. The brace acts as a stopping mechanism to prevent the shoulder from dislocating again. This is why buying a shoulder brace early process will also have long term benefits.
It is important for you to find the right shoulder brace to help speed up your recovery process, so you can go back to living your life.
Need to get back on the field but unsure which shoulder brace is the best for sports? See our helpful review here.
How to Relocate or Reduce a Dislocated Shoulder?
According to the Red Cross, if you're alone and unable to get help then you should try and relocate your shoulder on your on. It is recommended to use a sling or arm support after relocating.
Try to remain calm. Use your good arm to grab the wrist of your injured arm.
While relaxing the injured arm, pull your arm forward and straight in front of you. You may need to raise it up over head it doesn't immediately go into place. This helps the ball of the shoulder to slide back into place safely.
Seek medical attention as soon as you can
FAQ about Shoulder Dislocations
Is a shoulder dislocation an emergency?
It can be. Once a shoulder has been dislocated, time starts to become a concern and it's important reduce the shoulder as quickly as possible. If possible, seek medical attention immediately. If you are not close to medical attention you may try to relocate the shoulder itself.
How long does it take for a shoulder dislocation to heal?
This all depends on the amount of trauma however, these typically take 6 -12 weeks to heal. The ligaments, tendons, and muscles all get stretched and damaged and it's important to allow them to heal to prevent a recurring shoulder dislocation.
Can a dislocated shoulder tear your Rotator Cuff?
It can and it becomes more common with age. The overall frequency of rotator cuff tears after should dislocation is 7%-32%. However, the older someone is when it occurs the higher those chances are. 
Do I need surgery after a shoulder dislocation?
It depends on the amount of trauma and damage. Most shoulder dislocations are treated conservatively with rest, physical therapy, and strengthening exercises. If you begin to have recurring shoulder dislocations in younger patients or if there is a suspected rotator cuff tear surgery may be needed.
Is a shoulder dislocation and a separated shoulder the same thing?
No, these are two different injuries. A shoulder dislocation happens at the ball and socket joint of the shoulder. A separated shoulder occurs at the Acromioclavicular Joint, where the ligaments that connect the Clavicle and the Scapular become stretched or town and cause a separation at the joint.  
How to Put on a Shoulder Brace
The Best Shoulder Dislocation Braces to Help you Recover Faster
Summary: This all in one package includes a neoprene shoulder brace designed for both men and women, as well as an eBook for helpful recover tips and a pressure pad for ice or hot therapy. 
The ice and heat therapy are easy to use thanks to the inclusion of a specialized pocket within the brace.
This shoulder brace is easily adjustable with the help of Velcro straps. Even after your recovery, the Zenkeyz Shoulder Brace can be used as a sports shoulder wrap to prevent re-injury while also facilitating pain-free recovery for men and women alike.
Babo Care Shoulder Stability Brace 
Summary: This versatile and reliable shoulder brace helps users recover from the pain of a shoulder dislocation without having the brace get in the way of their day to day lives.
This shoulder brace is designed to accept heat pads or ice packs to speed up the healing process and to relieve pain from the injury.
The Babo Care Brace comes equipped with two strong Velcro straps that allow for easy adjustment according to the user's needs.
Furthermore, this shoulder brace is made from breathable neoprene which allows you to wear this brace with no discomfort.
EVS Sports SB03 Shoulder Brace
Summary: This shoulder brace provides additional compression needed to ease the pain and keep your arm still while it recovers.
The EVS Sports Brace is designed for either the left or right shoulder thanks to its universal snug fit design.
The underarm closure is snag free and can be adjusted to fit any size of arm as well. This universal shoulder brace is easy to use, non-chafing, and fits for any body size making it a good choice for many.
Shock Doctor Shoulder Support
Summary: The Shock Doctor Shoulder Brace is lightweight, comfortable, and usable for both the right and left arms.
It includes an adjustable strap that men can use to help fit the brace to their body size and the x strap stabilizer provides much needed stability and compression for your arm to recover.
This shoulder brace is designed for long lasting wear and care for moderate ligament sprains, muscle strains, and unstable joints.
Summary: An affordable, easy to wear shoulder brace that provides compression and support for the shoulder while in recovery.
The Cleviss Shoulder Brace is compact and simple and allows the user to wear over clothing with little difficulty and allows for easy take off as well.
This shoulder brace is comfortable and made from breathable mesh material to ensure that your arm enjoys a comfortable recovery.
The shoulder brace is designed to fit on your right or left arm and can be worn by men or women. Finally, the clevis shoulder brace has a money back guarantee policy in place if you are not satisfied with your purchase.
The information provided in this post is for informational purposes only. Please see a licensed medical provider before returning after shoulder dislocation.
Other Great Rehab and Heath Related Articles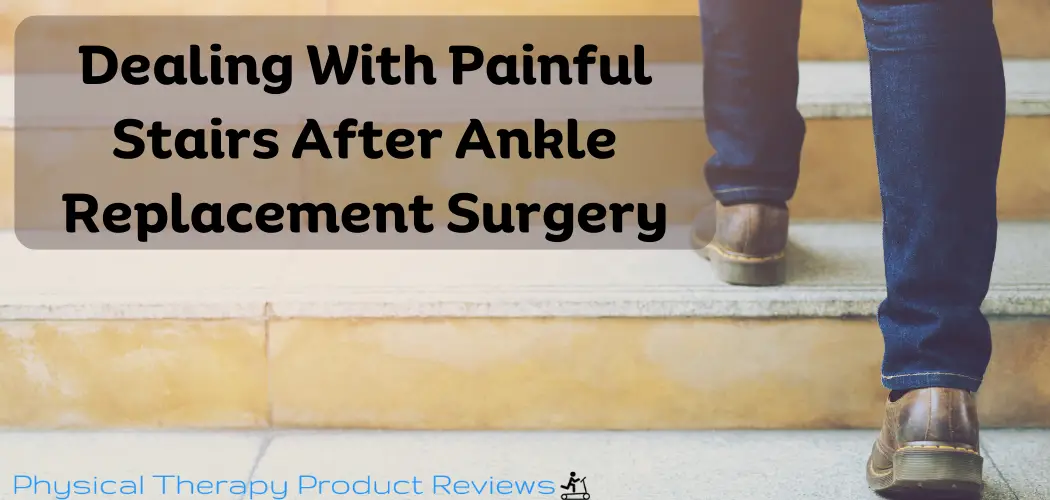 After undergoing an ankle replacement surgery, patients may experience pain when climbing stairs. The level of pain can vary from mild discomfort to severe pain, …
Disclaimer: The information provided in this post is for educational purposes only. This is not a substitute for a medical appointment. Please refer to your physician before starting any exercise program.