Undergoing any surgery is nerve-wracking enough, but facing one that impacts your mobility is especially daunting. Preparing for a Hip Labral Repair Surgery requires more than just finding the right surgeon. Knowing what to do before and after surgery can make all the difference when it comes to a full recovery.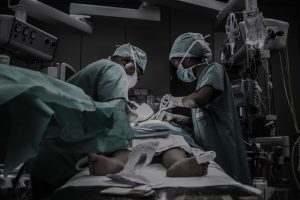 What is a Hip Labral Repair?
The labrum is the elastic tissue in your hip joint. It's the ring-shaped cushion around the rim of the socket responsible for stabilizing your hip. It also aids in holding the ball at the top of your femur in place. 
A tear in the labrum is often the result of normal wear and tear. It can also be caused by a sudden injury from a high-impact. Whether the tear is gradual or acute in nature, the results are the same. A tear in the labrum can cause pain, inflammation, and can even lead to arthritis.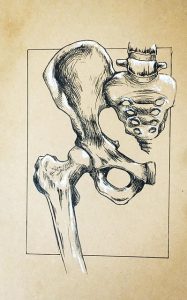 Non-surgical treatments like physical therapy and anti-inflammatory medications will often do the trick, but surgery is sometimes needed to make a full recovery. 
It's likely your surgeon will recommend a minimally invasive hip arthroscopy surgery. In this case, your surgeon makes small incisions then uses an arthroscope and very thin surgical instruments to repair the labrum.
Post- Surgery: What to Expect Day 1
5 Helpful Tips for a Hip Labral Repair
Take Time to Recover
As with any surgery, it's important to give yourself time to heal. Labrums have a lengthy heal time, so be sure to plan accordingly.  After surgery, consider taking some time off work. Give yourself time to rest while looking to family and friends for support. 
While healing varies for everyone, getting back to 100 percent typically takes six to nine months. Here's a sample of what that might look like: 
Weeks 1-4
Expect to be on crutches through this period. You'll begin mobility exercises, but moving will be pretty uncomfortable. You'll need to rely heavily on your support system during this time. 
Weeks 5-8
You should be more comfortable moving your hip joint around this time. Your physical therapists will probably encourage you to walk more. You might even be able to start swimming and elliptical training.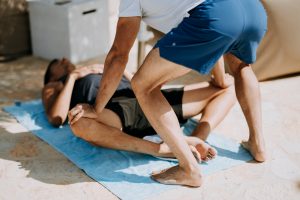 Weeks 8-16
You'll start focusing on rebuilding strength and endurance during this time. Closer to the 12-week mark, you should even be back to jumping.  
4+ Months
At this time you should be getting close to resuming regular activity. Look to your physical therapist to okay any physical activities, and remember it can take up to 9 months for your labrum to fully heal.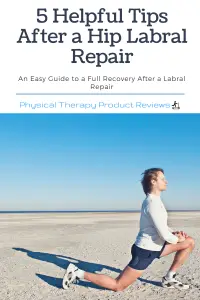 A Reminder of What Not to Do After Surgery
Always listen to your doctor's recommendations for a speedy recovery. Your doctor and physical therapist will guide you through getting back on your feet. 
During the first six weeks after surgery, it's best to avoid: 
Foot flat weight-bearing

. Expect to be on crutches throughout this period. You can bear just 20% of your body weight following your surgery. 

Hip flexion past 90°:

No bending at the torso to touch your toes. 

External rotation past 20°:

Don't rotate your leg outward.

Hip extension past neutral

: Lifting your thigh in a backward motion could re-injure your labrum.

Abduction past 45°

: Moving your hip outwards past 45 degrees is off limits during this period.
The Proper Items After Surgery to Help You Around the House

Crutches: Six weeks is a long time to be on crutches. You're going to need the most comfortable ones available. These Mobilegs Ultra crutches feature an ergonomic design for both wrist and underarm comfort. 
Raised toilet seat: During the first six weeks of recovery, you won't be able to surpass 90 degrees of hip flexion. This HealthSmart Raised Toilet Seat will help with that.
Orthopedic Pillow: Getting rest needs to be one of your top priorities, but getting comfortable won't be easy. This Lunix LX5 4pcs Orthopedic Bed Wedge Pillow Set makes relaxing a lot easier. 
Ice Machine:
Icing your healing hip is a necessity. The Vive Cold Therapy Machine makes it easier and more comfortable to apply ice to your injury. 
Anti-internal Rotation Pillow with straps: For the first six weeks at least, you won't be able to move past neutral, not even while you're sleeping. The Everlasting Comfort Memory Foam Knee Pillow with Adjustable and Removable Leg Strap helps keep your hip in the right position and the strap keeps it securely in place. 
Reacher: Sitting, standing, and bending will be a challenge. When you need something just out of reach, you'll be glad to have the RMS Featherweight Reacher.  
Shower Chair: You won't be able to put weight on your leg for the first six weeks. Showering on one leg may lead to a slip and fall. Keep yourself safe with the Medline Shower Chair Bath Bench. It features a full chair design, backrest, and hand grips. 


Compression socks are a must. They can help prevent the formation of blood clots. The hospital will probably provide a pair, but it's always good to have extra. Grab this Celesport three-pack, they're lightweight and soft to the touch.  
Leg Lifter: The Fanwer Leg Lifter Strap is adjustable and features soft hand grips and folds easily for storage. It's perfect for repositioning your leg without straining your healing hip joint. 
Keep Your Hip Flexors from Tightening Up Permanently
It's going to be hard to stay motivated to move. While it's important to rest, you should still be switching positions throughout the day to ensure your hip flexors don't tighten up permanently. To prevent this: 
Lie on your stomach 3-4x a day for 5 minutes

Let your footrest on the ground WITHOUT putting any weight on it when you are standing

Avoid sitting for long periods
Be Prepared to do Your Physical Therapy Exercises Every Day!
You'll see your physical therapist multiple times a week while you're recovering. Even on your days off, you still need to complete your exercises at home. Having the right equipment will make things much easier. Consider investing in our recommendations before your surgery. 
Other Great Rehab Related Articles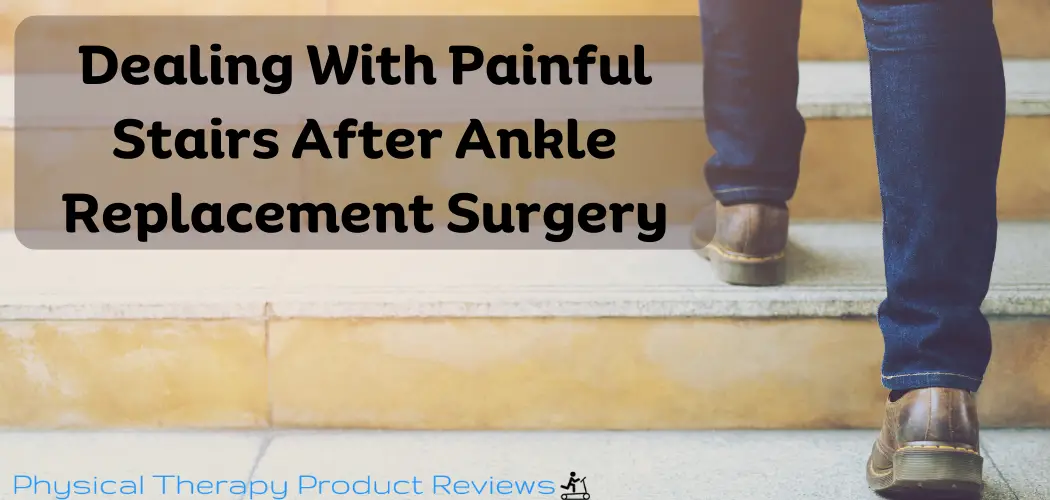 After undergoing an ankle replacement surgery, patients may experience pain when climbing stairs. The level of pain can vary from mild discomfort to severe pain,
Disclaimer: The information provided in this post is for educational purposes only. This is not a substitute for a medical appointment. Please refer to your physician before starting any exercise program.