Living with chronic neck pain is no fun for anyone. If you suffer from chronic neck pain, you know it takes the joy out of your daily activities, creates limits that restrict what you can do, and leaves you sitting on the sidelines of life. You're not alone in your suffering. Studies indicate that over 30% of Americans suffer from neck-related pain.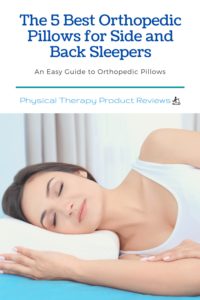 As a nation, we spend an average of $55 billion per year on devices meant to aid and relieve the pain associated with orthopedic issues. You might be surprised to find a simple solution to your chronic neck pain and sleepless nights in the form of an orthopedic pillow.  
Choosing the correct orthopedic pillow to meet your needs could save you suffering and a lot of money in the long-run. Avoid expensive treatments such as injections, oral pain medications, trips to a physical therapist by giving your neck the support it needs.
What is an Orthopedic Pillow?
An orthopedic pillow is merely a pillow that allows your head, neck, and shoulders to stay aligned while you rest. These pillows are designed with foam that contours to the natural shapes of your body to give you a good night's rest.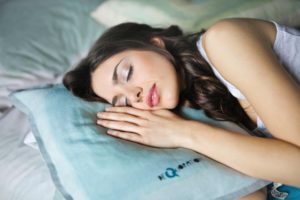 Orthopedic pillows also help those who suffer from snoring and other breathing issues. Orthopedic pillows differ from traditional pillows in both material and ergonomic shape. 
An orthopedic pillow is designed specifically to support certain curves of your body to help relieve your chronic pain. Whereas a traditional style pillow is stuffed with soft fluffy material and therefore not a very supportive sleeping surface.
What are the Benefits of using an Orthopedic Pillow?
Many people benefit from using an orthopedic pillow. An orthopedic pillow: 
Allows you to save money by avoiding expensive procedures and treatments. 

Is made of high-quality memory foam that conforms to your body's natural curves and alleviates pressure. 

Support improved sleep quality and can help relieve other medical issues, including:

Circulation problems

Diabetes

Heart problems

High blood pressure

Obesity

Physical and mental fatigue

Are made with hypo-allergenic materials which are good for those with sensitive skin or breathing issues.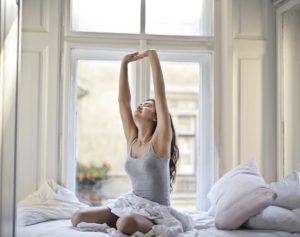 All About Memory Foam Pillows
Memory foam pillows are made from polyurethane, a type of plastic polymer. Polyurethane material is great for pillows and mattresses because of its unique ability to return to its original shape after having pressure applied. This can provide support to the spine and is key for the longevity of a pillow. 
The main benefit of using a memory is the materials ability provide enough support for the spine without being too soft and losing shape over night. 
Is a Memory Foam Pillow the Same as an Orthopedic Pillow?
Most of the orthopedic pillows today use a at least a layer of memory foam and some are even 100% made with polyurethane memory foam material. Some orthopedic pillows may also use other types of high quality foam to maximize support overnight.
The main difference between a memory foam pillow and an orthopedic pillow is the design of the pillow to maximize support for the spine. 
Why Your Sleep Position Matters for Pillow Choice
When choosing an orthopedic pillow for yourself, you need to consider how you sleep. Do you sleep on your back or your side? Do you switch in between both positions? What area of your head, neck, or shoulders bothers you the most? All of these questions have a bearing on which pillow you should choose.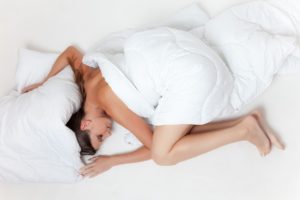 Back sleepers should invest in an orthopedic pillow that is slightly higher to support the natural curvature of the spine. This will support your head, neck, and shoulders more effectively resulting in a better night's sleep with less pain.
Side sleepers need to focus on the height and curvature of the pillow to be sure that their neck is not arching upward too much, putting unnecessary pressure on the head, neck, and shoulders. 
For those of you who do not stay in one position all night, it is important to find a pillow with attributes that will accommodate both ways of sleeping.  
Another suggestion for maintaining proper alignment while sleeping is to use a pillow between your knees. This may help to keep your entire body aligned and give you the restful sleep you have been dreaming of. 
In most cases, you will be able to determine if you have made the correct choice within a week of trying an orthopedic pillow. If you do not feel any relief or if your pain increases over a week, then discontinue use and try a different style. 
If you are still experiencing chronic issues after trying multiple orthopedic pillows you may need to seek professional help
FAQ about Sleeping with an Orthopedic Pillow
How often should I change my pillow?
It is recommended that you change your pillow every 1-2 years. Older pillows will lose their support for you neck and may begin to cause more pain. 
What is the best position to sleep in for my neck pain?
This is really depends on personal comfort and each position isn't necessarily bad. What's more important is the alignment of your spine. If you are sleeping on your back just make sure that your pillow has enough support for the small curvature in the cervical spine. For side sleeper, make sure that your nose is in a straight line with your belly button and not to high or sink too low through out the night.  
How to stop myself from changing positions while sleeping?
Actually don't worry about preventing position changes while sleeping. We need to frequently change positions for pressure relief through out our body. If you are trying to protect a surgery or new injury you can try using pillows to block your movement or try sleeping in a reclining chair.
Is there a way to decrease neck stiffness in the morning?
Absolutely and getting a new orthopedic pillow is a great start to deceasing morning stiffness. We also recommend using a hot pack first thing in the morning and also doing specific exercises and stretches to improve your range of motion first thing in the morning.
The Best Orthopedic Pillows
EPABO Contour Memory Foam Pillow
Summary: This pillow offers breathable memory foam with an ergonomic design to create the ultimate sleeping pillow. This contour memory foam pillow is great for those suffering from chronic neck issues.  
Pros: 
30 Day satisfaction guarantee

Breathable memory foam

Chemical-free materials for better health

Ergonomic design 
Cons:
Complaints of the pillow being too firm 

Some people have issues with the shape being uncomfortable
Mkicesky Side Sleeper Contour Memory Foam Pillow
Summary: This pillow comes equipped with slow rebound memory foam that allows your neck and shoulder muscles to fully relax. The Side Sleeper is a great option for those who deal with snoring and other breathing issues.
Pros: 
Helps to relieve neck pain

Helps with snoring and other breathing issues

Slow rebound memory foam allows for full relaxation
Cons:
Complaints of the foam being too firm

Some design issues with a large button in the middle of the pillow causing discomfort for some users.
Milemont Memory Foam Pillow
Summary: Milemont utilizes premium memory foam with an ergonomic design to cradle your head and neck allowing for a refreshed feeling in the morning. This pillow makes a great gift for anyone who suffers from chronic pain in their head, neck, and shoulders. 
Pros:
Contoured to relieve pain in the head, neck, and shoulders

Made with premium quality memory foam

Standard size pillow fits your bed comfortably
Cons:
Complaints that the foam does not retain shape after using the pillow for a while. 

Strong odor when first open, but will dissipate after a couple of hours.
Royal Therapy Queen Memory Foam Pillow
Summary: This ultra-comfortable adjustable memory foam pillow will surely give you the rest you require. It's ergonomic design and hypoallergenic qualities are designed to alleviate your neck pain and give you the sleep you deserve. Made with Rayon from Bamboo so it's even eco-friendly. 
Pros: 
Designed for creating better spinal alignment

Includes a hypoallergenic pillowcase

Removable sections to customize the pillow to suit your personal needs. 
Cons:
Complaints of permanent creases in foam from poor shipping method

Complaints of strong chemical odor
HOKEKI Memory Foam Pillow
Summary: This pillow has a unique ergonomic shape that is designed to help those suffering from chronic cervical pain. The high-quality memory foam and the washable cover add an element of luxury while maintaining its functionality. 
Pros:
Ergonomic design

Premium quality memory foam

Washable cover
Cons:
Complaints that pillow is too thin and does not retain shape

Complaints that the price is not compatible with the quality
Key Takeaways
Ultimately, there's no guarantee that an orthopedic pillow will cure your chronic head, neck, or shoulder pain. In many cases, people who use them find that they enjoy a deeper sleep and wake up feeling refreshed with less pain. Take your time when researching your options and consider what your personal needs are before rushing into a purchase that may not be right for your situation. 
Works Referenced:
(https://chiropracticplus.net.au/benefits-using-orthopedic-pillow/), 
(https://www.practicalpainmanagement.com/patient/conditions/low-back-pain/about-back-spine-neck-shoulder-pain-statistics#:~:text=Neck%20pain%20has%20an%20annual,neck%20pain%20or%20frequent%20occurrences.), 
(https://dynamicphysiotherapy.ca/blog/orthopedic-pillows/amazing-benefits-of-orthopedic-pillows/), 
(https://www.spine-health.com/wellness/sleep/pillows-different-sleeping-positions), 
(https://smallbusiness.chron.com/annual-revenue-orthopedic-product-industry-82052.html),
Other Great Health Related Articles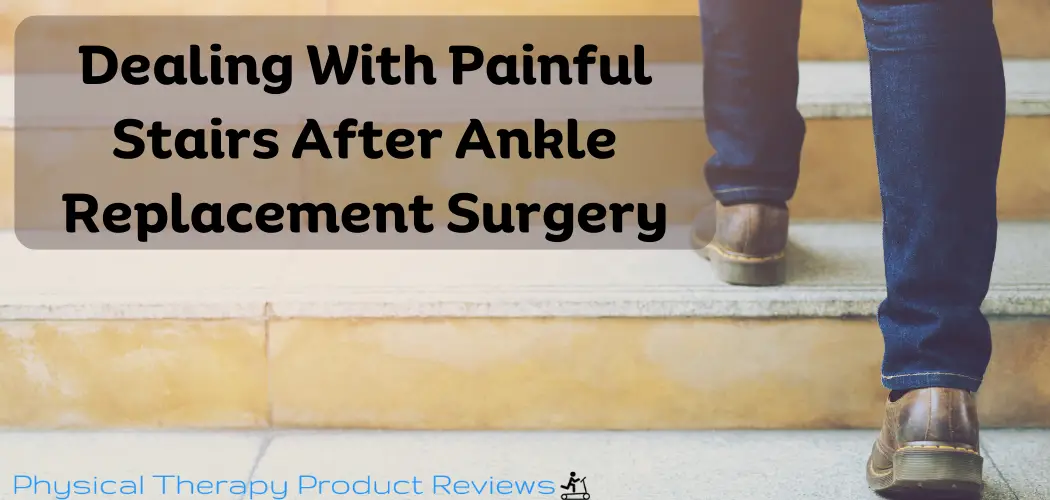 After undergoing an ankle replacement surgery, patients may experience pain when climbing stairs. The level of pain can vary from mild discomfort to severe pain, ...
Disclaimer: The information provided in this post is for educational purposes only. This is not a substitute for a medical appointment. Please refer to your physician before starting any exercise program.