Woohoo! You finally had your total knee replacement! What a relief; or at least it should be. Many times people think that they will have their surgery and just bounce right back like nothing ever happened. Unfortunately, that is not always the case. With any surgery, there will be a certain degree of pain and discomfort. How can you overcome the pain while you recover and beyond?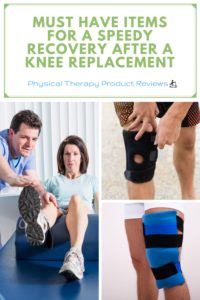 In addition to physical therapy and pain medication, the best way to fight that nagging pain and uncomfortable feeling is to utilize products that are designed specifically for people who have just had total knee replacement surgery.  
If you are finding that you are dealing with considerable discomfort post-surgery, then you need to keep reading this article about items that will make your daily life less painful. 
Products for Pulverizing the Pain
The following products are designed with your needs in mind. Using them will surely expedite the healing and recovery process. 
Ossur Cold Rush Therapy System
Ossur cold rush therapy system comes with a knee pad and ergonomically adjustable strap. It is quiet and lightweight. Yes, we know you have an ice pack at home, but trust us when your knee is aching and you are trying to get some sleep you will wish you have this machine. Cryotherapy freeze kit pump.
Effective, soothing, and localized treatment

Ergonomic design

Includes knee pad

Stay cooler longer
Incrediwear Knee Compression Sleeve
Anti-inflammatory recovery and performance knee brace. High-quality materials designed for improving circulation to help flush out swelling after surgery. We love to rub Voltaren pain gel on the knee and then cover with this knee compression sleeve for better pain relief. Made for men or women. 
Anti-inflammatory therapy

Can wear 24/7 if needed

Made for men or women

Material is made with semiconductor elements that optimize circulation and oxygen for the healing process.
TOFLY Medical Thigh High Compression Stocking
Thigh-high compression stockings for men and women. Improves blood flow and circulation and helps prevent blood clots. These also help manage swelling. The ones you get from the hospital won't likely las long so we recommend having at least 1 back up pair.
Durable material that holds up even after multiple washing cycles

Improve blood flow and circulation

Made for men or women
Insiders tip: Hospitals will usually provide this type of compression stocking for patients when they go home, however they raise the price considerably; fortunately, your insurance will probably pick up the tab, but check first before assuming anything.
Linux LX6 3pc. Orthopedic Pillow Set
Designed with post-op recovery in mind. This 3 piece set will bolster you to a comfortable and relaxing sleep. Nothing is complained about more after total knee replacement than a lack of sleep. The Linux pillow set is awesome for finding that comfortable position in bed or in the recliner. 
3  pillows for multiple positions

Designed for post-operative pain and positioning

High-quality design and materials
ComfiLife Orthopedic Knee Pillow
Are you noticing a theme yet? People have a hard time sleeping after a knee replacement. Designed for people suffering from sciatica, back, leg, hip, and knee pain. Memory foam contour wedge.  
Breathable, easy to clean cover

Ergonomic design

Lifetime warranty

Premium high-quality materials
Voltaren Topical Pain Relief Gel
Diclofenac sodium topical gel penetrates deep to attack pain at the source. Made for arthritis and joint pain. This used to be available by prescription only but is now over the counter. 
Diclofenac sodium topical gel relieves pain quickly

Don't use on more than 2 joints at a time

Made for arthritis and joint pain

Non-greasy formula
Put Your Shoes one Easier with Velette Shoe Horn
Designed for seniors or those with limited mobility, like after a knee replacement. A shoe horn helps you slip your shoe on when you can't bend your knee enough to grab with your hands.
16 ½ inches long

Ergonomic handle for easy gripping

Made from sturdy metal
Bonus Alert! Recumbents to the Rescue
If you are lucky enough to have the extra room in your home and in your budget, a recumbent bike is a fantastic way to improve your overall strength and range of motion. Using a recumbent bike after a total knee replacement puts less pressure on your hips and knees by keeping you in a semi-seated position. 
There are multiple benefits of using a recumbent bike:
Decreased pain

Decreased weight 

Easier to mount and dismount than an upright bike

Improved blood flow

Increased range of motion

Overall increased strength
Hold on to your walkers now, because here is the scary part. Recumbent bikes are not inexpensive! Having said that, they are well worth the investment if you are able to make it. 
Don't let it end up like every other treadmill or piece of home workout equipment in the world; covered in clothing and clutter. 
Many people purchase these bikes with the best intentions and never use them. If you are going to spend the big bucks, use it! It won't use itself and it definitely will not help you if it is in a corner covered in a pile of clutter.  
A recumbent bike is not only good for your post-op recovery; they are a great way to stay in good overall condition!
Schwinn Recumbent Bike Series
This bike has it all! High-tech features with a high inertia drive system for a smooth and quiet workout. 
Adjustable fan

Bluetooth accessible

Offers USB charging port

See the world on your LCD screen with the RideSocial app

Sync with Schwinn Trainer app

Track your heart rate and many other cool high-tech features

And many other features
Other Tips to Speed Up Recovery After a Knee Replacement
In addition to minimizing pain with some of the recommendations listed above their are few things that you can focus on to speed up the recovery of a total knee replacement
Go to Prehab – Do Pre-Surgical Exercises
Doing exercises before surgery has been shown through extensive research to decrease pain levels, decrease the length of the hospital stay, improve overall outcomes, and improve overall satisfaction as compared to people who did not do exercises. 
You can see our helpful guide on the pre-surgical exercises for a knee replacement here.
Focus on Range of Motion – Especially Knee Extension
Your knee range of motion will be severely limited after surgery. Your goal is to get it to full extension or zero degrees and for it to bend to around 125 degrees. However, get knee extension first it makes life so much easier. Once you get full knee extension recovery is smooth sailing.
Stay Active – Don't Sit Around
Yes we know that your knee hurts and all you want to do is sit in the recliner with the knee propped for hours. This won't cut it. Your knee will scar down in that position. It's important to move every 45 minutes, bend your knee, walk on it, and get your muscles back. A few weeks of focus on activity will make a huge impact on the rest of your life.
Be Prepared at Home to Reduce Surgical Jitters
The more prepared you are going into the surgery, the better you are going to feel. You'll have less worry and anxiety and recover quicker. A helpful tips to prepare:
Meal prep and freeze them ahead of time. Trust us you won't want to cook anything after surgery
Plan, schedule, and very any rides to doctors appointments and grocery runs that you need
Move tripping hazards at home including rugs, dog beds, narrow furniture, shoes, etc
Move to a downstairs bedroom that's close to a toilet for easier access
How We Made This List
This list was compiled based on two things; expert Physical Therapist experience and patient testimonials.
We asked real total knee patients in the clinic as they are finishing up their rehab what their favorite items were to help with pain control and recovery. We then looked at the responses, combined it with clinical judgement and took out any snake oils and unproven treatments and made this list.
Going For The Gold
It's neck and neck to the finish line. Is your knee going to hold up? You are so close, you can almost smell the trophy waiting for you on the other side of that line. You lean in and push a little bit harder. The crowd goes wild! You did it! You won the race all because you followed your doctor and physical therapist's recommendations and used these pain pulverizing products.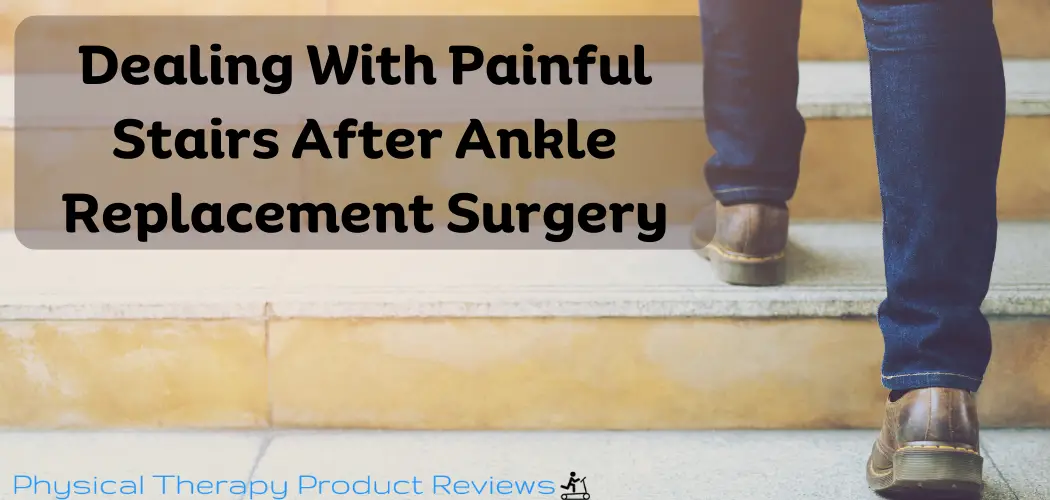 After undergoing an ankle replacement surgery, patients may experience pain when climbing stairs. The level of pain can vary from mild discomfort to severe pain, …
Disclaimer: The information provided in this post is for educational purposes only. This is not a substitute for a medical appointment. Please refer to your physician before starting any exercise program.