What Type of Exercise Machine is Best After a Total Hip Replacement
There are over 300,000 total hip replacements annually in the USA and the prevalence of this surgery continues to rise (1). Insurance reimbursement for this procedure has decreased over recent years and therefore, more financial responsibility is placed upon the patient. This requires more work and less guidance to get back to normal after major surgeries.
Another responsibility that each patient has after hip replacement surgery is to manage their own recovery by improving their range of motion (ROM).  One of the best ways to increase ROM is through the use of a recumbent bike or a recumbent elliptical and the purpose of this article is to help guide you in selecting the bike or elliptical that is right for you.
What is a Total Hip Replacement?
The hip is one of the largest joints in the human body.  It is made up of a ball and socket joint which are both covered in cartilage.  Additionally, the joint is surrounded by a thin membrane that produces a small amount of fluid that helps to lubricate the joint so that it can move freely(1).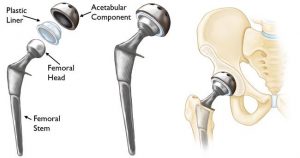 However, there are a number of conditions that can cause damage to the hip joint including osteoarthritis, rheumatoid arthritis, post-traumatic arthritis, avascular necrosis, and childhood hip disease.  These problems can lead to damage of the cartilage and bone of the hip joints.  During hip replacement surgery, the damaged bone and cartilage are removed and replaced with prosthetic components made of metal, ceramic, or plastic (1).
Most hip replacement procedures take place in patients that are from 50 to 80 years of age, although this type of surgery has been performed successfully at all ages.  An individual recovering from hip replacement surgery can generally expect to be able to resume their normal daily activities within 3 to 6 weeks; however, this will largely be due to how well the individual follows the home care regimen that is recommended by their orthopedic surgeon and a major component of this regimen is exercise(1).
Basics of a Total Hip Replacement Video
Why is Exercise Important After a Hip Replacement, Shouldn't I Rest and Recover?
While rest is a major part of any post-surgery regimen, the most important thing to remember is to keep the joint moving.  This is crucial for several reasons. First, the continual movement will help to circulate blood to the joint and improve healing and reduce swelling.  Additionally, the activity can help to prevent the build-up of scar tissue, leading to less pain, and help to ensure the success of the surgery.
For exercises to avoid after a total hip replacement see our helpful guide here.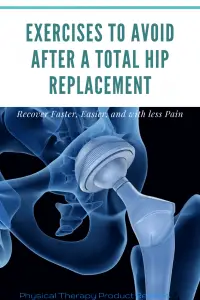 What to Look for in a Recumbent Bike for a Total Hip Replacement?
Now that you know how important activity is to your hip rehabilitation, let's take a look at some equipment that will help you in reaching your recovery goals.  When comparing workout machines, it is important that you examine each of them for the following:
Easily Maintain hip precautions (if any) – Since your mobility after surgery will be limited you will need to be selective of the equipment you use as certain machines do not take this factor into account.
Easy to get on and off – With a restricted range of movement it is also important to consider how well you can comfortably position yourself on a piece of equipment.
Multiple levels of resistance – Having a machine with various levels of resistance will make transitioning through the various stages of recovery a lot easier.
Easy to Use Controls and Adjust Seat – User-friendly settings are an important consideration when selecting a bike or elliptical.
It would be a good piece of equipment once healed – factor into your decision how useful the equipment could be for your activity goals even after your hip has fully healed.
How Hard Should I Exercise After a Total Hip Replacement
An important tip to remember when it comes to exercising after hip surgery is to "start low, go slow."  Start with a low resistance setting, move slowly, and do two short sessions (~5-10 minutes each) per day. Gradually, you can begin to increase your speed and work up to moderate resistance.  At about 4 weeks after surgery, you should be able to do two sessions per day of 15 to 25 minutes each, about three to four times per week.  After you've maintained this regimen comfortably, strive to increase to 30 to 45 minutes twice daily three to four times per week.
What About Post-Operative Hip Precautions and Exercise?
Exercise is safe and encouraged to help with recovery after a total hip replacement. Depending on which approach your surgeon took to perform the surgery you may have post-operative precautions for motions that you are not allowed to do for 6 weeks or longer. These include:
Avoiding hip flexion beyond 90 degrees

Avoiding hip Adduction or crossing your leg over the midline

Avoiding hip internal rotation  or turning your foot out with your knee turning in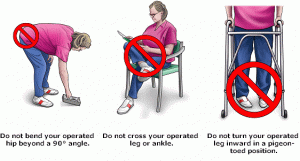 Some of the machines are better at maintaining hip precautions with exercise and should be taken into consideration.
The Exercise Machine After a Total Hip Replacement
HCI Fitness RXT-300 PhysioStep HXT Recumbent Semi-Elliptical
The HCI Fitness Physiostep machine is basically a bike and elliptical all-in-one! It is an excellent option for both rehabilitation and exercise purposes.
Pros:  The PhysioStep is designed with both the physically fit and physically challenged in mind. The elliptical motion that it offers is great for post-surgery rehabilitation. Additionally, it is quiet, unlike a lot of similar machines on the market.
Cons:  The cost is quite high, although considering it can be utilized well beyond hip-surgery rehabilitation may make it a reasonable investment.
Teeter FreeStep Recumbent Cross Trainer and Elliptical
Don't you wish exercising could be comfortable? The makers of the Teeter FreeStep seek to do just that! This piece of equipment can give your joints a low-impact, stress-free workout while still bringing about fat-burning and strength-building results.
Pros:  Low-impact cardio, full-body strength training workouts, great price, quiet operation
Cons:  The quality of the monitor is not as good as similar models.
Teeter FreeStep Recumbent Cross Trainer and Elliptical
The Nautilus stationary bike is an all-around great piece of equipment for joint rehabilitation.  It allows for smooth joint movement while also providing a vigorous workout.
Pros: Excellent price, easy assembly, Bluetooth connectivity for tracking and monitoring progress, 25 levels of resistance
Cons:  Lacks elliptical movement
3G Cardio Elite RB Recumbent Bike
The 3G Cardio Elite Recumbent Bike is a high-quality bike that provides a great deal of comfort. It is compact and with easy roll transport wheels, you can tuck it away after your workout.
Pros: High-quality construction,  7-year parts warranty, very comfortable, portable, easy handle controls and ergonomic pedals and frame
Cons:  Pricey, but can be a great investment for your future health and fitness
Inspire Fitness 2.5 Cardio Strider
The Inspire Fitness 2.5 Cardio Strider engages both lower and upper body.  It's distinctive, linear pedal path helps to minimize hip rotation and stress and would, therefore, make for a great tool during post-surgery recovery.
Pros:  Minimal stress on hips, provides a total body workout, wide comfortable seat with ample back support, quiet operation
Cons:  Can take up some space – the mainframe assembly is roughly 5 feet long
Conclusion:
The success of a total hip replacement procedure relies heavily on having a good rehabilitation plan. The recovery process should center around maintaining, and gradually increasing, the range of motion of the involved joint, and selecting the right piece of equipment will greatly help you in accomplishing this goal.
Works Referenced:
Foran, Jared, et al. "Total Hip Replacement."  OrthoInfo.  Last reviewed August 2015.  https://orthoinfo.aaos.org/en/treatment/total-hip-replacement/
Disclaimer: The information provided in this post is for educational purposes only. This is not a substitute for a medical appointment. Please refer to your physician before starting any exercise program.