Patella instability is a condition in which the Patella (kneecap) moves around too easily or gets pulled off to one side of the Patellar groove.
There are many different causes of kneecap instability which we'll review in this post. Some of the most common ways to treat patella instability are strengthening exercises and knee braces.
A knee brace for patella stabilization can help by holding the patella in place and providing more stable tracking during movement.
In this article, we will review what patellar instability is, what a knee brace for patellar instability does, and some top options on the market today.
Comparison Table for Patella Stabilization Braces
What is Patellar Instability?
Patella instability is a condition in which the patella (kneecap) moves around too freely or gets pulled off to one side of the patellar groove. The knee cap should track in a fairly straight line up and down during movement of the knee.
If it tracks sideways at all it can cause compression and irritation of the soft tissue and bony landmarks. This especially becomes works with repetitive movement which may cause irritation each time the knee bends or straightens past a certain point.
The knee cap attaches to our Quadripceps muscles, which is a muscle group with 4 muscles all attaching and working together to pull on the knee cap to straighten our knee. The muscles work together in unison to keep the patella tracking properly. If the quad muscles are weak then the forces placed on the patella become too great and cause pain.
Causes of Patella Instability and Excessive Kneecap Movement
Excessive patella movement can be caused by several different conditions. Some of the most common causes include patellofemoral pain syndrome, patellar dislocation, quadriceps tears, and genetic hypermobility or flexibility.
Patellofemoral pain syndrome (PFPS) can be caused by poor alignment of the knee cap relative to the thigh bone along with other factors such as overpronation of the feet and poor internal rotation control of the Femur. It is often treated by strengthening the quadriceps, strengthening the hip abductors and external rotators.
We've made a review post on knee braces specifically for patellofemoral pain syndrome here. There is some similarity between the conditions and the braces that help.
Why a Knee Braces Can Help with Patella Stabilization
Knee braces for patella stabilization are most commonly used to help limit movement side-to-side in the knee cap. They work by providing increased stability to the patella, helping it track properly during movement, and aid in compression to help mitigate any extra swelling.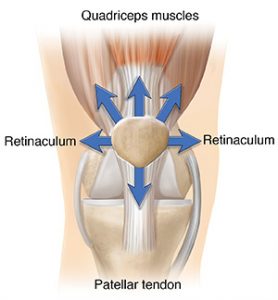 The goal of using a brace for patella stabilization is not to use it forever. In most cases we want patients to wear these braces in the short term until the muscles become strong enough to support the patella on their own.
In the meantime, using a brace can decrease pain and help you do all the fun things that you like to do as you build up strength.
Knee Braces vs Compression Sleeve for Patella Stabilization
The two most common types of knee braces for patella stabilization are solid knee braces and compression sleeves. Each of these braces has benefits and tradeoffs for patellar instability
Hinged Knee Braces provide more support and stiffness to not only the patella but also to the entire knee joint. These braces are also bulkier so the range of motion may be limited and can get in the way. These are the best option for serious injuries such as a patellar dislocation or a quadriceps tear. These are also great options for returning back to sports.
Knee compression braces work best for mild to moderate patellar instability. These are typically best for Patellofemoral Pain Syndrome and mal-tracking issues. These can also be beneficial to mild sprains and strains such as Lateral Retinaculum sprains or mild tendonitis.
Patella Stabilizing Brace for Running
For running with patella stabilization we like a lightweight option that is going to provide support to the patella but without weighing down the leg or being a hindrance to movement.
We recommend starting out with the least restrictive brace first and working toward the more supportive one if that doesn't work. That way your muscles have a chance to build up strength and won't rely entirely on the brace.
We recommend the Shock Doctor Compression Sleeve Brace for mild cases and if that doesn't help the pain or you have a more moderate case of patella instability then we like the MedSpec Dynatrack Plus Stabilizer.
Patella Stabilization Brace for Sports
Depending on the type of sport then you have different demands on the patella. If the sport has a lot of jumping such as cheerleading, volleyball, or basketball then we like a brace with a more solid buttress for support. This includes the Braceability Lateral J Support brace.
For other sports that have more contact such as soccer, lacrosse, or football then look for something with a little more cushion that doesn't get in the way. We like the Neenca Patella Stabilizing Brace.
Patella Stabilizing Brace for Cycling
Patellar pain during cycling is a common issue due to the repetitive nature of the pedal stroke. We recommend getting a proper bike fit first to make sure that there is no excessive pressure on the knee cap with pedaling.
For cycling, you want a tracking brace that isn't too bulky and is lightweight. We like a compression sleeve in this case such as the Shock Doctor Compression Sleeve Brace or even the MedSpec Dynatrack Plus Stabilizer because you take it on and off easily.
What to Look for in a Kneecap Stabilization Brace
There are many different patella braces on the market today, but not all of them will provide you with the support and stability that you need. There are several things to look for when choosing a knee brace for patellar instability including:
Material
You want your patella stabilization brace to be made out of materials that are breathable to help prevent excessive sweating and patella irritation. Some good options are neoprene or nylon compression fabric with a patellar cut out for added comfort
Adjustability
One of the most important things about any knee brace is how adjustable it is, especially when you need knee braces for patellar instability because they need to fit your patella perfectly. The knee brace should be easily adjusted for length and firmness with a strap system, so it does not slip off during activity
Support
A knee brace for patellar instability needs to provide strong support without being too restrictive of movement. Look for patella braces that are made out of a tight-fitting material with padded patellar support that will prevent slippage
Comfort
The knee brace for patella stabilization should be comfortable and easy to wear. Look for a patella stabilizing brace made out of breathable fabric, as well as soft padding around the patella area so it does not irritate the patella tendons
Knee Brace Levels of Support
There are many different types of knee braces with different pros and cons. Each brace is ranked on the amount of stability available for the knee.
Level 1 Knee Brace
These are the least supportive knee braces but also allow for the most range of motion. These are typically lightweight compression sleeves or straps that you can easily take on and off.
Level 2 Knee Brace
These knee braces offer medium stability and are typically patella stabilizing braces that offer moderate support. This can be beneficial for mild ligament injuries and tendonitis-type injuries. These may have smaller hinged supports on the sides.
Level 3 Knee Brace
These braces are the most supportive knee braces available, offering maximum stability. They typically have larger hinged supports or buttresses on both sides of the knee. These are the more restrictive and bulkiest of the knee braces but also offer the most support. These are best for severe ligamentous injuries and are not typically used for patella stabilization alone.
The 5 Best Patella Stabilization Knee Braces
BraceAbility J Patella Knee Brace
Summary: The Braceability lateral  J brace is great for those with moderate patella instability. We love the "C" buttress that you can reverse and provide support on either side of the knee. This is great for people who have have prior patella dislocations or quad tears.
The brace is made of quality lightweight neoprene that doesn't hinder or weigh you down during activity. 
The brace also has 2 aluminum stays on each side of the knee provided rotational stability to the entire knee complex. 
MedSpec DynaTrack Plus Patella Stabilizer
Summary: The Medspec Dynatrack Plus brace provides excellent flexibility by being reversible. It can can be placed on the inside of the outside of the knee cap. 
The internal buttress keeps the patella stable and aligned during activity. We like that the brace is lightweight and slim, making it a great brace for active individuals and people in sports.
It's easy to take on and off and you don't need to take off your shoes to get the brace on. You can adjust the tightness on the fly by tightening the straps.
The Coolflex neoprene alternative helps keep the knee cool and limits sweating making it a comfortable brace to wear during any activity.
Shock Doctor Knee Brace Compression Sleeve Support
Summary: The Shock Doctor knee compression sleeve is the perfect lightweight breathable knee sleeve for mild patella instability. The pre-curved design helps control patellar tracking. 
We love the latex-free neoprene because it's easy to use and comfortable to wear for long periods of time.  
Shock Doctor is one of the best bracing companies in the US so you know you're getting quality material and it comes with a 100% guarantee.
NEENCA Knee Brace with Side Stabilizers
Summary: The Neenca Knee Brace is another great lightweight brace for mild to moderate patella instability. 
It has 2 adjustable velcro straps so that you can tighten or loosen the support as you need. The outside of the brace has spring stabilizers to add medial/lateral support.
The open patella design adds breathability yet supports the knee cap to help with stability. 
Mueller Patella Knee Stabilizer Brace
Summary: The Mueller Patella Knee Stabilization Brace is another brace that offers the knee cap buttress to help with instability and excessive motion. 
We personally love the open design on the backside of the brace to help with airflow and breathability. 
The adjustable straps help you adjust the tightest on the patella and to prevent it from falling down your leg.
It is important to find patella stabilization braces that provide you with the right amount of support and stability for patellar instabilities. With all of the different knee braces available, it can be difficult to know which one will best meet your needs. We hope this article has helped answer some questions about patella stabilization and how they work.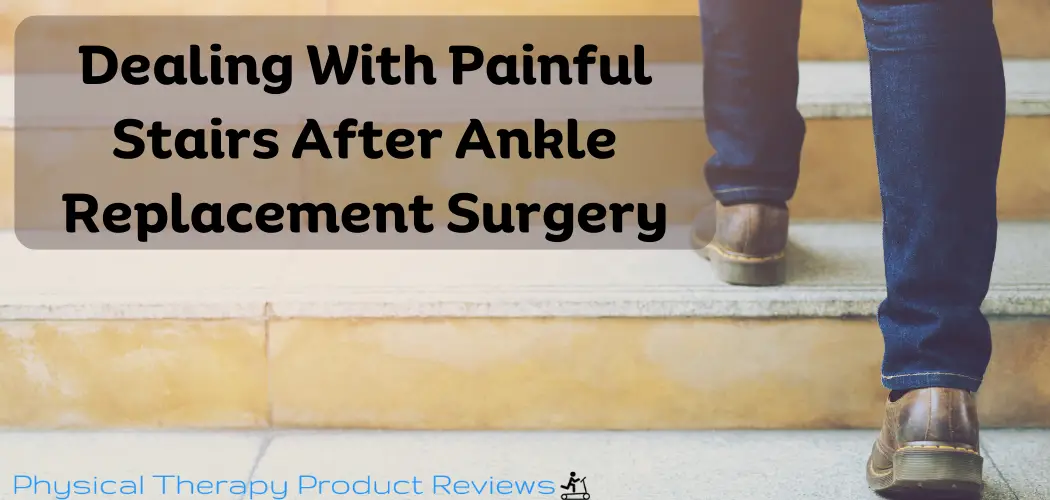 After undergoing an ankle replacement surgery, patients may experience pain when climbing stairs. The level of pain can vary from mild discomfort to severe pain, ...
Disclaimer: The information provided in this post is for educational purposes only. This is not a substitute for a medical appointment. Please refer to your physician before starting any exercise program.