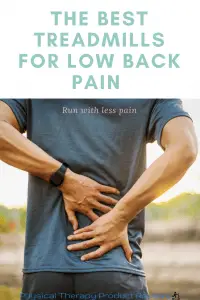 Low back pain can be brutal. Low back pain can feel as if it sucked the life and energy right out of you. It's frustrating and wants a way to combat the life-modifying pain. First, there are a lot of causes for low back pain, so it is difficult to group all of the different causes into one group to determine the best treadmill for everyone. Back pain can be caused by herniated discs, facet arthritis, muscle strains, as well as general de-conditioning, or weakness.
Despite the different causes of the pain, one of the best ways to improve recovery and decrease pain is to begin a walking program. The walking program can be outside, on a treadmill, or simply laps around the car in the garage. It doesn't matter as long as you are walking as this is one of the best ways to help the deep structures within the spine heal and to keep pain levels low.
Low back pain is the most common orthopedic condition with about 40% of the general population experiencing it at some point in their lives (1). It's a near guarantee in this day that you personally know someone or have experienced episodes of low back pain yourself. It's frustrating, can be debilitating, limiting, and downright scary at times.
Why a Treadmill Is a Great Option For Low Back Pain
It's the very first recommendation that a Doctor, Surgeon, or Physical Therapist will tell you at your initial evaluation. "Begin a walking program." The low back in general does not have a great blood supply and therefore greatly benefits from walking to increase blood flow to the tissues that
need healing. Walking with back pain is safe, helps build muscle, and decreases pain through the body's own release endorphins (feel good hormones) that helps decrease the need for Opioid pain medication and other side effect dominant pain medication. It's also one of the easiest and best ways to calm down your nerves (reducing pain) and improve low back muscle activation (improving strength). Just for fun put your hands on your low back and take a few steps around the house. What do you feel? The muscles turning on and off.
You should always consult with your doctor before starting a walking program but in general they want you to try and walk 5 minutes straight within the first couple of days. Then try to improve this to 10 minutes at a time by the next week and up to 30 minutes or 6 miles by week 4. Here is an article from the South Eastern Spine Institute on their walking recommendations to improve recovery.
Walking immediately or shortly after surgery also provides many benefits that we don't often think of:
Promotes normal lung function and decreases the risk of Pneumonia

Help prevent Opioid-Induced Constipation (one of the worst things ever)

Stomach and Urinary tracts receive blood and improve function

Reduce the risk of blood clot formation in the deep veins of the legs

Improves wound healing and normal formation of scar tissue

To see a patient hand out given at the University of Wisconsin's Health See here
How to Chose a Treadmill For Low Back Pain
When looking for a treadmill that is best used with low back pain we factored in a few features including the cost, the motor power, the shock absorption for the spine, and the ease of use. We wanted treadmills that decreased force in the spine when walking, had the ability to change elevation for spinal stenosis, and were easy to use and set up without requiring lifting.
Cost of Treadmill
In considering the cost of treadmills, as with anything you buy, you often get what you pay for. For a quality treadmill that will last a long time you are likely going to spend upwards of $800. Much less than that and they may not last as long and you may end up with broken motors or control panels that will cost more to fix in the long run. If it is going to get a fair amount of use you want to get something that is of higher quality. Often the $1,500- $3,000 price point will offer better motors. The good thing about motors is that they have better shock absorption, bluetooth connect ability, more options in terms of workouts, better warranties, and often a better quality belt.
Treadmill Motor
The next consideration was the motors for both the drive belt and for the incline. We searched for treadmills that had a continuous motor with at least 1.5 horsepower but more preferably above 3.0 HP. This is better for running and isn't going to be maxed out with your everyday walking.
Treadmill Shock Absorption
Third, we looked at the amount and type of shock absorption built into the treadmill. If you are going to use the treadmill more for running you might prefer a stiffer surface to allow for more consistent push off. If you are using it primarily for walking then you might want to get a softer treadmill. Often times the higher quality treadmills try to give you the best of both worlds with a softer landing zone and a stiffer push off zone. The three different types are elastomer, suspension, and swing arm suspension each with different pro's and con's. In the end we looked for the highest quality suspension with the least amount of force through the spine.
The 5 Best Treadmill For Low Back Pain
3G Cardio Elite Runner Treadmill
Summary: The 3G Cardio Elite Treadmill is one of the top treadmills on the market.
It has the Ortho Flex Shock suspension provided the decreased joint stress we want and a 22″ x 62″ running platform. 

A 4.0 HP motor makes this treadmill stronger than most of the competition. 

It also comes with one of the best great warranties, with a 10 year parts warranty and 2 years in home labor.

In addition, it sports pre-programmed courses, fitness tests, one touch speed and elevation settings, heart rate control and the ability to custom create your own workouts.

Connect your phone or tablet to enjoy your music through the built in speakers and cool down with our multi speed fan.

This treadmill is great for the whole family as it works for the competitive runner or for the casual walker.
ProForm Pro 2000 Treadmill
Summary: The Proform Pro 2000 Treadmill was another one of our favorites.
It also has a large motor  at 3.5 CHP  that supports speeds up to 12 MPH and inclines up to 15 %.

Of course it comes with ProShox  Cushioning.

The bells and whistles includes compatible Music Port for tablets and phones.

Comes with 32 Workout Apps

Comes standard with a large 20″ x 60″ 1-Ply Commercial Tread Belt. iFit Live Technology Compatible.

Rated as a 'Best Buy' from a leading consumer magazine.
Sole Fitness F80 Treadmill 
Summary: The Sole Fitness F80 treadmill is great option for anyone that wants durability and comfort without all the extra bells and whistles.
It comes with a 3.5 hp motor, large rollers, and a durable steel frame.
The feature that caught our eye is the F80 allows up to 40% less shock as compared to running outside.
It also comes with a large belt
Wireless heart rate monitoring
Speeds up to 12 mph, and inclines up to 15%.
FreeMotion 890 Treadmill for Low Back Pain
Summary: This one is great for those that can't get a tv or entertainment in the same room as their treadmill. Or maybe you don't want to fight with your loved one over who get's to hold the remote. The Free Motion 890 Treadmill comes with:
Not only does the treadmill come with a TV but has many other great features such as a 2.5 HP motor,

Large belt size, grip heart rate monitoring

Folds up to save space and comes with 40 different programs.

This also has a lifetime frame and 5yr motor warranty.

Best of all this is one of the most affordable options that comes with an entertainment screen.
Summary: The Nautilus T618 Treadmill comes loaded with features that you often don't find at this price point. Granted it is over $1,000 but is put on the bargain list compared what you get for the price.
You'll love the high-tech features, like USB connectivity

Rebound Deck Cushioning™

Built-in heart rate monitors.

It also has a bright LCD display

Comes with bluetooth connectivity to allow you to listen to music while you run with a USB charging port and in-console speakers.

The Nautilus treadmill comes with 3-speed SoftDrop™ folding design and transport wheels so that it is less likely to aggravate your back with moving.

The cushioning and spinal forces are superb with Rebound Deck Cushioning™ for a more comfortable run. 26 computer pre-set workout programs. 3.5 continuous HP motor. Features a top speed of 12 mph. Features an incline up to 15 percent.
Tips for Running with Low Back Pain
If you have low back pain while running there are some things that you can do to try and solve it. A treadmill is a great place to practice form and cadence because you can control the speed of the belt.
Avoid Arching your Back with Running
Increase Your Running Cadence to Reduce Force on Ground Contact
Change to Proper Running Foot Strike
Frequently Asked Questions (FAQ):
How much of my back pain is due to being over weight?
It definitely plays a large role, especially if the spine has been stressed with extra body weight for long periods of time. Dropping even a few pounds makes a significant difference. In a recent stufy they found that every four pounds of weight loss resulted in a decrease of 16 pounds of pressure on back. In a second study, the risk of developing osteoarthritis dropped 50 percent with every 11 poind weight loss.
What Maintenance do I need to do to my Treadmill?
Normal maintenance on the treadmill is important for normal function and for it to last a long time. You should wipe it down after every use and avoid spilling liquid on it. You may have to vacuum the inside of the treadmill for dust build up. Finally, you should lubricate the belt, check the belt tightness, and make sure that it is centered after every 150 miles. For more information here is a good article on treadmill maintenance.
What If I Can't Run Without Pain Yet?
You have to start somewhere, so you mght start at a fast walk and see if you can do 10 minutes. After you can do 10 minutes try raising the inclide of the treadmill to make it harder. This puts greater muscle demand while actually being a spine friendly position of leaning slightly forward. As you increase the incline and speed of you walking you'll get to a point where you'll feel like you have to jog if you can any faster and that's how you increase your tolerance to running. It may take only 3 weeks but it will likely take a lot longer to build up that tolerance.
Works Referenced
Low back pain status affects pelvis-trunk coordination and variability during walking and running – https://www.sciencedirect.com/science/article/pii/S0268003310003062

Exercise, Manual Therapy, and Education with or Without High-Intensity Deep-Water Running for Nonspecific Chronic Low Back Pain – https://journals.lww.com/ajpmr/Abstract/2011/07000/Exercise,_Manual_Therapy,_and_Education_with_or.2.aspx
Effects of foot strike on low back posture, shock attenuation, and comfort in running – https://europepmc.org/abstract/med/23073217
Disclaimer: The information provided in this post is for educational purposes only. This is not a substitute for a medical appointment. Please refer to your physician before starting any exercise program.