The knee is one of the most commonly injured joints in the body. Nearly half of all American develop knee osteoarthritis in at least one knee during their lifetime.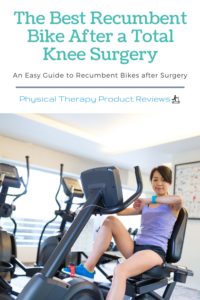 The first line of defense for arthritis is to lose weight, improve strength, eat healthier and try conservative options such as physical therapy. Sometimes it can be difficult to know when the right time for a knee replacement is. However, once end stage arthritis sets in, the options become limited and surgery is often warranted. The best option right now is a knee replacement.
After surgery, it's extremely important to get that knee moving quickly and improve range of motion through exercise. One of the best ways to achieve this is with a recumbent bike. A recumbent bike helps increase knee flexion, improves blood flow, improves muscle activation and strength and helps with pain intensity by keeping the knee moving.
What is Knee Arthritis?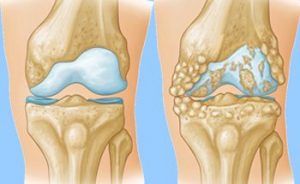 There are over 100 different types of arthritis that can affect the body such as Osteoarthritis, Psoriatic Arthritis, and Rheumatoid Arthritis. The most common form, Osteoarthritis, is a wear and tear degenerative process on the protective lining at the end of bones called cartilage. When the cartilage and protective cushioning of the knee called the Meniscus are worn down, the joint loading surface becomes bone-on-bone.
This bone-on-bone loading can cause pain, inflammation, and bone spurs resulting in less mobility and function. This end stage Osteoarthritis is when a total knee replacement is often needed to get back to living a normal life.
What is a Total Knee Replacement?
The most common solution for advanced stage knee arthritis is a total knee replacement surgery. This surgery provides pain relief, improves mobility, and can help improve the range of motion that is often loss with end stage arthritis. Every year, there are more than 600,000 knee replacements that are performed in the United States alone. Given that there is an aging population that is staying in the workforce longer, and obesity is on the rise, the number of surgeries are only going to increase. By 2030, total knee replacement surgeries are projected to grow 673% to 3.5 million procedures per year.
There are two different variations of a knee replacement surgery. The first and most common is a total knee replacement and the smaller less common surgery is the partial knee replacement.
During this surgery, bone and cartilage from the thigh and shin are removed where the Tibia and the Femur meet to make up the knee joint. The thigh bone and shin bone are then replaced with metal implant and a plastic implant helps hold the knee in place. This procedure gives both bones of the knee joint new smooth surfaces. This allows the knee to flex and bend more freely and bear weight without pain. The under surface of the kneecap is also completely replaced with a plastic coating. The new implants increase joint space, no longer allow bone-on-bone compression, and decrease swelling within the knee.
A partial knee replacement is a procedure that replaces one compartment of the knee, instead of the whole thing. A similar method is used to implant metal and plastic to replace the arthritic bones. There are benefits to a partial knee replacement; it requires a smaller incision, less time in surgery, less bone damage from the surgery, and overall usually less pain. This means that people who have a partial replacement tend to recover faster than those who have a total knee replacement. However, there is a risk that arthritis or pain may develop in the remaining parts of the knee that were not replaced in surgery.
Why Using a Recumbent Bike is Beneficial After Surgery
A recumbent bicycle provides many benefits to people who have had either a partial or total knee replacement surgery. It is an important part of any rehab process after knee surgery but especially after a total knee. Benefits include the following:
Increased Knee Range of Motion
A recumbent bike is one of the easiest and least painful ways to to improve your range of motion which is so important after surgery. The other leg can help with revolutions early after surgery so the surgically repaired knee can do as much or as little as needed.
A seated position also keeps the knee in a safe position, maintain straight alignment while working on bending the knee. Finally, because it is less painful on the knee and provides a comfortable position on the back, you can work on the range of motion for longer periods of time on the bike and help recover faster.
Increased Strength
Recumbent bicycles help those, especially the elderly, to strengthen the muscles in their legs. There is a good chance that the affected leg lost strength prior to surgery because of the pain and loss of activity in the knee. A recumbent bike allows for the muscles to contract, tighten, and begin to build strength as early as the first day after surgery in a safe manner.
As the knee heals, you can begin to work on improving your muscular endurance comfortably in your house and begin to push the time on the bike from 5 minutes to 30-40 minutes within a short amount of time.

Improved Blood Flow
This may be one of the most important aspects of healing that a recumbent bike can help with. The damage created during the surgery needs to heal and the best way to speed it up is with blood flow. This means bringing new nutrient-rich blood into the joint and pushing out the swelling that has been in the knee. Riding a bike after surgery is a great way to manage swelling in the leg.
Decreased Pain
A recumbent sitting position relieves the everyday stress that is put on ligaments, bones, tendons, and joints. Not only can riders enjoy a bike that relieves normal stress, but by moving their legs and adjusting to their new knees, the pain that is experienced with a knee replacement may be decreased.
There is a saying in therapy, "motion is lotion."  The more the joint moves, the less pain there is.
Weight Management
After surgery it is difficult to exercise and maintain a healthy weight. A healthy weight is critical for the long term success for this new knee. You just had it replaced and want it to last the next 20-25 years. Yet it hurts to exercise after surgery.
A recumbent bike is a great option to maintain or lose weight right after surgery without causing an increase in pain in the knee or other joints because of the surgery.
Finally you will own and have the bike for a long time afterwards. Maintaining the strength and range of motion is important for months after surgery. A total knee replacement can take up to 1 year for it to feel normal again.
FAQ on Using a Bike After a Knee Repalcement
When can you ride a bike after a knee replacement?
You can be begin to ride a bike nearly immediately after a knee replacement. Start with half circles and slowly progress to full circumferences as your knee begins to heal. This is an excellent way to keep muscles look and speed up healing.
How Often Should I Ride a Bike after a Knee Replacement?
At least 1-2x a day if possible for 10-15 minutes but you can do it more. Short bouts on the bike are great to loosen up the knee and can be done as much as you feel the need.  
Should I ride the bike before or after doing my exercises for a knee replacement?
It doesn't make a huge difference but we love doing it before your exercises AND after. Doing it before exercises will help increase range of motion and loosen the knee up before you begin your exercises.
Can I Do damage to my Knee replacement with Riding a Bike?
You can if you push it too hard too soon. The only issue we have seen is forcing the knee to do a full circumference on a bike within a few days of surgery and opening the incision. It's ok to have a good stretch but don't go into severe pain.
When can I hop in the hot tub after a knee replacement?
Not until your incision is fully closed to prevent a risk of infection. This is usually at 3 weeks or later after surgery. Waiting a few extra days for the incision to close is much easier than having to have a second surgery because it got infected.
Recumbent vs. Upright Bike After Total Knee Replacement Surgery?
This is one of the most common questions that we get in the clinic, should I use an upright or a recumbent bicycle?
It all depends on your situation. If you are on the younger side, are really active, and normally ride a bike I would suggest an upright bike. If you have more experience at life, don't exercise regularly, have other health problems, or have other joint issues such as back pain, then a recumbent is probably the way to go.
Here are a few benefits of recumbent over an upright bike:
A recumbent bike makes it easy to scoot the chair further away or closer to the pedals which is important early in the recovery process when the knee's range of motion is limited.  

Recumbent bikes are usually easier to get on and off. Most of them allow you step through the machine to get on and not over like an upright bike. This is important when the knee is painful after surgery.

Recumbent bicycles place the rider in a reclined seating position, as opposed to an upright seating position making it more comfortable.

Sitting in a recumbent position distributes the rider's weight over a greater surface area, and reduces the stress on the legs, knees, and hips.

A recumbent position is usually also more comfortable for anyone with a history of back pain as the chair provides adequate support.
Upright bikes can generally provide more resistance and provide a overall harder workout. Depending on your health and desires after surgery an upright bike may be more beneficial.
Best Value Recumbent Elliptical
Teeter Freestep Recubment Elliptical
Summary: The Teeter Freestep Recumbent Elliptical is the most popular recumbent elliptical for home use and for good reason. This less expensive model does it all without breaking the bank.
Low Impact Exercise  – The comfortable reclining position of the Teeter Freestep is perform to minimize pressure on joints and muscles, which is important after surgery.

Workout Quietly – the magnetic resistance and easy to adjust resistance levels make this easy to do without bugging the whole house

Full Stride – The full stride helps to ensure that you will gain your full range of motion after surgery and use all of the muscles available. This helps get the most out of the workout.

Easy to Use – The digital console is a no nonsense easy to use and helps track your workout. It also comes with a water stand and a stand for an Ipad or other device.
The Best Recumbent Elliptical on Amazon
HCI Fitness PhysioStep Recumbent Elliptical with Swivel Seat
Summary: The HCI Fitness Recumbent elliptical is the cream of the crop. This high-end model does it all and is one of the most comfortable machines when using for both during and after recovery from surgery.
The HCI Physiostep is a top choice for therapy and health clubs worldwide. These are everywhere.

The Physiostep oversized large LCD display provides all your workout information in a clear and easy to read format.

We love the longer stride length to possibly help increase the range of motion and push end ranges when tolerable.

The active seat position accommodates different sizes of people and helps to find the perfect position with more tilt and height adjustments for comfort

Getting on and off the Physiostep incredibly easy. This is important for someone with a new knee that doesn't bend

Comes with all the high tech bells and whistles including multiple program options, easy to use display, great warranty.
The Best Mid-Upper Range Recumbent Elliptical
Inspire Fitness 3 (CS3) Cardio Strider
Summary: The Inspire Fitness 3 Cardio is one of the best recumbent ellipticals for the value. This comes in at a smaller price point than the Octane but still has the quality and the premium features to be a top-end product.
It comes pre-programmed with 20 levels of resistance with a friction-free electromagnetic resistance System means no wearing parts and less maintenance
The display is easy to use and comes with 10 preset programs
The seat is easily adjustable and is so easy to into the seat when in pain due to the low step-through height. The back pad also has 3 reclining positions
This currently comes with the Polar T31 heart RATE strap included at the time of publication
Editor's Choice: Best Recumbent Bike for Value
Schwinn Recumbent Bike Series
Summary: The Schwinn 270 Recumbent bike is at the top of the list for value to price ratio. The LCD touchscreen is modern, allows for Bluetooth connectivity to track workouts and use the app on your smartphone. This is the perfect bike for anyone wanting to stay active after rehab. If you are not tech-savvy just a heads up this is loaded with tech features.
It comes with Bluetooth connectivity that can sync  with the Schwinn Trainer App and other apps for fitness tracking
It comes with a whopping 29 programs: 12 profile, 9 heart rate control, 4 custom, 2 fitness test, 1 quick start. Plugs into any standard electrical wall outlet on a 110V-120V circuit. 120V 60Hz AC input; 1.5A output. 90-240V, 50-60Hz adapter included
The variety of resistance levels is perfect for someone recovering from surgery to find the right amount of resistance. The 25 levels of resistance offer great workout intensity options
The display panel itself comes with DualTrack LCD displays, media shelf, in-console speakers with MP3 input port, USB media charging and adjustable fan
The Best Bargain Recumbent Bike
Marcy Recumbent Exercise Bike with Resistance ME-709
Summary: The Marcy Recumbent Exercise Bike is the best no-frills "I just want a bike to make my knee better". This bile is solidly made, comes with a simple display with minimal buttons, and is the easiest to use option on this list. At this price point, it's a great option to help get you through rehab.
This bike is incredibly easy to get onto with their step-through design and open access that is created easier for the knees and back.
The Marcy recumbent provides 8 levels of resistance with an easy to adjust knob as you get stronger after surgery.
The easy to use control panel as an odometer and has a sharp panel display that shows time, speed, distance, and calories burned in extra-large numbers for great readability.
Finally, they've added a few comfort features including an ergonomically designed saddle furnished with comfortable high-density foam. The foam-covered handles are great for extra support of the back and arms to help maintain proper form when exercising. Finally, they've included Weighted pedals designed to provide support and stability of the foot when riding
No matter what bike you decide to use, the main goal is that it is extremely important to get your knee moving as early and as often as you can after total knee surgery. The recumbent bikes add a safe, less painful, and an easier way to work on knee range of motion. A recumbent bike also provides a great way to stay active and help with weight management before and after surgery, making this purchase an important part of rehabbing that new knee.
How Often Should I Ride the Bike After a Total Knee Replacement
The short answer is as often as your knee feels up to it. The more that you ride the recumbent bike after a knee replacement the better your knee is going to feel, the faster it is going to heal, and the faster that the muscles around the knee begin to work like normal.
Depending on how far out of surgery we recommend riding and moving the knee more frequently through out the day than one long ride. Here's our recommendations:
0-3 Weeks after Surgery:
Ride for 10-15 minutes with minimal resistance 4-6 times a day
Back off if it causes a LARGE increase in swelling or causes 10/10 (you just had surgery, significant swelling is normal)
Use your position to scoot closer to the pedals to increase your range of motion
3-6 Weeks after Surgery:
Begin to increase the time of your sessions from 15-30 minutes
Begin to increase the resistance as pain allows
Continue to move closer to the pedals at times to push your range of motion, you want to be 0-120 degrees of motion at 6 weeks after surgery
Disclaimer
Consult with your  doctor before beginning any exercise program. For informational purposes only, not responsible for any injuries that might occur with use of equipment.
Other Great Rehab Related Articles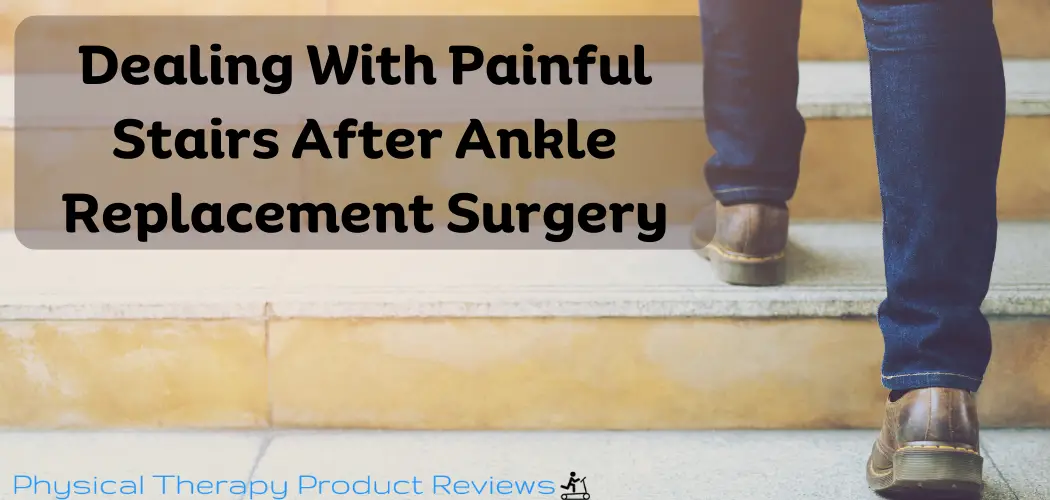 After undergoing an ankle replacement surgery, patients may experience pain when climbing stairs. The level of pain can vary from mild discomfort to severe pain,
Disclaimer: The information provided in this post is for educational purposes only. This is not a substitute for a medical appointment. Please refer to your physician before starting any exercise program.