Knee pain is a common complaint amongst people of all ages. Knee pain can be due to various reasons such as arthritis, wear, and tear,  torn cartilage, or a ruptured ligament.
One of the least expensive, safest, and effective ways to help with knee pain is to use a compression sleeve. This article will help guide you through the different types of compression sleeves when to wear them, how long to wear them, and help you find the one that best helps control your pain.
What is an Open Patella Knee Sleeve?
A compression knee sleeve with an open patella slot will relieve knee pressure and offer extra support for your knee cap. The open patella allows for more airflow while still allowing for proper and comfortable movement.
The open patella compression sleeve will satisfy anyone who can benefit from reduced stress on the joints while engaging in strenuous activities, such as playing sports, and also anyone who has issues with arthritis, such as the elderly.
Alternatively, you can also wear a Closed Patella Knee Sleeve, which offers compression at the knee cap as well as the rest of the knee. The Closed Patella Knee Sleeve offers additional support in comparison to the open patella design by way of a continuous tube of supportive material for the entire knee area.
Open Patella vs Closed Patella Compression Sleeve
Both the different types of knee compressions sleeves are going to offer improved support, so it comes down to preference.
Things to consider while choosing between an open patella and a closed patella knee sleeve include airflow and compression. The open patella design allows for more airflow compared to the Closed Patella Knee Sleeve, but it may also offer slightly less compression.
The closed knee compression sleeve does give more compressive forces on the knee cap which can help anyone that has arthritis, patellofemoral pain syndrome, or any other patellar tracking issues.
One option is that these braces are relatively inexpensive so you can try both types and see which one you like best.
Who Would Benefit from a Compression Knee Sleeve?
Although many different people benefit from using a compression knee sleeve with an open patella, here is a list of those who would benefit the most:
Knee arthritis

Meniscus tear

Any inflammatory knee condition

Post surgery such as a total knee, ACL, or meniscus

IT band syndrome

Chondromalacia or other retro patella disorders
What to Look for in a Knee Sleeve?
Material – One thing to consider when searching for your knee compression sleeve is material. Many are made with neoprene, which will repel water and sweat. Some, however, will contain additional material(s) that offer special benefits, such as N-TexTM, which supports therapeutic warmth and healing.
Amount of Compression – the product offers you. The more compression, the higher the amount of support, but this also means less mobility. The ability to clean the knee compression sleeve should also be considered, especially if you plan to wear it during vigorous activities.
Durability – is an important factor when choosing a knee compression sleeve. As with any product, you want to get as much use out of it as you can. Make sure that the products can survive the washing matching because it doesn't take long for these to start smelling like a locker room.
FAQ About Knee Compression Sleeves
How Does a Knee Compression Sleeve Work?
Knee compression sleeves work by a couple of primary mechanisms. Wearing a knee compression sleeve improves overall joint stability, helps limit swelling, and in the research helps with overall awareness of where the knee is in space.
How Long Can you Wear a Knee Compression Sleeve?
There is no time limit on how long you can wear a knee brace. The rule of thumb is that you want to wear the knee brace as much as you need to, but not more than you have to. If you need to wear the knee brace most of the day there is no risk.
What Size of Knee Compressions Sleeve Should You Get?
To get the correct size of knee brace, it's best to measure using a cloth tape measure. Each manufacturer has different guidelines so be sure to check with the individual makers. 
What Size to Get if You Are Between Sizes?
If you are between sizes then you have a few options. We typically recommend that you choose the smaller size as it will stretch out over time.
You can also order both and see which one fits the best. 
Can You Wear a Knee Compression Sleeve at Night?
Yes and actually is one of the suggestions that we give people with end-stage severe knee arthritis. Wearing a knee brace to bed can help decrease swelling and limit stiffness in the morning.
Do Knee Compression Sleeves Cause Blood Clots?
No knee compression sleeves do not cause blood clots. In fact, the compression may help prevent blood from pooling and help with blood clots. 
How to Measure for a Knee Compression Sleeve
The Best Open Patella Knee Sleeve
 McDavid Open Patella Knee Compression Sleeve
Summary: The McDavid Compression Knee Sleeve compression sleeve provides support that will last you all day with a comfortable fit that will repel water, sweat, and oil due to being made of high-quality neoprene material. Comfort is also ensured by the product's 5-needle stitch, which provides a cleaner, flatter, and stronger seam that will not irritate your skin. The sleeve also has a four-way stretch material, which brings heat to your tired muscles and helps them regain vitality via compression, which also boosts muscle growth and aids in recovery from any pain you may be experiencing.
Pros 
Increases muscle productivity by warming your muscles via compression
Prevents injuries related to arthritis, tendonitis, patella alignment, meniscus tears, bursitis, and more
Made with high quality, ultra-breathable, durable materials that will not irritate your skin
Cons
Reported slippage
Shock Doctor Open Patella Knee Compression Sleeve
Summary: The Shock Doctor Open Patella Compression Sleeve anatomical pre-curved knee compression sleeve allows you to experience a free range of motion via open patella coverage, which stays in place while a window of breathable mesh increases breathability and raises comfort levels. Contains N-TexTM for moisture-wicking, therapeutic warmth, and healing. Provides light support for minor pains, allowing for daily use for an extended period of time.
Pros
Pre-curved design in collaboration with compression allows for instant relief by way of increasing blood flow, which lowers swelling
Material is extremely breathable, lightweight, and latex-free, including N-TexTM for moisture-wicking therapeutic warmth and healing
100% money-back guarantee if you are not satisfied with this product
Cons 
Sizing can be tricky with this product
DonJoy Performance Open Patella Knee Sleeve
Summary: This DonJoy Performance Knee Sleeve product prides itself in fit and function. It implements an asymmetrical hemline that allows for uncompromised comfort, a tailored fit, and a free range of motion. Material is lightweight, combining neoprene for thermal compression and lycra for reduced weight. The product also utilizes anti-mitigation technology, which helps to keep it in place and eliminate slippage. Two designs are available – 2mm, which is a closed patella design, and 4mm, which is an open patella design.
Pros
Universal fit allows the product to be worn on either the left or right leg
Contains a stash pocket to hold credit cards, cash, and/or keys
Designed for enhanced visibility in low light conditions 
Cons
Sizing can be tricky
Mueller Sports Medicine Open Patella Knee Sleeve
Summary: The Mueller Sports Medicine Open Patella Knee Sleeve product aims to help support sore, weak, injured, or arthritic knees. It improves circulation, thus assisting the healing process and increasing joint flexibility. The material in this product is a neoprene blend, which provides even compression and soothing warmth.
Pros
Easy fit – slides off and on
Can fit either left or right knee due to contoured shape
Provides even compression and soothing warmth
Cons
Comes in one size – 14" – 16"
BodyProx Open Patella Knee Sleeve
Summary: The BodyProx Open Patella Knee Sleeve product is engineered with a breathable, sweat-absorbing material that eliminates the possibility of skin rash and allergy irritation while preventing/protecting injuries by way of compression support. This is an open patella design, which helps lessen the pressure on injuries.
Pros
Includes patella gel pads, which increases kneecap comfort during motion
Flexible stabilizer springs that hold your knee in place to reduce stress and relieve pressure
Ability to adjust to your desired tightness for optimal comfort via a velcro strap
Cons
Straps do not do their job and create excess bulk
Conclusion
When your knee causes you pain and discomfort, it is important to take measures of self-care so that you can still care for yourself in other ways, specifically with staying active. The best way you can do this is to find the correct knee compression sleeve for you and your needs, whether that be an open patella sleeve or a Closed Patella sleeve.
Works Cited:
Other Great Rehab Related Articles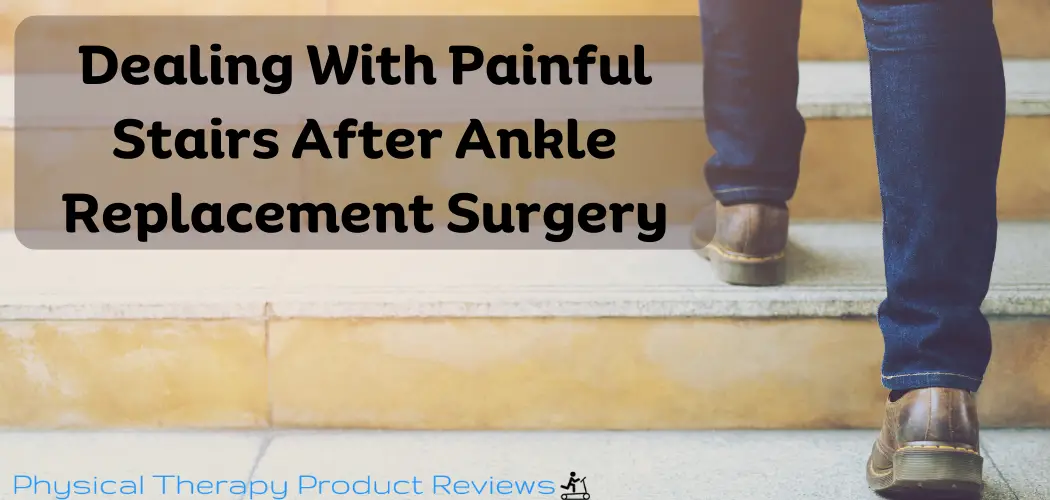 After undergoing an ankle replacement surgery, patients may experience pain when climbing stairs. The level of pain can vary from mild discomfort to severe pain,
Disclaimer: The information provided in this post is for educational purposes only. This is not a substitute for a medical appointment. Please refer to your physician before starting any exercise program.