If you've suffered an injury to your lower leg or foot and traditional crutches aren't providing the support or mobility that you need, there are alternatives that can help.
A knee scooter, also known as "knee walkers", are mobility devices that can help you get around with ease without putting added pressure on your hands or other joints.
Do you need a knee scooter? You can save money by buying them yourself online in many instances.
Knee scooters usually have three or four wheels and are outfitted with a platform to rest. Instead of holding crutches with your hands and relying on your upper body to do the work, a scooter allows you to rest the weight of your body on your knee.
Who Would Benefit from a Knee Scooter Pad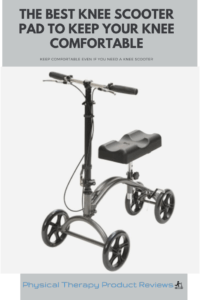 A knee scooter greatly increases mobility for people who would otherwise be confined to crutches, a walker, or a wheelchair while recovering from a lower-leg injury. Knee scooters are often a better longer-term solution for active people who must recover while spending more time on their feet.
Athletes that need to get around school or work
Anyone that has injured the knee itself and compression makes it worse
Any non-weight bearing injury to the foot or ankle
Anyone that has poor balance using crutches and is at risk of falling
Is a Knee Scooter Pad Necessary?
No, a knee scooter pad is not a necessary accessory. Its does help with comfort and prevents any new issues from arising. We recommend using one if you have to use a knee scooter for longer than 3 weeks. They are easily worth the small investment at that point.
Is Pain with a Knee Scooter Common?
Knee pain while using a knee scooter is common and not something to be alarmed by. You are putting pressure on areas that aren't used to being load-bearing. If you do have pain with using a knee scooter try a knee pad listed below, check to make sure the height is correct, and make sure that you are doing any exercises that are allowed at that time. 
Are Knee Scooters Better Than Crutches?
If you need to be on crutches or non-weight bearing for more than 2-3 weeks then we prefer using a knee scooter or a knee walker. There are comfortable crutches out there that are lightweight and less painful to use, but knee scooters are faster and easier to use if it's required for a long period.
The 5 Best Knee Scooter Pads For Less Pain and More Comfort
KneeRover Premium Knee Walker Knee Pad Cover
Summary: The KneeRover Premium Knee Walker Knee Pad is comprised of soft memory foam, this 1.5" inch thick knee pad cover provides long-lasting comfort. It distributes pressure evenly and reduces friction on your skin. It helps protect against wear and tear on your knee scooter and fits most models on the market. The foam is thin but durable, which gives your scooter a more sleek and understated appearance than some of the bulkier faux fleece options. Due to its slender design, it may not be thick enough for your needs, so keep that in mind.
Vive Knee Walker Pad Cover
Summary: The Vive Knee Walker Pad is popular as it is made of thick, soft memory foam and features a sleek black design. It easily secures your scooter with a drawstring and stays fitted in place with elastic straps. Because it is made of memory foam, it distributes your weight across your scooter more evenly, which reduces pain and fatigue on the joints.  It's well-cushioned, easy to use, and comfortable. However, it also can compress quite easily and can take a little while to spring back to its original shape. Make sure it's fastened securely.
TKWC INC Knee Scooter Pad
Summary: The TKWC INC Knee Scooter Pad foam cushion provides an extra 2 inches of padding to your scooter's knee rest. It's covered in a comfortable fleece material that is easy to remove and throw in the wash. It has a latex-free anti-slip backing and easily attaches to your scooter in seconds. It doesn't compress very far, and it springs back easily. It fits most scooters, but double-check the dimensions of your model, and be prepared to adjust it accordingly. Multiple times being washed can increase the wear and tear on your scooter pad, so keep that in mind as well.
Vive Plush Synthetic Faux Sheepskin Knee Pad Cover
Summary: The Vive Plush Synthetic Faux Sheepskin Knee Pad Cover plush cover prevents irritation from the hard plastic of a scooter seat. Machine washable and made from a faux sheepskin material, it provides cushioning as well. The soft surface makes your knee scooter more comfortable and is perfect for people who don't want to use a bulky pad. Because it is thinner than other pads available, you may find that it wears out more quickly, especially multiple times in the wash.
Colux Knee Walker Pad Cover 
Summary: The Colux Knee Walker Pad Cover is an easy to clean, comfortable faux sheepskin pad cover that also comes with a watertight cast protector as a bonus! The softcover reduces friction between your knee and the pad and keeps you feeling cozy and comfortable all day long. This cover is machine washable and easily attaches to most scooters. You also receive a waterproof cast cover, which allows the injured area to be completely submerged in the shower or tub. The heavy-duty cover is 33" long and allows for a 16"-26" circumference around the thigh. It provides a tight latex-free rubber seal, to keep water out, but doesn't retain a funky smell. Double-check the measurements of your cast or boot, as some may be too large to pass through the water-tight opening.
In Review
Regardless of which knee scooter cover you choose, your comfort and stability are most important while recovering from injury. Adding a cover to your scooter will provide extra comfort, prevent wear and tear, and positively enhance your recovery experience.[/vc_column_text][/vc_column][/vc_row]
Other Great Rehab Related Articles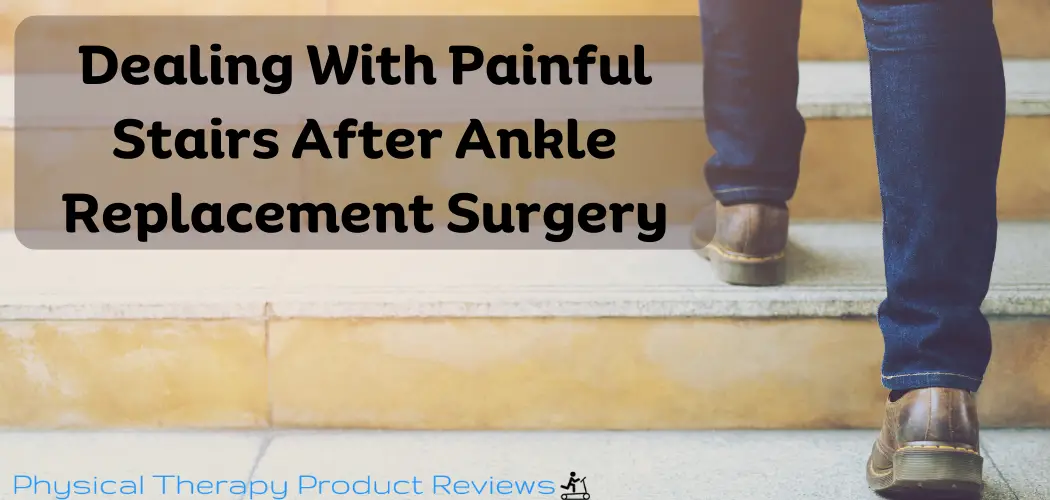 After undergoing an ankle replacement surgery, patients may experience pain when climbing stairs. The level of pain can vary from mild discomfort to severe pain, …
Disclaimer: The information provided in this post is for educational purposes only. This is not a substitute for a medical appointment. Please refer to your physician before starting any exercise program.