One of the most amazing and fun winter sports you can think of can also be a total pain. Skiing, whether it be cross country or downhill, is always an adrenaline rush, but when you feel that sharp pain in your knee or an unusual pop, you could be in danger. This can make you wary of wanting to ski ever again. Maybe you're on the other spectrum. You loved to ski, but now that you have become a little older, you do not want to risk injuring your knees.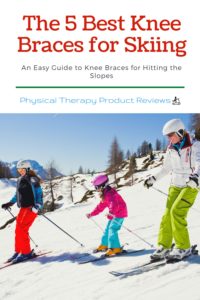 Statistically speaking, beginner skiers are at much higher risk than veterans since they typically don't know their own limits. The great thing is, whether you are a beginner or a seasoned skier, you can be much more comfortable wearing a knee brace. Using a knee brace will allow you to be more confident in a sport that you love and keep the nerves away knowing that the modern technology used can keep you at a much lower risk for a catastrophic setback. 
Who Would Benefit Wearing a Knee Brace for Skiing
Skiing with a brace can be extremely beneficial. It can act as a reinforcement to your ligaments and tendons and be a deterrent for many injuries by increasing overall stability. Those with issues such as these should consider wearing a knee brace when planning their next ski trip. Lift tickets are pushing to almost $200 in some places, lets get our monies worth and stay on the slopes all day!
Arthritis
Arthritic pain is relentless when it flares up and can be made even worse by putting stress on your joints all day. There are specific braces made for arthritis and investing in one is a must if you love to ski.
Prior Ligamentous Knee Injury
If you have has a major knee injury, such as an ACL, MCL, LCL or Meniscus tear, a knee brace is recommended for when you ski. A medically graded brace can help relieve pain from a previous surgery and keep the joint stable. It will also boost your confidence when tackling the slopes this coming season.
Persistent Knee Pain
If you have joint pain in your knees or a smaller injury like anterior knee pain, Patellofemoral pain, a brace can be a great help in relieving stress and having you enjoy the powder for longer than you could before. A less complex designed brace would do the job in a situation like this.
Knee braces are helpful and unlike designs in the past no longer are heavy and bulky. They improve performance, not hinder it. This isn't to say that they are a cure for any chance of an injury, but they can act as a reinforcement so a minor spill doesn't turn into a major medical bill. So, investing in a well rated and industry tested brace could prevent months of rehab and thousands in medical costs.
FAQ About Skiing with a Knee Brace
Should you Wear a Knee Over or Under Ski Pants?
This all depends on whats more comfortable. If you like to wear baggier pants then under ski pants makes sense. It also is less likely to catch on trees, ski lifts, or other obstacles when skiing.
How Can I Make Skiing with a Knee Brace more Comfortable?
The more stiff a knee brace is, the less comfortable it is likely to be. Make sure the knee brace fits well first of all. Start with a knee compression sleeve underneath to prevent chaffing. Take the knee brace off or put it down when at lunch or on the lift even.
Can Skiing with a Knee Brace Cause More Damage?
Skiing with a knee brace does not cause more knee damage. It also does not cause weakness to develop in the leg if it is only used while skiing.
How to Make a Knee Brace Stay Up While Skiing?
First make sure to measure the correct size first. Make sure that you tighten the bottom strap first and the tighten the top strap. Also, wearing a knee compression sleeve underneath the hinged knee brace can help keep it in place.
Things to Consider When Buying a Knee Brace for Skiing
Sizing
Sizing in one of the most important things to consider when purchasing a knee brace for skiing. Not only is the actual size of the brace important so that it fits correctly such as (S, M, Large) but the actually bulkiness and size of the brace. Those with previous ligament injuries may need a more sturdy brace while those with mild arthritis may want a sleeker knee sleeve.
Support
How much support will you need? This is related to the size of the brace in most cases but can you get away with a smaller sleeve with hinges on both sides or if your knees are really hurting, do you need a full anti-rotation brace.
Ease of Getting on/off with Ski Pants
We all loves skiing but the one thing we can all agree on is that the clothing gets in the way! Ever tried taking a little kid to the bathroom after he has all of his ski clothes on? It's a chore. Same goes with knee braces. Consider if you can put the brace on without taking off the ski pants. Can it be worn underneath? Or does it have be on top of the ski pants?
The Best Knee Braces for Skiing 
Choosing the right brace for your desired goal can be tough, so here are some top of the line knee braces that have been tested and are used by athletes across multiple sports:
Donjoy Performance Knee Brace
Summary: The DonJoy Bionic Fullstop Knee Brace is the most expensive of the ones that will be listed, but has a plethora of features that could make this the last brace you want to buy. It has FULLSTOP dampening hinges to prevent hyperextension, four strap design to help with ACL recovery and to prevent future injury, "Anti-migration" technology to prevent slippage, and breathable mesh for temperature regulation among other features.
DonJoy Deluxe Hinged Knee Brace
Summary: The DonJoy Deluxe hinged knee brace is designed for moderate stability while still maintaining mobility. The hinges provide anti-rotation support. The material soft, breathable, and yet sturdy. It's easy to put on and take off which is perfect for the ski hill. It's small enough to wear underneath ski pants or go up a size if you want to wear it on the outside of the pants.
Shock Doctor Hinged Knee Brace
Summary: The Shock Doctor is another leader in the world of braces and doesn't disappoint with Ultra Knee Support with Bilateral Hinges. Similar to DonJoy's bionic brace, this brace also has knee hinges to prevent hyperextension. It is designed for those individuals that have had severe ligament injuries and have knee instability.
McDavid Hinged Knee Brace
Summary: The McDavid Knee Brace has an extension stop and each metal arm is individually articulated, allowing great normal movement while still providing maximum support. The neoprene material is comfortable like the rest of the braces. This prevents skin irritation after a long day on the slopes. The material is also good at managing moisture to help with all day skiing.
Mueller Hg80 Hinged Knee Brace
Summary: Last on our list is the Mueller Hg80 hinged knee brace. The hinges they use are focused on simulating normal knee movement and is suitable for those recovering from injury or looking to prevent one from happening ever again. It has a comfortable and breathable material and non-slip design and is made to compete with the rest of the more expensive braces out there. It is also on the lighter side of the spectrum of the braces
In Review
In short, knee braces are a must for those that have knees with their integrity compromised. It can help individuals with prior injuries from sustaining another or aid in the lessening of overall knee pain. Always consult a medical professional for your best course of action. Be safe and have fun this on the slopes this upcoming winter!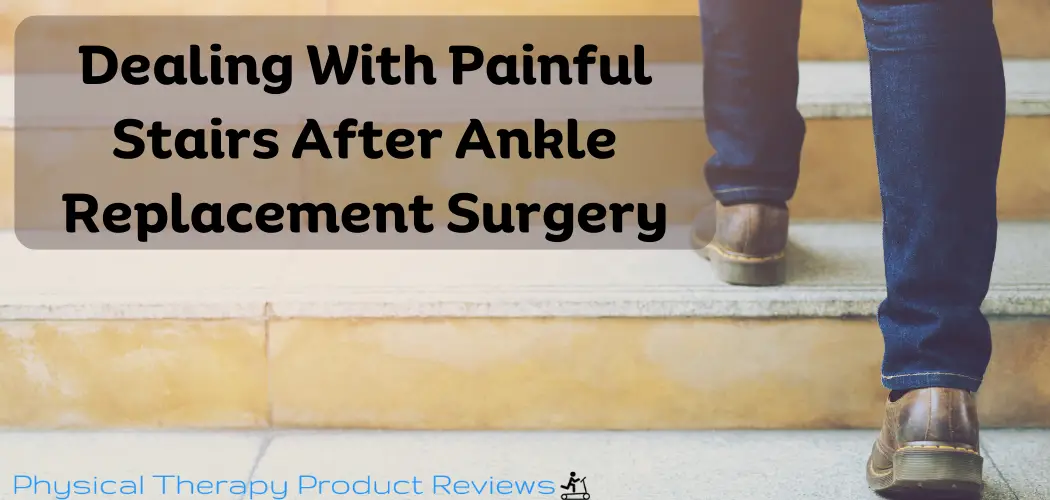 After undergoing an ankle replacement surgery, patients may experience pain when climbing stairs. The level of pain can vary from mild discomfort to severe pain,
Disclaimer: The information provided in this post is for educational purposes only. This is not a substitute for a medical appointment. Please refer to your physician before starting any exercise program.