The Complete Review of Go2 Compression Socks
Compression socks are commonly used by many different groups of people, especially amongst long distance athletes. Some of the common groups are people are looking to improve athletic performance, or someone might have a medical condition with poor blood flow in the legs, and even working professionals that have to stand for most of the day. Each of these groups are turning to compression socks to improve their daily lives.
One of the best compression socks on the market is the Go2 Compression socks.
The Go2 Compression socks offer quality material, great variety of compression, fun colors and a great price.  To really see where the Go2 Compressions socks stack up against the competition we decided to put them through the ringer. We tested them while flying transatlantic, we tested them on a trail run at 10,000 ft, and wore them during a full work day.
Go2 Compression socks did send socks to us to try out but all of the thoughts and reviews in this article are independent and unique.
What are Compression Socks
Compression socks are specially made tight fitting compression garments that go over the feet and lower legs. The stretchy yet compressive material is designed to be tighter around the foot and lower leg and is wider the higher up the calf they go. This design allows for more compression lower which "pushes" fluid up the leg and back towards the heart. The compression lasts the whole time the socks are worn to prevent blood from coming back down the legs and into the feet. Check out jukankotiliha
What are the Benefits of Compression Socks
The proposed benefits of compression socks are:
Decreased achiness with long periods of standing

Increased blood flood return from the legs

Decreased risk of blood clots

Improved athletic performance *

Help treat spider and varicose veins

Improved endurance *
*theory only, have not been proven within the research yet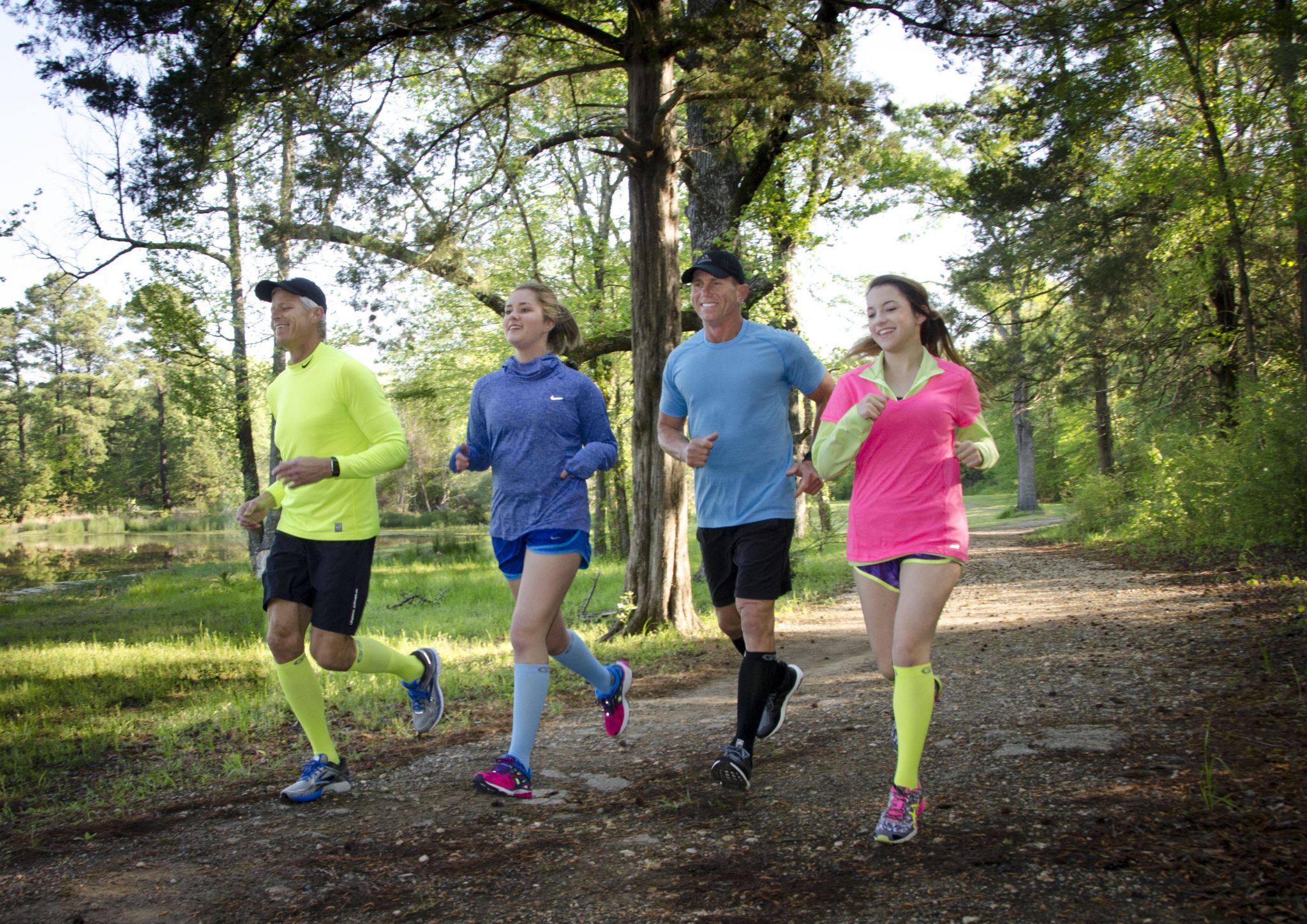 Who Would Benefit from Wearing Compression Socks
The goal of compression socks is to increase venous blood flow back to the heart and to prevent pooling of fluid in the lower legs. Increased pooling of blood within the lower legs increases risks of a blood clot also called a Deep Vein Thrombosis (DVT). Blood clots can become life threatening if the clot becomes dislodged and can then scarily travel to the lungs or the brain.
Blood clots are not the only problem when fluid accumulates in the legs. Increased edema or pooling of fluid has also been shown to decrease muscular performance. Current research has shown an additional 20 cc of fluid can decrease muscle strength and force of muscle contraction. Imagine trying to perform at your highest level with your muscles unable to reach maximum effort, it's no wonder elite athletes are trying compression socks.
Compression socks are quite common among distance athletes, nurses, and anyone at risk for blood clots but they aren't the only ones who would benefit from trying compression socks. Here are other people who might benefit:
Anyone that is at risk for circulation problems such as diabetes, varicose veins, or spider veins

Anyone with a history of DVTs or blood clots

Anyone that has recently undergone surgery to prevent swelling and blood clots

Athletes, runners, and anyone trying to push their endurance 

Anyone that has to stand for long periods of time such as nurses or flight attendants

Anyone that is pregnant and has pooling in the legs

Any athletes that is looking for improvement in form and performance

Anyone that likes socks with fun colors
How Compression Socks Work
Initial Impression
Packing
Receiving the compression socks was easy and shipping was fast, especially if ordered through Amazon Prime you get 2 days shipping.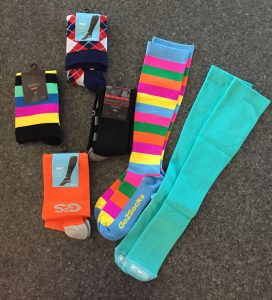 The packing was easy to open and the socks come in a see through like plastic that looks professional and keeps them protected.
Material
We love the material of the socks! The material is really soft and lightweight making them extremely comfortable. The socks fit nice and snug over the foot and lower leg. The material feels great on the skin and would even be something I might wear on a colder day to stay warm. During and after our initial testing the material held up well to the abuse of use and laundering.
Looks
The Go2 Compression socks come in fun and exciting colors and we love it. We are sock people and the more character the socks have, the better. The socks come in many different patterns including argyle, polka dots, stripes, solid colors for the more conservative people, as well as tiger and leopard print.
See below for some of the fun color options
Ease of Use
These are socks, how hard can they be to use right? Well for anyone who has tried to put on tight compression stockings of any kind, knows it's easier said than done. However, the Go2 socks were easy to put on without sacrificing the amount of compression. They also don't require near as much effort as some to take off, simply side them off like you would any other sock. No assistance required 🙂
How to Put on Go2 Compression Socks
Using Go2 Compression Socks While Flying
One of the most common uses of compression socks is to use while traveling. As a traveler you have to sit for long periods of time which allows the blood to pool in the legs. We were able to test the effectiveness of the Go2 Compression socks during a 9 and a ½ hour flight overseas.
One the initial flight my wife wore a pair as she has moderate circulation issues and I chose not to wear the compression socks on the first flight. The results are as follows:
Figure 8 Measurements for Swelling
The figure 8 is a great way to measure edema within the foot and ankle. We measured prior to our flight and about 10-15 minutes after landing from our 10 hour flight:
| | | |
| --- | --- | --- |
| | Figure 8 Before | Figure 8 After |
| Wife | 45.1 cm | 45.4 cm |
| Myself | 52.2 cm | 53.2 cm |
As you can see my wife's stayed fairly consistent during the flight. Her only complaint is that she woke up because she became hot, however the whole plane was hot. Try stuffing hundreds of people in a metal tube and not have the temperature increase.
My swelling definitely increased during the flight. I recently suffered a severe ankle sprain so my foot started the flight already swollen but it definitely got worse. During the flight my right ankle swelled considerably, was achy and I started to get mild tingling one the inside side of my foot. This only went away with pumping my ankles and getting up and walking to push the swelling out of my foot.
Return Flight
After playing for 2 weeks in the sun it was time to fly back home, another 10 hour flight (NO!!! ). This time we both decided to wear the Go2 Compression socks for the long flight.
| | | |
| --- | --- | --- |
| | Figure 8 Before | Figure 8 After |
| Wife | 45 cm | 45.5 cm |
| Myself | 52.2 cm | 52.8 cm |
As you can see this flight was similar for my wife in terms of swelling. The plane was once again hot and I swear they are making the space between the seats smaller each year. However this time, my flight was much more enjoyable. My foot was still swollen some but much less than the first flight and I didn't get any of the tingling into the foot. Other than the stares from the other passengers looking at my bright orange socks (jealousy maybe?) they felt like normal socks and were just comfortable.
Go2 Compression Socks for Trail Running
This is the part of the testing that I was most looking forward to. I have never worn compression socks other than after surgery and now can also add during a long flight from Europe.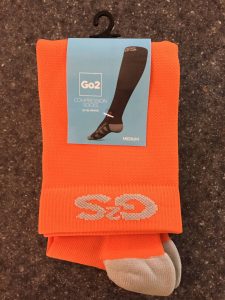 Over the past couple of years I've been seeing more and more people wearing compression socks at races and despite the slight jealousy of them wearing cool looking socks was unsure what I thought. I knew they were running faster than me (not all that hard to do) and wanted to at least try.
The people that wear compression socks while running swear by them. It's almost a cult like following, they swear that their times are better, they are less sore, and that they can recover faster when they use their compression socks.
I'll never become mistaken as a professional runner but if I can run faster or simply run with more comfort than I am all for it. I have a serious love/hate relationship with running as it hurts to get going but after I'm done I feel so much better. If there was something that could distract me, make running "hurt" less, or even excite me to get that first half mile started, I want it.
Could compression socks make that much of a difference?
Compression Socks and Running
Comfort:
The most important aspect is comfort, because simply if the socks aren't comfortable on the foot, then no matter how good they are, you won't wear them. However, the socks are really comfortable! They come with a cushioned footbed in the heels and the ball of the foot. The cushioning is just enough to feel good and not enough to feel bulky in the shoe. My feet felt fine during the entire run and weren't sore after.
Speed and Performance:
As mentioned above I will never be mistaken for a professional trail runner but during our 7.9 mile and 2,519 feet of elevation gain of a trail run the socks actually seemed to help. Whether the effects were placebo (totally possible since my brain was focused on them) or not, my times were the fastest I've done on that trail using Strava to compare to previous attempts. I rested less and overall mentally just didn't have that "hurt" that your mind is constantly fighting with trail running. See trail here: Oh Be Joyful Trail.
Temperature:
Honestly, this may seem like the smallest and least important aspect of using compression socks, but this is what excited me. My calves are tight and always seem to be the last part of my body that gets "warmed up" going on a run. I put on the compression socks for about 25 minutes before running and of course kept them on during the run. The calves got going sooner. I wasn't complaining for the first 20 minutes about how tight and dead my calves felt. They felt much better and the aching was less. I've run a few times since then and would say that this has been consistent. If I wear the socks starting about 20 minutes prior to running it just feels better overall.
Staying in Place:
I've read other reviews that say some compressions socks don't stay in place. Not even an issue. If you have the correct size, the socks are not going anywhere, promise.
Frequency:
At least initially, the socks gave me that little push to go out running. It was something new and exciting to try so I ran more frequently. Whether you like them or not if they are the thing that gets you out the door, thats worth it.
Swelling: 
My chronic ankle swelling on the right leg loved it. Not only did it not hurt, swell, or limit me running that day but it didn't swell after running either. Increased swelling after running has been the norm. It swelled so little that I forgot to measure the swelling after running and I keep forgetting because it's been a non issue. My wife has been tired of me saying "look at my ankle" after our trail runs.
Negatives:
There are not many negatives that I found when running with Go2 Compression socks. It takes a little "umph" to get them on but if you watch the included video they are not hard. They are actually easier to get on that other similar products tested.
The other thing I noticed is there is more sweat accumulation. I am naturally gifted at sweating…. a lot, and by covering my legs with socks it made it harder for that sweat to evaporate. Not an issue that affected me of any performance and the socks do great in the wash. If you are someone that needs that airflow on the lower legs, this an FYI.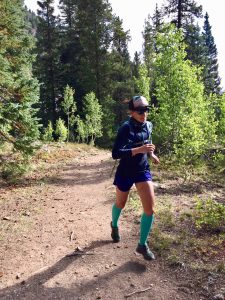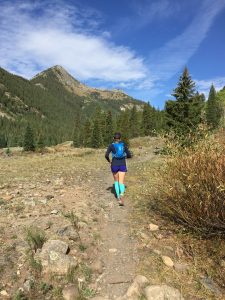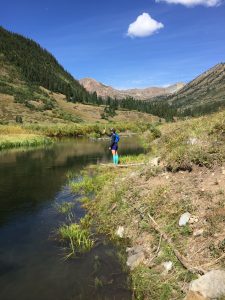 Compression Socks at Work
We finally tested the the Go2 Compression socks for a whole day of work. As Physical Therapists we are on our feet a lot and putting in a lot of steps in an 8 hour day.
Swelling:
Both of our feet held up well and even though neither of us measured out swelling after wearing them for a day, there was none to speak of.  I had to make a few trips around the hospital, up and down stairs wells, and my legs felt great. The sock bottoms as mentioned above are soft and cushioned.
Patient Love:
Our patients loved the socks! It's something small that you might not think of but any smile that can be brought to someone in pain and/or who is sick is a success! They loved the fun colors and the different patterns. They have been a hit with all types of patients, old and young alike.
Achiness:
Again this could be placebo, but my feet just felt better after a long day of work. Often times depending on the shoes I wear that day my feet are sore and achy, ready to get out of my work shoes and into comfy shoes. They just didn't seem to be as sore. I can see why nurses like to wear these all day. I will definitely be rotating the compression socks into the weekly rotation from here on out.
In the big scheme of things the Go2 Compression socks are inexpensive, effective, and worth a try. You can find more information and purchase Go2 Compression socks here:
Amazon: https://amzn.to/2xeW5a2
Go2 Socks: https://go2socks.com/
Disclaimer: The information provided in this post is for educational purposes only. This is not a substitute for a medical appointment. Please refer to your physician before starting any exercise program.