Joint aches and pains are common ailments in the population. They can happen to anyone for any reason. The overuse of a joint and the aging process are just two examples.
Treatment for mild joint issues tends to be mostly over-the-counter remedies. Anti-inflammatories, like NSAIDs, are commonly recommended by doctors to help alleviate any discomfort. But for those who would like to take as little medication as possible, a heating pad is excellent for treating joint aches and pains.
Using heat will help alleviate stiffness in your joints and enhance your circulation. A combination of movement, exercise, and a heating pad is often the best way to naturally reduce pain.
Comparison Table of Heating Pads
A heating pad is a device that delivers heat to whatever part of the body it is applied to.
Heating pads can be electrical, gel, or a natural substance like a hot water bottle or a rice sock.
Hot water bottles are water placed in a bottle, heated up, and then placed at the site of pain.
A rice sock is rice placed inside a sock, and then microwaved until it is warm. You can then place it on the area that is in pain.
Gel heating pads are filled with gel. Just place them in the microwave, and then apply to the site of pain.
Electrical heating pads need to be plugged into an outlet. Once plugged in, you can place the pad on the area that needs it.
For all of these devices, make sure to put a protective barrier (like a towel) between your skin and the heat source to avoid burns.
How Does a Heating Pad Help With Pain?
Heat therapy is effective because it promotes blood flow to the area that is in pain.
An increase in blood flow helps circulation, which in turn, helps nutrients and oxygen flow to your muscles. All of this helps repair damaged muscles, reduce inflammation, and improve stiffness.
Improving these conditions helps one reduce the sensation of pain in their muscles and joints. Heat therapy is very beneficial for arthritis sufferers since the heat is great for stiff joints. Warming up the joint before attempting to use it goes a long way in alleviating pain.
How Does a Heating Pad Help With Healing?
Heating pads are excellent devices for promoting healing and speeding up the process in joints and muscles.
A heating pad does this by increasing the elasticity of your tissues. This allows for greater movement and helps any knots in the tissues resolve themselves.
Heating up an area also increases blood flow, thereby, increasing the number of nutrients in that area. This increase speeds up the exit of any injured debris from that part of your body. Heat also loosens joints, which make stiff joints easier to use.
What are the Benefits of Using a Heating Pad?
Heating pads provide excellent benefits to their users. Let's take a look at a few of the reasons you should have a heating pad in your home.
A heating pad can help reduce pain quickly. A heating pad can give you almost instant relief and allow you to manage mild to moderate levels of pain. 
A heating pad is convenient. While a good deal of heating pads are electric, which requires you to be near an outlet, not all of them are. You have the option of microwaveable gel pads or even hot water bottles.  All of your options are lightweight and things you can use on the go. 
Heating pads can help treat a variety of conditions and can save you money.
You can also treat more than one condition with a heating pad. They work on anything from back and joint pain to even menstrual cramps. 
They can help improve your overall health and wellbeing. By reducing pain in the body, these devices promote better sleep. This, in turn, promotes better mental wellbeing.
Should you Use a Heating Pad for Arthritis?
If heating pads are effective for pain relief, does this mean they should be used to treat arthritis? According to the National Institute of Arthritis and Musculoskeletal and Skin Diseases, heating or ice therapy is just one home remedy that may help ease arthritis.
If you use heating pads, do not expect them to act as a cure for arthritis. However, heating pads may be a helpful addition to your arthritis treatment plan. Heat therapy improves blood flow, helps lubricate the joints, and decreases joint stiffness.
Should I Use Heating Pads or Ice Packs for Muscle Pain?
 Muscles often tighten up after an injury so using heat can help with decreasing muscle tightness and spasms as well as increasing blood flow. Increased blood flow will help muscle fibers repair quicker.
If you use heating pads, do not expect them to act as a cure for arthritis. However, heating pads may be a helpful addition to your arthritis treatment plan. Heat therapy improves blood flow, helps lubricate the joints, and decreases joint stiffness.
Do Heating Patches Work as Well as Hot Packs?
Yes, you can use a heating patch for back pain, menstrual cramps, and any other aches and pain.
These still provide the sensation of heat which can help calm down muscles and loosen tight joints.
The only difference is the depth that the heat therapy will penetrate into the body. If your aches and pains are deeper in the hip for example then we recommend using moist heat.
Pro Tips: Heat patches are great because you can apply them under clothes and continue to move around. This is perfect for low back pain and other types of pain that might occur at work.
Should I Use Ice or Heat for Joint Pain?
According to the Arthritis Foundation, heating pads provide temporary relief for stiffness and aches related to arthritis, while heating gel packs provide similar benefits without requiring an electrical outlet.
Heat therapy can improve joint stiffness, improve blood flow, and reduce pain in achy joints.
This is similar to the improvement in pain that you can achieve with ice packs and cold therapy. It does come down to the personal preference of the patient.
If there is a tie or no difference, we tend to lean towards heat therapy.
When to Avoid Using a Heating Pad
According to the National Institutes of Health, there are some medical conditions that may make people more susceptible to heating pad side effects. If you have these conditions, heating pads may cause more severe heating pad precautions or heating pad instructions adverse reactions.
For example, people with peripheral vascular disease may be at an increased risk for burns if they use heating pads on a regular basis.
People with multiple sclerosis (MS) also face increased risks when using heating pads and could cause a flare-up.
Finally, if there is any risk that the pain is from an active infection then you should avoid heat which can spread the infection.
How Long Can I use a Heating Pad
You can use a hot pack or a heating pad for 20-25 minutes at a time, each hour. After that amount of time, you want to take the hot pack off and allow for the skin to recover from the heat.
You can reapply the heat again in one hour and you can apply heat as many times as you want throughout the day. 
Pro Tip: If you use a heating pad at night before bed, make sure that it has an automatic shut-off timer. If you fall asleep with the hot pack on you won't run the risk of burning yourself.
FAQ about Hot Packs and Heating Pads
Can you use a Heating Pad While Pregnant?
 In anyone who is pregnant, heating pads should not be applied directly on the belly, as the baby may become overheated. 
If you are using heating pads to treat back pain associated with pregnancy, place a heating pad on the lower back in a sitting position and avoid lying on your back.
Can a Heating Pad Cause a Burn?
Heating pads may pose a burn risk if you do not take safety precautions. In order to keep your heating pad from becoming too hot, make sure you follow heating pad instructions and only use for the recommended time limit.
We also recommend putting down a thin layer such as a towel or a t-shirt between you and the heating pad to help prevent burns. This is particularly important if you have any sensation deficits such as with diabetes or peripheral neuropathy.
Can an Electrical Heating Pad Catch on Fire?
Electrical heating pads pose a fire risk as they might overheat and catch on fire. Always unplug heating pads before leaving the room with them and when you are finished using them.
Never leave heating pads plugged in overnight or for extended periods of time when not using the heating pad.
Can you use a Heating Pad for Sciatica
Heating pads may be helpful for sciatica.
Using heating pads on the lower back may help improve pain and decrease numbness or tingling in the legs.
Are Heating Pads Good for Back Pain?
Heating pads may provide temporary relief for stiffness and aches related to low back pain.
Heating pads can also help decrease muscle spasms and increase blood flow, improving muscle fibers' ability to repair themselves.
This is recommended as a comprehensive treatment plan to manage low back pain.
Can you Use a Heating Pad for Knee Pain?
Whether you are suffering from joint or muscle pain, heating pads may be able to help.
This is particularly true if your knee pain is associated with joint arthritis or a meniscus tear. 
Meniscus tears need blood to heal and there are certain zones within the meniscus that don't get enough blood to heal properly. A heating pad may help.
The Best Heating Pads and Hot Packs for Pain and Discomfort
BodyMed Digital Moist Heating Pad
Summary: The BodyMed digital moist heating pad is available in multiple sizes on Amazon, so you can find the one that fits your needs. It also comes with customizable shutoff times and can produce moist heat.
Pros: This heating pad can provide you with moist heat, which is better suited for certain aches and pains. The control panel is LCD and is covered so it doesn't get in the way while you use the device.
Cons: While you can customize the settings on the device, it comes with a preset shutoff time of 15 minutes, which is a bit short for some users. To get better times, you have to remember to adjust the time. This heating pad is also heavier than others on the market.
TheraPAQ Reusable Gel Hot Pack
Summary: The TheraPAQ gel hot pack wrap is flexible, which allows a user to comfortably put this on practically any part of the body. It is also a hot/cold device, so you get two products for the price of one.
Pros: As a gel wrap, this device can flex to fit any part of a person's body. That makes this device perfect for anyone on the go.
Cons: You must microwave the gel to get it warm, which means it will cool off eventually and not provide a continuous heat source. The gel pack can be prone to leakage
Koo-Care Flexible Gel Hot Pack
Summary: The Koo-Care gel Hot pack wrap covers more area than the smaller gel packs on the market. You can also use straps to attach it to your body so you can be mobile while using it. It is a multifunction wrap, so you can use it on more than one part of your body.
Pros: The gel can both heat and cool, so you can save money by purchasing a product that can do both. The protective fabric covering is very soft on the skin.
Cons: The warranty is only for one year. To use the gel pack as an ice pack you have to freeze it for at least two hours beforehand, which is a long time to wait if you are in pain.
Comfort Cloud Heating Pad
Summary: The comfort cloud heating pad compress is flexible and can be heated in the microwave. You can utilize this pad for moist heat as well. This heating pad is large in size, which means you will be able to cover most any part of your body.
Pros: Odorless clay beads release the moisture used in this device. Since you heat this in the microwave, you don't have to worry about being connected to a cord.
Cons: This pad is quite large so it can be cumbersome to deal with. It also weighs more than other pads at five pounds.
Summary: The Sunny Bay joint hot pack is perfect for handling the lower back. It also wraps easily around that or any other spot on your body.
Pros: The heating pad is divided into sections to ensure the heat is balanced around the body. Natural flaxseed is used as the heating source (just microwave to get the flaxseed warm).
Cons: Since the wrap is so large, so users have trouble getting it onto smaller parts of their bodies. The heat could sometimes be uneven and the pad can cool rapidly.
Other Great Rehab Related Articles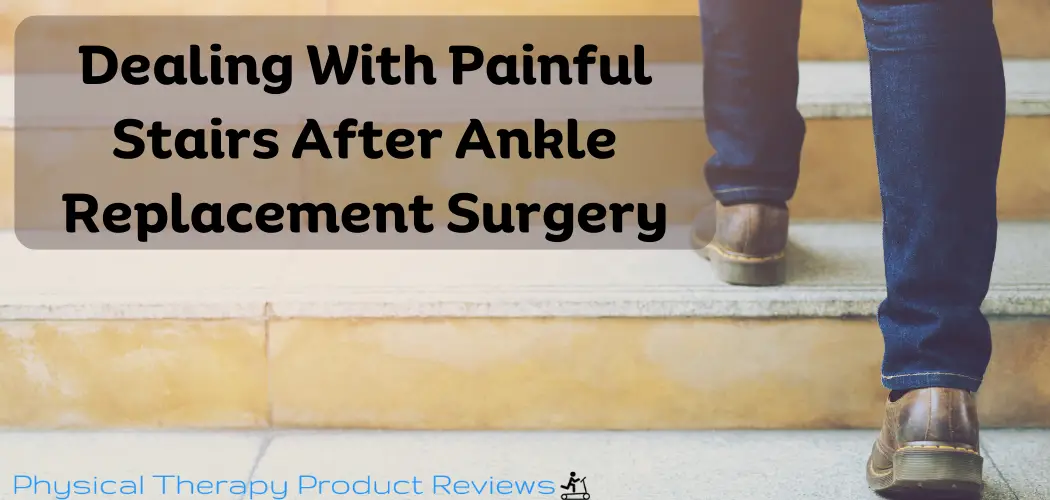 After undergoing an ankle replacement surgery, patients may experience pain when climbing stairs. The level of pain can vary from mild discomfort to severe pain, ...
Disclaimer: The information provided in this post is for educational purposes only. This is not a substitute for a medical appointment. Please refer to your physician before starting any exercise program.