A balance disc is a useful tool for anyone who needs to improve their balance and strengthen their core muscles. Physical therapists recommend them all the time to patients who need to recover their stability and balance after a variety of surgeries. Some of the types of operations where this is common are ACL surgery or knee surgery. This tool is a favorite since these discs are inexpensive, and a patient can inflate and deflate them quite easily. That makes them perfect for a patient to use at home.
What is a Balance Disc?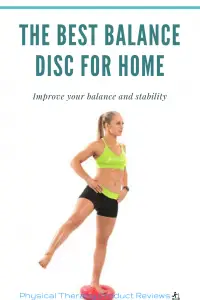 A balance disc is a cushion that can be used by anyone looking to improve their balance and strengthen their core. A person working with a disc can use it in a multitude of ways. A method seen in physical therapy is having a person stand on the disc to work on regaining balance after an injury. Balance discs are also commonly used in sports performance training to improve strength and balance.
For people who want to work on their posture or who sit down a lot for the job, a balance disc fits nicely in their chair and helps them hold a proper posture all day. Balance discs are also great in an educational setting with children who have ADHD.
How to Use a Balance Disc?
A balance disc has a variety of uses. For individuals recovering from surgery on a leg, hip, or knee, the disc is crucial in helping them regain function again and walking normally. For the older population, these discs are great at helping them stay in shape and retain their balance.
If you aren't using a disc for rehabilitation purposes, balance discs are excellent for fitness training. You can stand on these discs or place them on the ground and rest or elbows or knees on them. From that position, you can use the disc to help you work on your balance and core muscles.
A balance disc is also excellent for individuals who sit all day and need help to maintain proper posture. They are also a great tool to have in a classroom setting, especially for children who have ADHD.
Important Features of a Balance Disc
Anti Burst Material – this material allows the disc to deflate slowly should it become damaged or punctured. This is an excellent safety feature which means the disc will slowly deflate instead of a rapid explosion dropping you to the ground.
Anti-slip features – these features on a disc mean it will not slide under your feet while you are standing and balancing on the disc. 
Instability for balance training – for anyone needing to get their balance back after illness or injury, these discs are designed to help you learn how to maintain balance.
Hand Pump – this allows you to inflate your disc to meet the level of firmness that works for you.
Durability to Last –  when searching for a disc you want one that can hold up to a great deal of wear and tear. These discs need to withstand a great deal of activity and hold human bodyweight.
Ease of Use – most of these discs deflated for travel and re-inflated when needed. Pumps to reinflate should be easy to use and deflating a disc should happen in a matter of minutes.
The Best Balance Disc to Improve Balance and Stability
The Urban Fit Disc serves multiple purposes. It's small and sturdy enough to serve as a seat cushion and strong enough to serve as a stability disc during therapy. Users can choose from multiple colors.
Pros: Raised massage points on one side help improve natural circulation and blood flow. The other side of the disc is textured which helps keep the disc in place during use. It also comes in a variety of colors.
Cons: This disc is smaller than others and has a lower weight limit. It can also be difficult to inflate.
 Black Mountain Products Balance Disc
The Black Mountain balance disc is a professional grade medical disc that comes with its own pump. Use of this disc helps improve the stability of one's core and balance. We love black mountain products and think they are one of the best rehab companies around.
Pros: This disc comes in multiple colors, which allows a user to pick something besides a neutral color. This disc also has one smooth side and one spiked side allowing for more functionality.
Cons: Some customers report issues with the disc losing air and deflating.
 Prosource Fit Core Balance Disc Trainer
The ProsourceFit Core Balance trainer is ideal for someone working to strengthen their core or regain balance after an injury. It is dual-sided which makes it ideal for a variety of functions.
Pros: This disc is a great price point on Amazon. It also comes in a wide array of colors. It can easily be inflated with a pump and deflated for travel.
Cons: The disc has trouble holding air and the pump that comes with it can be difficult to use.
Trideer Inflated Stability Disc
The Trideer Balance disc functions as both a stability disc and a wiggle seat. This is great for adults as part of a recovery plan, or for kids in a classroom setting.
Pros: This disc has both a smooth side and a spiked side. It can handle up to 450 pounds without breaking or deflating.
Cons: The bumps on the disc can be uncomfortable to sit on. The PVC material that the disc is made of can have a strong odor when the product is new.
 Tumaz Wobble Cushion Balance Disc
The Tumaz wobble cushion is ideal for those looking for a seat cushion and for use with children in schools. Tumaz also has a 100% customer satisfaction guarantee backing their purchase.
Pros: Multiple colors to choose from. Ability to hold more weight than other discs on the market.
Cons: Not every package comes with instructions, leaving users to figure out the pump on their own. If you inflate it to its max setting, it can be uncomfortable to sit on.
Disclaimer: The information provided in this post is for educational purposes only. This is not a substitute for a medical appointment. Please refer to your physician before starting any exercise program.