A total shoulder replacement is a life-changing surgery that you want it to heal as quickly and painlessly as possible. Most shoulder replacements are done to get out of pain and return back to a quality of life that hasn't been present in quite some time. 
Shoulder replacements can be painful and while you're in the middle of the recovery, can seem like it is taking a long time to heal. We've compiled a helpful list of items to speed up recovery and help with pain control to make your recovery as easy as possible.
Wedge Pillows for Sleeping After a Shoulder Replacement
Nothing is more important than sleeping to help speed up recovery after a shoulder replacement, but it's difficult to find a comfortable position. Lying down flat is often more painful and sleeping in a recliner, while better than nothing, is still not ideal. 
The Lunix wedge pillow system lets you prop yourself up in bed and prevents the shoulder from being in an uncomfortable position all night long. You can use different options to find just the right height. The other added benefit is that you can use them to help prop the legs up and be more comfortable on the legs and back. 
Feel free to use them as a support when sitting on the couch or anytime that the shoulder needs a little extra support.
Why this Item Helps: Helps position your shoulder in the best position to get some sleep.
A Circulating Ice Machine for Pain Control After a Shoulder Replacement
Using an ice machine is a great way to help reduce pain levels after surgery. Often the hospital will send home an ice pack, but a circulating ice machine is more effortless. This is especially true because you can set it to run before bed and fall asleep while it works, and it will automatically shut off. We prefer the Vive ice machine because it comes with a large ice reservoir, automatically shuts off, and has all the items needed to ice the shoulder. The shoulder wraps are easy to use and help target the most painful areas after surgery.

Why this Item Helps: Helps with pain and swelling and is the easiest way to ice
A Hand Bike to Build Up Muscular Endurance After Shoulder Surgery
One of the best ways to build up muscular endurance for the shoulder at home is with a portable hand bike. Even though you won't be using the hand bike initially, it's a great way to improve strength and build endurance in the shoulder after surgery. 
You can use it anywhere at the house due to its portable nature; on the dining room table, on the couch while you watch TV, and even in bed while you're relaxing. Start small at only a few minutes at a time and build up to 30 minutes. Our favorite is the Magnetrainer ER because of its convenience and the adjustable resistance levels. We've reviewed our favorite hand bikes to build up shoulder endurance in another post.
Why this Item Helps: Helps build up strength and endurance in the shoulder
Shower Chair For Easy Bathing After Shoulder Surgery
Of the most challenging activities after a total shoulder, replacement is showering because of only one hand and trying to maintain your balance. You aren't allowed to move the arm, making it difficult to clean and bathe yourself.
Using a temporary shower chair takes the pressure off the rest of the body and makes it safer to prevent falls. It also helps you keep the incision clean and the arm moving to avoid any complications after surgery. We prefer the Vaunn Medical chair because it's slightly wider and more stable than most and is a bit more comfortable to use. It's also portable and lightweight.
Why this Item Helps: Makes it safe and easy to clean after surgery
A Detachable Shower Head To Clean the Hard Reach Areas
In addition to using a shower chair, a detachable shoulder head makes it extremely easy to help clean up the body. It makes it easy to clean the ever-important armpit on the surgical arm without breaking any surgical precautions.
It's often more than 6-8 weeks before you can lift the arm to wash the armpit, and that's a long time without proper cleaning. It also makes it easier to sit in a shower chair. Remember, you will only have one arm to clean the whole body. Our favorite is the Lokby Detachable shower head because it's easy to install and helps maintain a high water pressure to keep the body clean.
Why this Item Helps: Helps with safe and pain free showering
How to clean the Armpit After a Total Shoulder Replacement
After a shoulder replacement surgery, you are not allowed to shower for the first 3 days. You also are not allowed to actively move your arm for at least 6 weeks with most surgeries.
So how do you clean the armpit to avoid scaring people away from the armpit stench? The key is to let it hang without moving the arm.
Start with the surgical arm by your side in a relaxed position

Bend over from the waist without moving the shoulder. The arm will be dangling toward the floor at a 90-degree angle from the trunk. 

Use the showerhead and the other hand to clean the armpit as the arm hangs with no muscle activation.

This is also the best way to apply deodorant.

Standing back up all without using the shoulder at all
Pulleys to Help with Shoulder Range of Motion
Using shoulder pulleys is one of the easiest ways to improve the range of motion once you are cleared, whether at the 4-weeks or 6-week mark.
These are inexpensive and easy to set up anywhere in the house. You simply attach them on top of the door and sit down in a chair. Using your non-surgical arm, pull down on the pulley to lift and stretch the surgical shoulder above the head. Our favorite shoulder pulley is the Vive Shoulder Pulley because it's made with quality material without breaking the bank.
Why this Item Helps: Helps improve the range of motion with less pain
A Resistance Band Set to Gain Shoulder Strength After Surgery
Once you have healed and recovered your shoulder range of motion, it's essential to work on strength. Strength and resistance exercises usually don't start until 3 months after surgery but are critical to successful long-term outcomes.
We love the Black Mountain resistance band set because it's easy to set up anywhere in the house where there is a doorframe, and they come with different levels of resistance. There are many other exercises that you can do with this simple set of resistance bands.
Why this Item Helps: Helps improve shoulder strength at home
Post-Surgical Reacher to Help Grab Things around the House
Nothing is more frustrating than dropping something on the floor and not being able to pick it up. This is especially true after a total shoulder replacement. With a handy tool like a reacher, you can use your non-surgical arm to reach and grab items from the floor, on the other side of the couch, and to help in situations when you would typically use the surgical arm. 
Why this Item Helps: Helps position your shoulder in the best position to get some sleep
Conclusion
A total shoulder replacement is an important surgery to return to a high quality of life and get back to normal activities. You can speed up the recovery and be prepared with a few simple items. Recovery is a long term process, but it can be made easier and less painful with some help.
Other Great Rehab Related Articles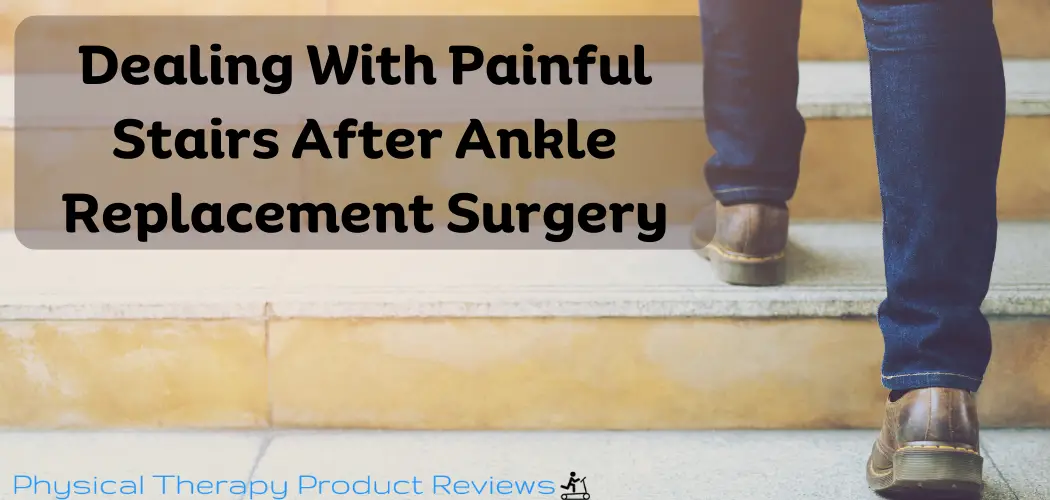 After undergoing an ankle replacement surgery, patients may experience pain when climbing stairs. The level of pain can vary from mild discomfort to severe pain,
Disclaimer: The information provided in this post is for educational purposes only. This is not a substitute for a medical appointment. Please refer to your physician before starting any exercise program.