In the busy world we live in, it's easy to put our health on the back burner until something arises that stops us in our tracks. Lifting, eating, working on a computer and even sudden quick movements can become something you want to avoid.
Arm, shoulder, or joint pain is hard to ignore. We have to use our arms everyday and it can be become extremely difficult to sleep. With so many different causes, it's hard to know what to do to fix it. In addition to stretches and strengthening exercises, many people find relief from pain with an arm bike.
What is a Portable Arm Bike?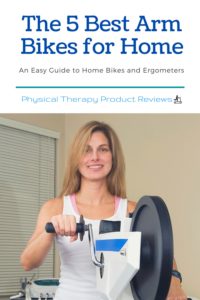 An arm bike is a stationary exercise machine. It's a large machine with an attached seat and handles that stick out of either side in front. This machine works much like a stationary bike but you use your arms to 'pedal' rather than your feet. 
If you're short on space, the compact version works the same. It just sits on a table or counter while you pedal with your arms. It's a quick and extremely efficient machine that will help you in more ways than one!
What are the Benefits of using a Portable Arm Bike?
An arm bike is a great machine and benefits people in a lot of ways, including: 
Utilized in physical therapy to aid in building back strength

Improves posture and relieves pain in joints

Increases mobility by focusing on arm and core strength

Is easy to use if you have a lower-body injury or mobility issue

Improves your arm/upper body strength 
Overall, there are many benefits to using an arm bike. Don't wait for arm, should, or joint pain to strike before trying one out. Arm bikes are great for improving and maintaining strength to help prevent these ailments.
Who Should Use an Arm Pedal Machine?
People of all ages can use and benefit from an arm bike. Recovering from a surgery of a lower-body exercise can limit your mobility. An arm bike can help you keep your upper body strength when you need it most. 
Other reasons may include having joint, shoulder, or arm pain. This exercise helps loosen and strengthen muscles, relieving tension and pain in the process. 
The low intensity makes it great for people with preexisting conditions, like lung or heart issues as well.
What to Look for in a Portable Arm Bike
There are so many things to look for in an arm bike, most of which depend on personal preference. When shopping for an arm bike, keep these things in mind:
Size – Find something suitable for the space you'll be using and storing it in.
Comfortable Grips – Try out different models and make sure the grips will work for you. 
Adjustable Resistance – Once you start to build muscle you'll want to be able to adjust the resistance to continue to build strength. 
LCD Screen – Keep track of your workout stats. 
Use Your Arms and Legs – Consider some hybrid models that include feet pedals.
Maintenance of the Machine – will it need service, lubrication, regular cleaning, etc 
These are just a few considerations that you will want to take when selecting the correct machine for your lifestyle and home.
Benefits of an Arm Pedal Bike
The Best Portable Arm Bikes for Shoulder Workouts
MagneTrainer-ER Mini Arm Exercise Bike
Summary: This is a compact, lightweight arm bike that has adjustable velcro straps. It has a 15-inch wide base and weighs 23 pounds. This machine uses magnetic resistance for a large range. It is cordless and requires a AA battery, which is included. It can be placed on a table for an arm workout or the floor for a leg workout. It has an LCD monitor to display your stats and is built with a steel frame for durability.  
Pros: It's versatile and adjustable to accommodate users. It's relatively small and can be used in tighter spaces.
Cons: Because it is lightweight, tends to move a bit or slip-on certain surfaces when set to higher resistance.  
Summary: This Arm Pedal Exerciser is compact and lightweight, weighing in at just over 22 pounds. It has magnetic resistance with 8 different levels and a large LCD monitor to keep track of your workout. This machine can be used for leg and arm workouts and can be pedaled forward and backward with resistance. 
Pros: The wide-set legs make the bike stable and easy to use, it's very quiet when in use. 
Cons: The resistance knob is loud and the LCD monitor can only be set to a scan mode.
Sunny Health & Fitness Magnetic Mini Arm Exercise Bike
Summary: This is a mini exercise bike for arms or legs that weighs 21 pounds. It has an LCD monitor and offers 8 levels of resistance. The foot pedals have adjustable safety straps for safety and security. 
Pros: It's lightweight and easy to use in tight spaces.
Cons: It's not very durable and can be easily damaged.
Vaunn Medical Folding Arm Pedal Exerciser
Summary: This is a compact, folding arm and foot bike. It has an LCD display and comes fully assembled. Use the knob to adjust the resistance. The rubber feet make it non-skid so you can use it on any surface, and it folds instantly for easy storage. 
Pros: On the low end of the price range, it is sturdy and folds to store when not in use.
Cons: Height is a bit tall for most. Adjustable tension eventually turns itself back down to normal while in use.
TABEKE Arm Pedal Exerciser
Summary: This is a compact arm and leg bike with an LCD screen. It comes with adjustable resistance. The legs fold for easy storage, and it has foot straps and fixing straps on the pedals for increased stability. 
Pros:  It has rubber grips to make it sturdy, it's lightweight, and very cost-effective.
Cons: Tension adjust doesn't seem to give much resistance.
Key Takeaways
Arm bikes are a great way to work out your upper body.  They're easy to use and highly recommended by healthcare professionals, and many double as a compact leg workout, too. They are a safe way to increase your strength while focusing solely on the arms so as not to aggravate the lower body. 
Works Referenced:
https://healthyliving.azcentral.com/using-exercise-bike-arms-should-pedal-forwards-backwards-19577.html
https://healthyliving.azcentral.com/can-arm-cycle-toning-arms-20785.html
Other Great Health Related Articles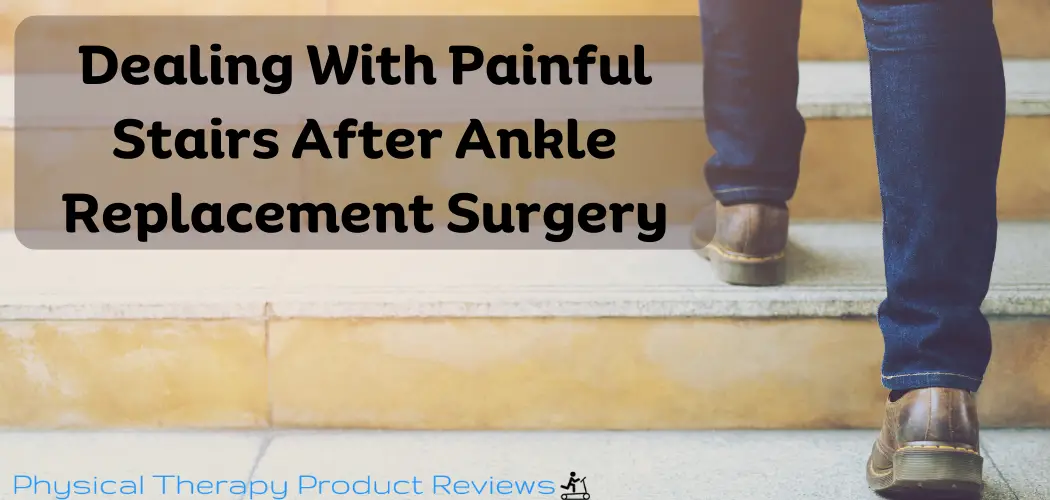 After undergoing an ankle replacement surgery, patients may experience pain when climbing stairs. The level of pain can vary from mild discomfort to severe pain, …
Disclaimer: The information provided in this post is for educational purposes only. This is not a substitute for a medical appointment. Please refer to your physician before starting any exercise program.