The importance of hip and glute strength is often understated. Weakness the hip abductors and external rotators is considered a risk factor for several running-related injuries, including Patellofemoral Pain Syndrome (PFPS) (1) and Iliotibial band syndrome (ITBS) (2). Female athletes who experienced a lower extremity injury were more likely to have decreased hip strength as those compared of similar age (3).
That's why using a mini band set is one of the easiest ways to prevent injury at home.
Our hips are so important based on their location within the body. The hips are the most proximal or closest joint to our trunk and the farthest influencing joint from our feet. Meaning, our hips control and are the masters behind whats occurs with our legs. If our hip rotates inward, our knee and ankle will rotate inward. Vice Versa if our hip rotates out, then our knee and ankle will rotate out. Weakness in our hips puts extra stress on our knees and ankles as those joints may have to compensate to keep our legs in proper alignment during activities. There is good research supporting weakness in the hips being a precursor to ankle injuries.
Our glutes and hips are extremely strong and powerful. We use our hip muscles all day long during functional tasks such as walking, standing from a sitting position, going up and down stairs, and especially during recreation activity. There is not a standing movement  you can perform well without using your glute muscles.
Now imagine if those hips are weak and the amount of stress that places on your knees and ankles? Don't let this happen to you, it's important to keep your hips strong.
Improving Glute and Hip Strength with a Mini Band
Improving glute strength can be both injury preventative and extremely important in injury recovery. 
As mentioned above, injuries in other areas of the leg benefit from hip and glute strengthening to decrease the risk for re-injury.
Glute strength and more specifically glute weakness is commonly associated with ACL and knee ligament tears. Weakness in the hip abductors, external rotators, and the  hip extensors is typical found following ACL reconstruction and may persist for two years or more after surgery (6).
Glute strength has been shown to be successful at increasing strength (3) and decreasing pain (4) over a 4-week to 8-week program. One of the easiest ways to maintain consistency with glute strength is to have your own set of resistance bands at home.
You don't have to rely on going to the gym every evening

The bands listed above offer great resistance

Exercises are easy to perform to improve your glute strength

Time saving! You can get in a quick workout within 15 minutes

Cost effective! This is much cheaper then fancy equipment or a gym membership
The anatomy of the hip is quite complex. There are many different muscles that cross the hip joint that influence either the spine or the distal to the knee. There are many large muscles such as the Glute Max and very small muscles such as the Inferior and Superior Gemelli. List below are the most common break down of the hip muscle groups and why they are important.
What are the Different Hip Muscles
Hip Abductors – The muscles on the outside and posterior aspect of the hip. These muscles help us kick the leg sideways and more importantly keep our pelvis level with walking.
Gluteus Medius – The bigger of the two main hip abductors, most common muscle involved with "Hip Bursitis" even though the name and pathology is no longer correct.
Gluteus Minimus – The smaller of the hip abductor muscles. Helps stability and even rotation of the hip.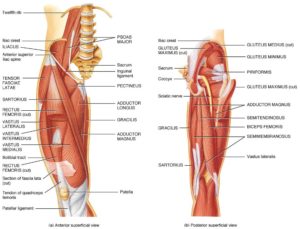 Hip Extensors – The big powerful muscles that help propel us forward. These muscles bring the leg backwards and help with the powerful movements of pushing off such as in running and stair stepping. The two primary extensors are listed below, although there are smaller muscles that do assist.
Glute Maximus – The most famous glute muscle and one of the strongest muscles in the body. Performs powerful hip extension and aids in hip rotation
Hamstrings – The Hamstrings are a pretty amazing group of 4 muscles. They are most commonly thought of as helping with bending the knee but are just as important in extending the hip.
Deep hip Rotators – A group of small muscles that lie underneath the bigger glute muscles. Despite their size they play an extremely important role in hip stability. The Piriformis gets all the press but often unfairly blamed for problems it's likely innocent of as you can see form the link.
Hip Flexors – The hip flexors are in the front of the hip and help the leg come forward and upwards towards the chest. These are strong muscles that also help control the spine and stability of the hip.
Why a Mini Band Set is Great for Hips and Glutes
The hips respond really well to using resistance bands for strengthening. The small loop bands offer a diverse set of exercises that can be performed to target the various muscles and help in reaching long term goals.
Easy to comply with a program at home

East to increase resistance

Easy to take traveling in suitcases or purses

Easy to track progress with increasing resistance bands

Inexpensive and affordable
The Best Mini Band Sets for Hip and Glute Strength
Perform Better Resistance Bands
Summary:
The Perform Better bands are our favorites because of their durability. We have had a set in the clinic for over a year and they don't crack, break, and have help color. That's not always the case with the other bands. They may be a few dollars more but are worth it in the long run when you have to buy multiple of the other guys.
Incredibly durable bands that are made thicker than the rest

Mini-Bands can be used anywhere – on the field, at home, in the clinic or gym, or even when traveling.

Effective for both upper and lower body training.

The bands come with a set of 4 bands. Yellow – Light Resistance. Green – Medium Resistance. Blue – Heavy Resistance. Black – Extra Heavy Resistance and Exercise Manual. 
Fit Simplify Mini Resistance Band
Summary:
A favorite on Amazon with over 55,000 customer reviews the Fit Simplify Resistance Bands are a little thinner band but comes with a lifetime guarantee so breaking is not an issue.
12″ by 2″ made of 100% natural latex – free of non-natural Thermoplastic Elastomer (TPE) and no rubber smell 

Great with any workout and includes a carrying bag to take with you anywhere you go

Comes with a complimentary instruction guide and 41-page E-Book, where we include dozens of illustrated exercises that demonstrate how to use the resistance bands for legs, arms, back, shoulders, ankles, hips and stomach. 

Lifetime guarantee ( which we love at PT product reviews) The company promises "We stand by the quality of our exercise bands, and if they don't work out for you for any reason then send it back to us for your full money back. "
Summary:
The Synergee bands are a happy medium bands. A few dollars pricier but also a little thicker and more durable. Can't go wrong with these when performing your exercises.
High grade exercise mini bands that are great for athletes and beginners

A favorite amongst Physical Therapists as the company is easy to work with

Includes: Set of 5 bands. Yellow – Light Resistance 5-20lbs. Green – Medium Resistance 20-35lbs. Blue – Heavy Resistance 35-40lbs. Black – Extra Heavy Resistance 40-45lbs. Red – Extra Extra Heavy Resistance 45-50lbs.

Also comes with a carrying Bag and Exercise Manual with six different exercises.

The bands comes with a money back guarantee (did we mention we look for this), if there is an issue with your product for any reason they will refund you and send you a new one absolutely FREE!
Summary:
The INMAKER Resistance bands that are the ideal bands for beginners. The are a great bargain with long term durability. Our favorite aspect is the 40 page Ebook and a manual to help those wanting to get started.
The bands are portable with small bag
Also comes with a manual, and a 40 page EBook
There are 5 different resistance bands
These bands come in two different sets – Profunda and Pro-V. Each set has a different amount of resistance.
Whatafit Mini Resistance Loop Bands
Summary:
The Whatfit Mini Bands are great for home workouts. Like the others, they offer great portability as a low price. Think of it as a gym in your pocket. These are 100% Premium Natural Latex so if you have an allergy just be aware but otherwise this will increase the longevity.
There are many different great mini bands on the market and out guide should be helpful finding the right one for you. Mini bands are a must for any home gym due to their effectiveness and portability.
Other Great Rehab Related Articles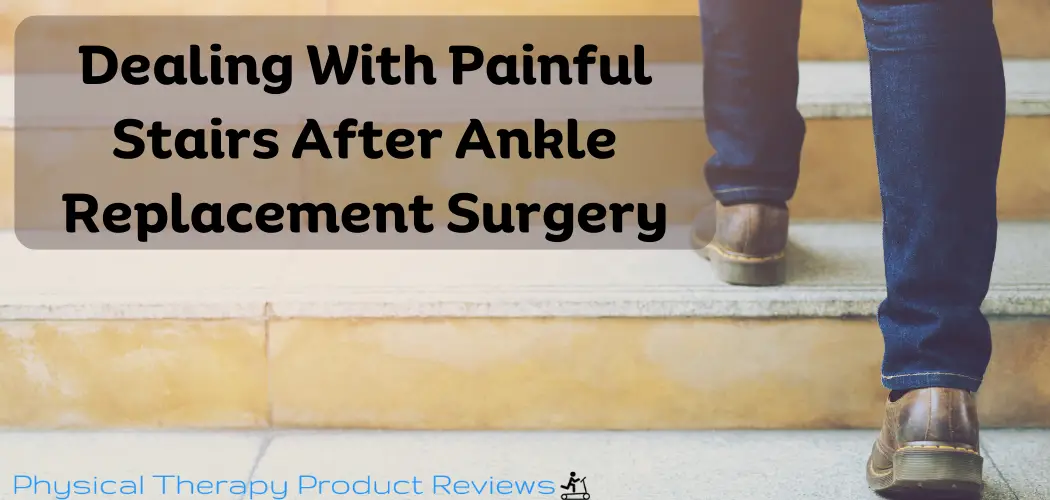 After undergoing an ankle replacement surgery, patients may experience pain when climbing stairs. The level of pain can vary from mild discomfort to severe pain, …
Disclaimer: The information provided in this post is for educational purposes only. This is not a substitute for a medical appointment. Please refer to your physician before starting any exercise program.