Old age often brings with it mobility issues and the need for good quality and versatile 4-wheel walker is inevitable to maintain mobility. Buying the best 4 wheel walkers to help with balance and safety is no easy task.
As we age our balance decreases, our balance to correct balance slows, and we don't recover from falls nearly as easily. That is why we have developed this guide to ensure that you spend your money on the right walker and to help you with the process of taking safety more seriously.
What are 4 Wheel Walkers?
​​​​​​​​​​​​​​​​​​​​​​​​​​​​​​​​A 4-wheel walker is a mobility accessory that supports its users when walking. They come in different sizes, shapes, and features. These types have 4-wheels as compared to standard walkers which only have 2 wheels. The 4 wheels make walking safer without slowing down walking speed.


4-wheeled walkers are also easier to navigate in tight spaces and around the house because you never have to lift them to change directions. They are often made of sturdy aluminum frames to remain lightweight yet durable.
Some have adjustable heights and all of them come with brakes. One of the best features of a 4 wheeled walker is that they come with a seat built into the walker. This allows the user to take a rest when needed to catch up on oxygen or to sit and wait for family members.
Who Would Benefit from a 4-Wheeled Walker?
A 4-wheeled walker is a great thing to have in any older household. Here are the people who would benefit the most:
Elderly who can't walk or stand on their own
People who have knee or upper severe leg injuries
People who can walk but are usually unstable and remain a fall risk
Anyone with severe osteoarthritis that has pain with walking
Anyone that requires constant use of supplemental oxygen and requires frequent rest breaks
People after surgery that live alone and need to get around the house
What to Look for in a 4 Wheeled Walker?
Brakes – Breaks are the essential features of rollators. They have to be strong, highly durable, and easy to use. Make sure that there are brakes on each side of the walker.
Seat – Since you will be using the seat often, the chair has to be sturdy and able to withstand your weight. Yet, make sure that it is lightweight to lift up for the storage compartment underneath.
Type and Quality of Wheels – Rollator wheels take a lot of abuse and therefore need to be highly durable to endure wear and tear. Smaller wheels are better for maneuverability while larger ones are great for uneven terrain.
Weight – If you intend to travel a lot with your 4 wheel walker, you should choose a lightweight one which is often is often made with aluminum frames. Also smaller and elderly women may have a hard time maneuvering heavy walkers.
Packing Size – Foldability is another crucial factor to consider when buying a rollator. The walker should comfortably fit into your car when folded and be easy to unfold.
Does Medicare Cover the cost of 4-Wheeled Walkers?
Medicare does cover the cost of 4-wheeled walkers but there are a few requirements first. 
You must have a written prescription from your doctor
It must be deemed medically necessary
It must be purchased from an accepted DME provider
Medicare covers costs up to 80% of the total purchase price. If you have supplementary insurance they usually will pick up the rest of the cost.
A few things to think about before purchasing a 4-wheeled walker. Medicare will only cover one type of assistive device every 5 years. So sometimes it makes sense to buy the cheaper expenses out of pocket. 
Durable medical providers may also upcharge the cost of walkers. So be sure to compare with other online options and sometimes it's better to pay out of pocket and save the expensive purchases for a later date. 
How to Tighten 4-Wheeled Walker Brakes
To tighten the brakes on a 4-wheeled walker is easy.
First, loosen the nut where the brake cable and handle meet. 
Then tighten the barrel adjuster clockwise to tighten the brakes. 
Finally, re-tighten the nut on the brake cable to maintain lock everything in place.
How to Lock 4-Wheeled Walker Brakes
To lock the brakes on the 4-wheeled walked simply pull down on the levers that are attached and underneath the handles.  You should hear a locking mechanism engage. 
It's best to lock the brakes when the walker isn't in use so that it is stable when someone tries to use it for support to stand up.
To use the brakes to walk down a slope all you have to do is pull up on the brakes toward the handle.
Regular Walker Vs 4-Wheeled Walker
A regular walker is great after surgery, if someone has poor balance, and for tight spaces such as in the bathroom. They are more lightweight and more easily maneuvered.
A 4-wheeled walker is great for those with moderate balance, to participate in community activities, and to carry things in the storage underneath the seat. The seat on the 4-wheeled walker is also beneficial to rest when someone gets tired.
Most of the time, people often have one of each and use each walker as they are best suited.  
The Best 4-Wheeled Walker for Independent Mobility
Drive Medical Four Wheel Walker
Summary: The Drive Medical 4 Wheel Walker is recommended for people who travel on uneven/outdoor terrain. It has a comfortable built-in padded seat with a backrest and can be easily folded for transportation. This is a classic 4 wheel walker design that will last a long time.
Pros
Easily foldable for transportation or storage
Adjustable handle heights for more customized comfort
Has a basket to keep personal belongings
Cons:
There is no locking mechanism to keep it flat when folded making it cumbersome to put in car trunks.
Vive Folding Rollator Walker
Summary: The Vive Folding 4 Wheel Walker is a durable and lightweight walker. You will love this one. It has large 8" sport wheels making it high on the road. It also has adjustable height and is easily collapsible for transportation or storage. This is a more modern style with great overall reviews.
Pros
Adjustable height offers great customization
Has a dual braking system
Easy to fold and store or put in a car.
Cons
Some customers report that the breaks keep malfunctioning
Days Heavy Duty Steel Bariatric 4 Wheel Walker
Summary: The Days Heavy Duty Steel Bariatric 4 Wheel Walker is the best 4 wheel walker for bariatric patients because of its sturdy steel frame which provides more support. It comes with a storage basket, and its height can be adjusted from 34.5″ to 39. 
Pros
Easily lockable hand breaks

Provides sturdy support

The four 8" wheels are great on most terrains 
Cons:
Some customers have had problems adjusting the seat.
Stander EZ Fold-N-Go 4-Wheel Walker
Summary: The Stander EZ Fold-N-Go Rollator is a great option for 4 wheel walkers. The major selling point for this rollator is the foldability and mobility of the walkers.  It can be packed into three times smaller sizes than the typical 4 wheel walker. You won't need to assemble anything since it comes ready for use. The seat supports up to 250 lbs.
Pros
Lightweight and durable

Easy to fold and pack

It has reversible brake pads
Cons:
The handlebars cannot be adjusted as high as those on the two-wheeled version. This makes it unsuitable for tall people.
Carex Crosstour Rolling 4 Wheel Walker
Summary: The Carex 4 Wheel Walker comes with a stylish look as well as a unique design. The height is adjustable, it's lightweight, durable, and can support up to 300 lbs. This is the best pick for seniors.
Pros
    Lightweight and durable

    Best for elderly people

    Comes with a premium design
Cons
    There is a plastic frame extension on the rear end which hangs and drags things along.
Other Great Rehab Related Articles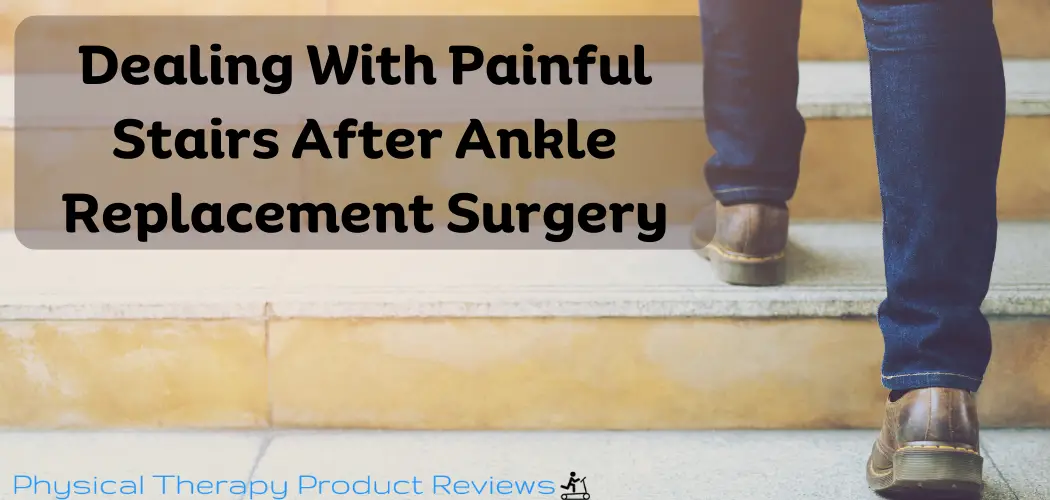 After undergoing an ankle replacement surgery, patients may experience pain when climbing stairs. The level of pain can vary from mild discomfort to severe pain, …
Disclaimer: The information provided in this post is for educational purposes only. This is not a substitute for a medical appointment. Please refer to your physician before starting any exercise program.