Walking Sticks: The Best Walking Stick for those that need a Little Help
If you're needing some assistance with stability while getting around, a walking stick can help you go a long way, literally.
Walking sticks are a great way to help you maintain your balance while taking the pressure off of your joints. With so many options out there, how can you possibly narrow it down to choose the best one? Read on to find out more about walking sticks and some of the best options on the market.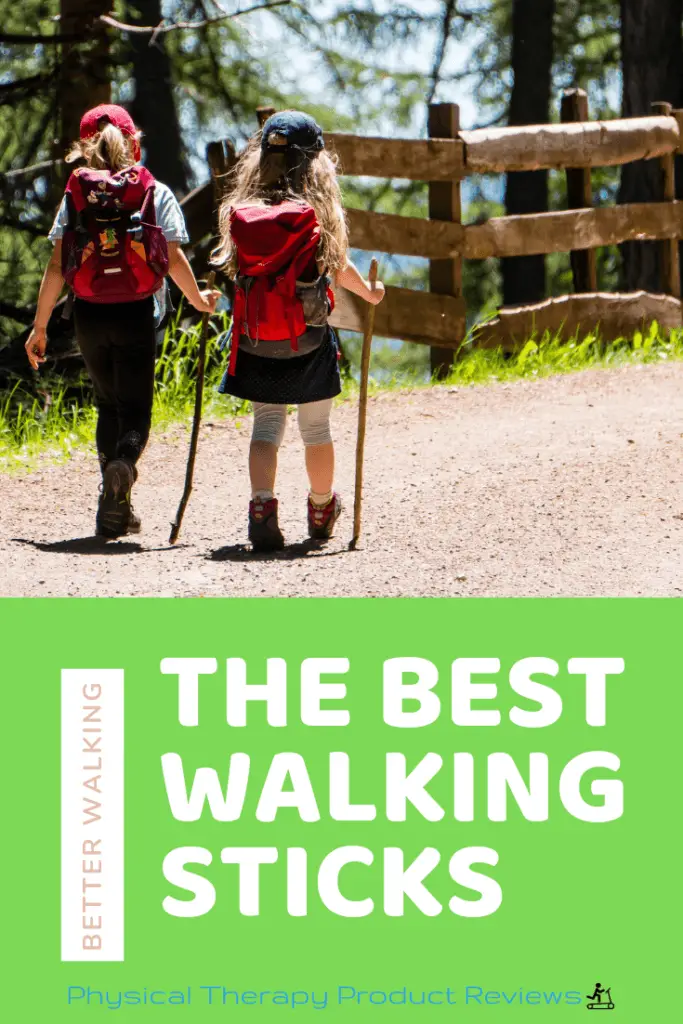 What is a Walking Stick?
A walking stick is exactly as it sounds, a stick or support pole that can help you while trying to get around on your feet. These sticks come in a variety of heights and materials, though the ones made out of wood tend to be the most durable and reliable. This is key in choosing the walking stick that's best for you so that the investment is both worthwhile for mobility and long-lasting.
Who Would Benefit from a walking stick?
People can use walking sticks for a variety of reasons. If you experience one or more of these issues, then you should highly consider purchasing one. Having trouble walking without holding onto a rail or objects for support.
Feeling off-balance while on flat surfaces.

Experiencing Pain in legs or knee joints while walking.

Being fearful of falling while walking over uneven surfaces.

Getting tired easily due to overexertion when trekking short distances.
How to Use a Walking Pole
The Best Walking Stick for Better Balance
Brazos Trekking Pole and Walking Stick
If you're under 5' 4" then the Brazzos Walking Stick is the right walking stick for you. This 48-inch stick is crafted of lightweight yet sturdy wood with a rubber tip at the bottom to ensure security and stability on slick surfaces. The indent and wrist strap allows for a comfortable grip that you can count on.
Pros: Each individual trekking stick is hand-crafted by a Brazos artisan with strict attention to quality and durability. Not only is this one of the most practical options on the market, but it is also one of the most beautiful, so get ready to be showered with compliments while walking on the street!
Cons: If you are taller than 5' 4" this stick will be uncomfortable to walk with. The handle is also a bit narrow, so may not work if you have a smaller grip.
RMS Natural Wood Walking Pole
The RMS Natural Wood Walking Stick is a 55-inch weatherproof wood walking stick weighs just under 2 pounds and is the perfect size for those standing between 5' 8" and 6' 5". This stick is ideal for people who spend a lot of time outdoors as it will never weather and is great for use on uneven, slippery surfaces.
Pros: Purchasing this wooden walking stick from RMS also comes with both a 100% satisfaction guarantee and a limited lifetime warranty, so you know they stand behind the quality of their products. Users love that it's also only 2 inches in diameter, which makes it easy to transport, even when traveling.
Cons: This stick is not handmade, rather is produced in China. This means every stick is an exact copy of the next, rather than each having some form of individuality as with others that are hand-carved. It is also said to feel more like plastic than wood.
Brazos Lightweight Walking Stick
This Brazo Walking Stick stands at 55 inches tall and is handmade of beautiful Ironwood in the USA. Best for people between 5' 4" and 5' 8" this reliable trekking pole is both sturdy and a piece of art.
Pros: Each walking stick is unique and carefully made by Texas craftsmen to the highest quality standards. You can rest assured your purchase will durable and can even be used for protection if walking alone at night.
Cons: Due to the use of real wood, sometimes sticks may not be perfectly straight. It is also possible to splinter and have some cracks.
SE Natural Wood Walking Pole with Hand-Carved Spiral
The SE 55-inch walking stick is perfect for those who are seeking stability in the streets and on the mountains. Change the stick's tip based on the terrain you will be trekking on, using the metal spike for more rugged surfaces and the metal-reinforced rubber cover for everyday surfaces. It even features a compass and thermometer built-in so you can feel comfortable bringing it along on all of your adventures.
Pros: The SE walking stick is crafted using pine wood with a weatherproof finish, so you can use it all year round in all types of climates. If you're the adventurous type, this stick is ideal as you won't need to invest in two to maintain your balance in multiple situations.
Cons: The wood has been known to crack a bit easier due to it being natural. The two dials also make it a bit heavier than other sticks on the market.
SE Survivor Series Hand Carved Walking Stick
The SE Survivor Walking Stick is a great option. The floral hand carving makes it one of the more unique sticks available and it also has the benefit of the two different tip covers, depending on the terrain you'll be walking on.
Pros: This stick is lightweight, making it easy to travel with. Comfortable hands grip area.
Cons: Because it is so lightweight, it may not be as sturdy as needed for those who are on the heavier side. The handle is also carved with fingers, so it may not fit all hands.
Conclusion:
While there are a plethora of options for walking sticks out there, choosing the one that's right for you should be simple if armed with the information above. By using a sturdy, wooden walking stick, you can feel confident in taking more balanced strides everywhere you go.
Works Cited:
https://www.fashionablecanes.com/blog/know-time-use-walking-cane/
Disclaimer: The information provided in this post is for educational purposes only. This is not a substitute for a medical appointment. Please refer to your physician before starting any exercise program.