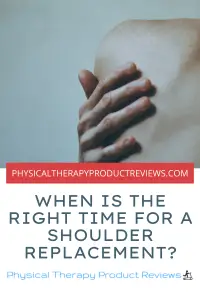 Are you experiencing shoulder pain? Have you noticed a decline in your ability to reach things overhead? Do you have difficulty sleeping at night? These all may be signs of something called shoulder arthritis. 
This condition is typically caused by the wear and tear of your shoulder joint over time. Without proper care, this condition can worsen. The good news is there is a solution to get you back in action.
Non-Surgical Treatment Options In Place of a Shoulder Replacement
There are non-surgical and other conservative treatment options to address shoulder arthritis. Non-surgical treatment options consist of what is called conservative treatment, like physical therapy. 
Physical therapy is the first line of attack when it comes to handling shoulder arthritis. Your physical therapist will focus on regaining your range of motion and strength to improve your ability to perform your daily activities. You will be instructed on proper shoulder positioning during activity to promote improved reaching ability. Your physical therapist will also help stretch your arm to increase your range of motion.
Shoulder Injections for Arthritis
If physical therapy fails to improve your function and reduce your pain, you may be a candidate for an injection, a more invasive non-surgical option. Injection types include: 
Steroid injection to help reduce inflammation in the joint

Hyaluronic acid injection: lubricates your joints

PRP or stem cell injections: help reduce inflammation and help with tissue regeneration 
If these non-surgical options fail to improve your symptoms, then a surgical consult is warranted. This is where you will meet with a surgeon to discuss your surgical options and potential shoulder replacement surgery.
Total Shoulder Replacement vs. Reverse Shoulder Replacement
You may be wondering what exactly a shoulder replacement entails? There are two types of shoulder replacements: Total Shoulder Arthroplasty and Reverse Total Arthroplasty. Shoulder replacements are designed to remove portions of the bones of the shoulder joint that are arthritic and missing cartilage. 
The shoulder joint is a ball and socket joint with a ball, the humeral head, that is part of the humerus and a flat surface, called the socket, that is part of the shoulder blade.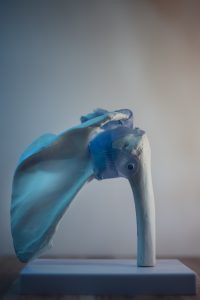 In a standard shoulder replacement, the ball portion of the shoulder is replaced by a metal ball, and a plastic piece replaces the socket. 
The big difference between a reverse prosthesis and a standard shoulder replacement is that in a reverse prosthesis, the ball is placed on the socket side of the joint. This is opposite where it is located in nature, or "reverse" of what you would expect. The socket is then placed on the arm side, supported by a metal stem in the arm bone, the humerus. 
Each technique effectively addresses the symptoms requiring a shoulder replacement; however, they are warranted for different reasons.
How to Know if You Need a Total Shoulder or a Reverse Shoulder Replacement
A Total Shoulder Replacement is typically done when your muscles and tendons around your shoulder, called your rotator cuff muscles, are still intact. These muscles help stabilize your shoulder joint and facilitate all shoulder movement. 
If these muscles are damaged or not undamaged, you are a candidate for a Reverse Total Shoulder Replacement. This surgery is more complex. But, it allows you to regain your motion more quickly if your rotator cuff muscles are damaged. Both of these options are something you will discuss during your surgical consultation to choose the best option for you.
Reverse Shoulder Replacement
Why Do You Need a Shoulder Replacement?
There are several reasons people end up needing a total shoulder replacement. The biggest reason is pain due to arthritic wear and tear. This pain can lead to decreased mobility and strength, making performing your daily activities very difficult.
Over time you may notice that your shoulder pain has worsened, and reaching activities have become more challenging and even painful. You eventually start to notice difficulty getting dressed, bathing, brushing your hair, and doing other daily tasks. 
Then you begin to have issues sleeping through the night due to a consistent pain that you can't get rid of. All of these symptoms are consistent with severe arthritis in your shoulder and will most likely require treatment, non-surgical and eventually surgical.
How To Prevent a Total Shoulder Replacement
The best thing to help prevent the need for a shoulder replacement in the future is to take care of your shoulder now. Getting your shoulder on a healthy activity regimen is your best bet.
You can consult with a physical therapist to get you set up on the right track with a home program. This program will consist of postural training to improve your shoulder blade mobility and placement during activity. 
You will also be instructed on rotator cuff muscle strengthening. These muscles are responsible for the intricate movements of your shoulder, and keeping these muscles strong will help prolong the function and strength of your shoulder.
Keeping your shoulder healthy and strong will help extend the joint and, in turn, prevent the potential need for a shoulder replacement.
Now you should have a better understanding if a Total Shoulder Replacement is suitable for you. Remember keeping your shoulders healthy is the best way to prolong the need for or even avoid a replacement altogether. Keep those shoulders strong so that you can continue to enjoy the things you love to do.
Author Information:
Written By: Cecile Younes PT, DPT, Cert DN, MST, VRS
Dr. Cecile Younes is a graduate of Franklin Pierce University, where she received her Doctorate of Physical Therapy in May 2015. She attended the University of Delaware, where she obtained her undergraduate degree in Health Behavior Science and two minors in Coaching and Strength & Conditioning. Cecile is also certified in Dry Needling through the Dry Needling Institute. Cecile is also pursuing a certification in Spinal Manipulation through the American Academy of Manipulative Therapy, Spinal Manipulation Institute. She played Division I softball and, as a result, brings to her work a personal understanding of athletes' drive and passion and the difficulties involved in recovering from athletic injury. Her personal experience allows her to motivate and inspire her patients through post-injury/surgery rehabilitation. She specializes in a variety of musculoskeletal and orthopedic conditions.
Works Referenced:
https://www.hopkinsmedicine.org/orthopaedic-surgery/specialty-areas/shoulder/treatments-procedures/reverse-prosthesis.html#:~:text=The%20major%20difference%20between%20a%20standard%20shoulder%20replacement,complex%20procedure%20and%20is%20warranted%20by%20certain%20conditions.
Other Great Rehab Related Articles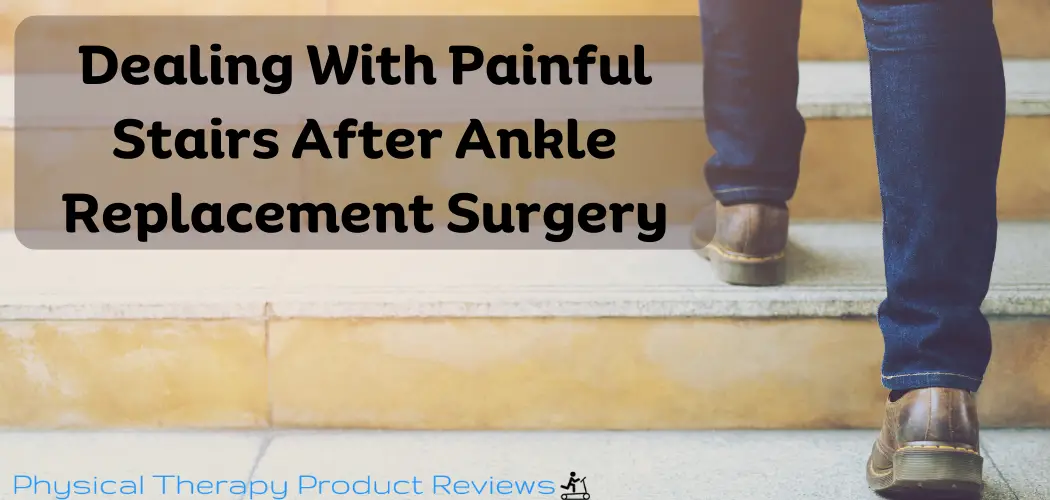 After undergoing an ankle replacement surgery, patients may experience pain when climbing stairs. The level of pain can vary from mild discomfort to severe pain,
Disclaimer: The information provided in this post is for educational purposes only. This is not a substitute for a medical appointment. Please refer to your physician before starting any exercise program.