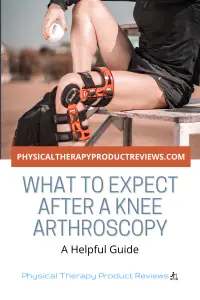 Waiting for your knee surgery can feel quite daunting. Questions abound, like: What will recovery be like? Will I have to use crutches? When can I golf again? 
Recovery from a knee scope, like a partial meniscectomy, is a straightforward process that will likely have you feeling much better than before your surgery! Read further to learn more about the typical recovery timelines after a partial meniscectomy.
Recovery Timeline for a Knee Arthroscopy
The standard recovery timeline from a partial meniscectomy is 4-6 weeks. If you're aiming to return to a physically demanding job or specific recreational sport, you can expect up to 10 weeks for a more specialized program.
You will be able to walk with crutches – weight bearing as tolerated. Some patients feel great walking right away, others need a few days on crutches at first. 
Your surgical dressings will be removed a few days after your procedure and you might notice some swelling and bruising around your knee.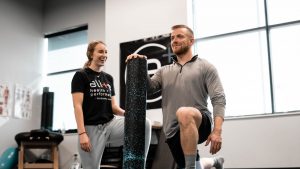 Exercises your Physical Therapist may assign you
stretches for the muscles surrounding your knee

supported mini squats

straight leg raises

calf pumping
The goal at the end of this phase
Low pain levels

You can
bend your knee up to a right angle. 
The first phase of rehab will focus on continuing to improve your range of motion and ensuring your gait normalizes. You'll be working on functional tasks, like step-downs and strengthening exercises. 
At this point, many patients only have minor discomfort. As long as your surgical incisions are well healed, you can begin a progression into aquatics exercise. 
It will take a few more weeks before you can freely swim. You will be able to complete exercises like water walking, squats, lunges, etc.
Exercises your PT may assign you
single-leg calf raises

progressively supported squats

step downs

leg raises on a mat

stationary bike. 
The goal at the end of this phase
Normal range of motion

Normal gait
A strong foundation of exercises and activity has been established and you will continue to progress your work. You can begin a program to return to jogging near the end of this phase, with approval from your PT. 
Exercises your PT may assign you
single-leg balance

hip strengthening

Elliptical

begin agility work 
The goal at the end of this phase 
Walk longer distances at a normal pace

Navigate stairs without trouble
You're nearing the end of your official rehabilitation. The program has evolved to higher-level activities of agility and plyometrics. 
Exercises your PT may assign you 
jogging on a treadmill

agility drills

sports-specific training
The goal at the end of this phase 
How Long Does it Take to Recover from Arthroscopic Knee Surgery
Returning to Work and Activities after a Knee Arthroscopy
Depending on the nature of your work, you may return to your profession after your convalescent leave has ended. This typically occurs a couple of weeks after your surgery date. If your work is more physical (construction worker, police officer, etc), you may need to adjust your tasks until you are cleared to return to regular work by your medical team. 
As far as recreational activities, it is advised for you to wait about 6 weeks before slowly progressing back into your sport. Take care to keep this return slow and controlled. In other words, don't start bowling for competition – aim to play a quarter of a game the first time you head out.
Tips for Recovery from a Knee Arthroscopy
Your surgery may have helped to correct your knee issue, but it's the work you'll do after it that will have a lasting impact.
Stick to the plan!

Unfortunately, things tend to go awry when patients try to "jump ahead" of the rehab plan. You might

feel

really good, but it doesn't mean you're ready to play soccer!

Discuss your goals

with your surgeon and physical therapist. They'll be able to give you realistic expectations about your recovery and custom tailor your rehabilitation plan to meet your goals. 

Do your homework!

You might only get to see your PT for in-clinic rehab once or twice a week. That means the onus falls on you and your ability to get your program done at home. Having a strong social support system can be very helpful for keeping you on track. 

Patients who are older than middle-aged may experience a

longer

recovery timeline. 

Having any knee surgery can

increase

your chance of developing osteoarthritis. So, take care of your joints and consider discussing beneficial supplements with your health care provider. 
Undergoing a partial meniscectomy can be a great transformation in the function of your knee. The recovery is usually easy and quick! Stay committed to your physical therapy afterward to see the best results and ensure a safe and successful return to life and recreation.
Works Cited
Ganderup T, Jensen C, Holsgaard-Larsen A, Thorlund JB. Recovery of lower extremity muscle strength and functional performance in middle-aged patients undergoing arthroscopic partial meniscectomy. Knee Surgery, Sports Traumatology, Arthroscopy. 2016; 25: 347-354. https://link.springer.com/article/10.1007%2Fs00167-016-4315-7 
Knee Arthroscopy Guidelines. William Beaumont Army Medical Center. Physical Therapy Section. 2008. https://william-beaumont.tricare.mil/Portals/149/Knee%20Arthroscopy%20WB08.pdf 
Noorduyn JCA, vanLoon TG, van de Graaf V. Functional outcomes of arthroscopic partial meniscectomy versus physical therapy for degenerative me is also tears using patient-specific score: a randomized controlled trial. Orthopaedic Journal of Sports Medicine. 2020.  https://journals.sagepub.com/doi/full/10.1177/2325967120954392 
Other Great Rehab Related Articles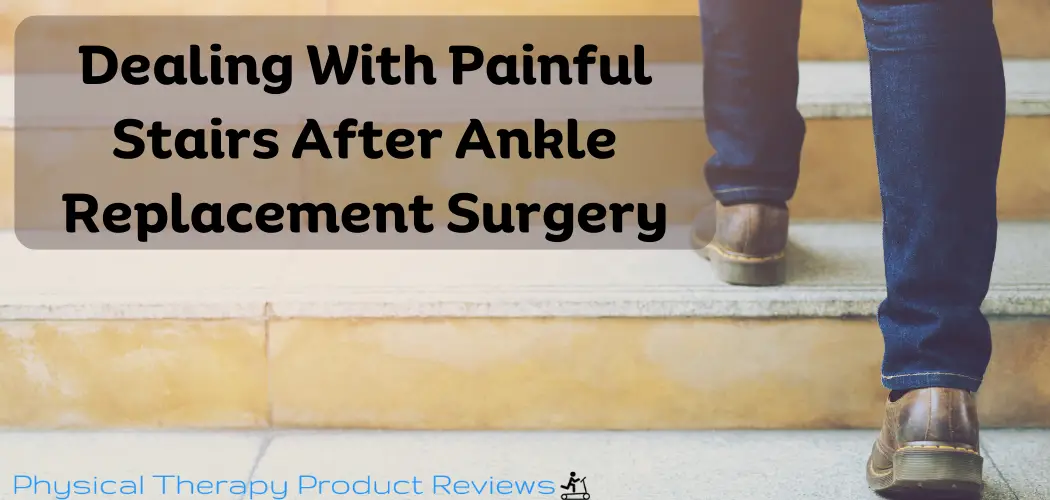 After undergoing an ankle replacement surgery, patients may experience pain when climbing stairs. The level of pain can vary from mild discomfort to severe pain,
Disclaimer: The information provided in this post is for educational purposes only. This is not a substitute for a medical appointment. Please refer to your physician before starting any exercise program.