If you have been injured and need to use crutches to support yourself, it can be overwhelming to know which crutch you should buy.
Often times the physician's office will give you crutches but are you being charged more than you should? What if you could buy the same crutches yourself without the medical overchange?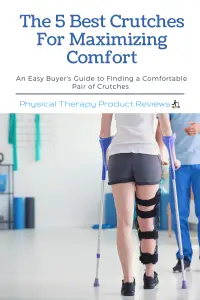 If you haven't met your deductible then you will likely have to pay out of pocket for those crutches.
There are many crutches available on the market at affordable braces and should count toward any HSA.
The two primary goals of crutches should be to improve the user's balance and reduce weight off of their injured leg.
Becoming injured is stressful enough. Let us help you find the most comfortable, affordable, and overall best crutches for your situation.
What are the Different Types of Crutches?
There are various types of crutches built for different uses.
First, there is the forearm crutch. The forearms crutch has a cuff at the top and a grip a few inches below the cuff. The forearm crutch is best suited for individuals with long-term disabilities who need a lightweight but stable option.  
The Axillary Crutch is another kind of crutch. This crutch requires upper body strength because you must place it under your armpit, then exert force on the crutch. Without enough strength, you will not have a proper balance. These are perfect for after surgeries, muscle strains, and ligament sprains.
The Platform Crutch is the third type of crutch. This crutch distributes your weight evenly along the forearm. This crutch is recommended for individuals with wrist and hand arthritis since it does not apply too much pressure on the wrist.
Finally, there is the Hands-Free Knee Crutch. This crutch supports the lower section of an individual's leg. This crutch is quite innovative because it does not require one to use their hands at all and places the weight on the leg intself.
What are the Benefits of Using Crutches?
There are many benefits to using crutches.
Crutches offer individuals with a leg disability or paralysis the opportunity for upright posture and mobility.

They protect an injured area or surgical site to allow for healing

Return to work quicker without risk of re-injury

Can still tend to a family and do things around the house

Helps promote quicker healing through better circulation, using other muscles in the body, and maintains cardiovascular benefits.
Which Crutches are Best for Non-Weight Bearing?
The type of crutches you should wear for non-weight bearing depends on how long you will need the crutches and which body part is injured.
Non-weight bearing means that the individual must keep their weak leg entirely off the floor. For some injuries, you might be non-weight bearing for 6 weeks or longer!
Axillary crutches such as the Mobilegs Ultra crutches are excellent for non-weight bearing. The supports are made from lightweight plastic so the user can be more comfortable while using them. The crutch is also adjustable to fit most adults.  
What is the Correct Height for Crtuches
The first step of adequately using crutches is to determine the proper fit.
You should be able to comfortably place two fingers in between your armpit and the top of the crutch when you are standing upright and in good posture.
Another quick and easy way to find the correct height is the handle of the crutch should be at the crease of your wrist.
How to Correctly Use Crutches
After you determine the right fit, it's important to practice a few times before heading out of the house.
The first step is to move both crutches forward together with the injured leg. If you can put some weight on the injured leg such as 20% then you can rest it on the ground. 
Put all of your weight through the armpits and handles, and step forward to the crutches with your healthy, non-injured leg.
It takes some practice to get the rhythm down but you can get moving quite fast once you get the hang of it.
How to do Stairs with Crutches
If you want to use the stairs, you should use one hand to hold the railing.
Use the other hand, to hold both crutches and use both of them to balance. It does help if you placed the crutches on the step you're standing on.
Next, exert force on your crutches and step up the stairs using your stronger, good leg.
After you place both feet on the step, bring your crutches to that step.
Going down is the opposite. Hold on to the railing and lead with your surgical, bad leg as you support your weight through the crutches.
Remember, to lead with the good leg and down with the bad leg.
You can watch a tutorial on how to use stairs here.
FAQ
How Do You Adjust the Height of Crutches?
Does Insurance Cover the Cost of Crutches?
Can you Use Crutches for Sciatica?
Why Are Crutches so Tiring?
The Best Crutches for Safe and Comfortable Mobility
Summary: The Mobilegs Ultra Crutches have ergonomic handgrips that contour to your hand. The crutches are built using a saddle design that rotates smoothly as you rotate your body. These crutches are the preferred crutches by many surgeons offices because they are lightweight, durable, and has the most comfortable armpit design.
Pros: These crutches come with several advantages. First, the handgrips preserve your natural wrist angle. The handgrips also distribute weight evenly across the palm. Also, the crutches have a completely adjustable arm and height length to fit most people. 
Cons: One complaint is the handle comfort if you have to use it for longer than 6 weeks straight
Ergobaum 7G Forearm Crutches
Summary: The Ergobaum 7G Forearm Crutches come with a standard cuff size and only weigh 2.90 lbs. The crutches were created to be lightweight and less bulky than other models. The crutches can hold up to 350 lbs.  
Pros: One advantage these crutches have is that they come equipped with LED lights and alert buttons for advanced security. These crutches also come with adjustable handles, cuff, and height settings so they can fit most adults. 
Cons: Multiple customers complained about the quality of these crutches. Users stated that the crutches broke within months or weeks of purchasing them. Best for light support needs. 
Summary:  The Life Crutch is a universal crutch with ergonomic handles. These crutches can support individuals that weigh up to 300 lbs. They are designed for both children and adults between the heights of 4'6 and 6'7.  
Pros: These are great for posture. They are specifically designed so that users can walk more erect. Also, these crutches have 19 height adjustments to accommodate most human sizes.  
Cons: Customers complained that the foam inside the handles breaks down too easily and quickly. 
Dynamo Sport Swings Crutches
Summary: The Sports Swings Crutches are safe and easy to use. They are handy for individuals with recent injuries. They support up to 300 lbs and are designed for people between the heights of 5'11 and 6'6.
Pros: One huge advantage of these crutches is they require no assembly. This will save the customer both effort and time before they can use the crutches. Also, these crutches are specifically designed so they can be used in all weather. 
Cons: Customer complained that the grip became loose too soon after purchasing the product.
Hugo Lightweight Adjustable Aluminum Crutches
Summary: The Hugo Mobility crutches are a pair of adjustable aluminum crutches. The crutches can support up to 300 lbs.  
Pros: These crutches are lightweight, making them comfortable and easy to maneuver. Also, the crutches come equipped with a metal ring that adds extra protection and durability. 
Cons: The crutches only accommodate individuals between the heights of 5'2 and 5'10, making them less versatile. 
Other Great Health Related Articles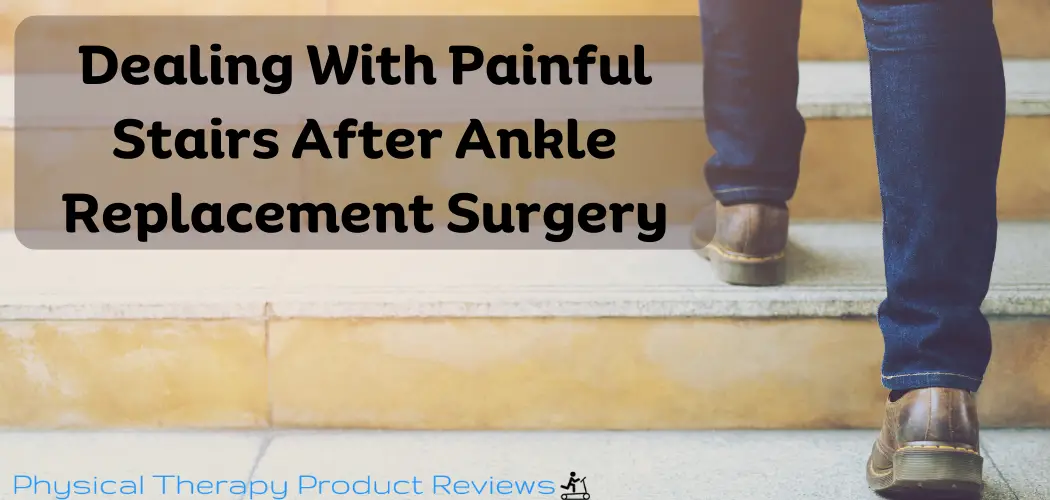 After undergoing an ankle replacement surgery, patients may experience pain when climbing stairs. The level of pain can vary from mild discomfort to severe pain, ...
Disclaimer: The information provided in this post is for educational purposes only. This is not a substitute for a medical appointment. Please refer to your physician before starting any exercise program.