How to treat Sinding Larsen Johansson Syndrome at Home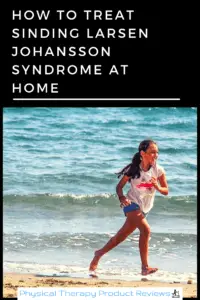 Anterior knee is a common complaint amongst pre-teens and teenagers, especially during periods of increased activity and during growth spurts. Teenagers can suffer from many different causes of anterior knee pain including Osgood-Schlatter's Disease, Patellofemoral tracking disorder, Meniscus Tear, and Sinding-Larsen-Johansson Syndrome (SLJ). Sinding-Larsen can be frustrating due to thepain and limitation it can cause in every aspect of daily life. Luckily, with some rest, targeted exercises, and conservative treatment, you can sruvive a tween with SLJ.
What is Sinding-Larsen-Johansson Syndrome?
Sinding-Larsen-Syndrome is a traction epiphysitis on the inferior pole of the patella. In layman's terms, this means that the pull from the patella tendon and quad muscles is so great that it causes inflammation and calcification on the bottom of the knee cap. The inflammation and excessive pull on the kneecap is that actual cause of pain. This also helps to understand why SLJ is painful with running, jumping, squatting, and quick movements because all those activities pull with high forces on the knee. The traction osteochondrosis is similar to Osgood-Schlatters disease.
Sinding-Larsen-Johansson is an overuse injury and is not usually caused by a single event or accident. This primarily affects teenagers and adolescents between the ages of 10-15 that are experiencing a growth spurt and further stretching the bones and muscles beyond normal activities.
People who suffer from SLJ syndrome do eventually grow out of it and rarely need surgery. However, pain and dysfunction can be frustrating and persist for months if conservative treatment isn't applied. If the pain does become too severe you can also try bracing for Sinding Larsen Johansson syndrome.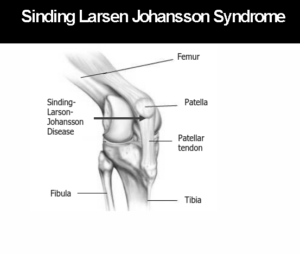 Causes of Sinding-Larsen-Johansson Syndrome
Sinding-Larsen-Johansson syndrome is caused by too great of the pull on the knee cap. Here are some common reasons this may happen
A recent growth spurt in an active adolescent or pre-teen

A change in activity causing more stress on the knee – such as starting a new sport, or an increase in workload

A recent increase in jumping, running, squatting, or quicky changes in direction

Excessive Quad tightness in a young athlete
Symptoms of Sinding Larsen Johansson Syndrome
The most common symptom of Sinding Larsen Johansson is a pain located at the bottom of and around the knee cap. Other Symptoms include:
Increased pain with squatting, running and jumping

Increased tenderness to tough on the bottom of the knee cap

Swelling on, around, or under the knee cap

Pain with stepping down curbs, stairs, or single-leg stance
How to Self Treat Sinding-Larsen-Johansson Syndrome
Modify Activities that are Causing Pain
The first thing you need to do is temporarily discontinue pain-causing activities such as running, jumping, squatting, or kneeling. Review ways to modify squatting and kneeling with your teen to avoid consistent aggravation such as using a golfers pick up instead of squatting. 6 weeks of active rest is encouraged to allow for healing but symptoms may resolve sooner. It's best to not sit on the couch during this rest period but is important stay active to promote faster healing. This means trying walking, swimming, and potentially even riding a bike as long as there is no increase in pain. This can be tough if your teen is playing sports and they need to take a break during the season.
Decrease Pain With a Brace
Often times wearing a knee brace for a short period of time will help decrease the pain. Due to the traction type of injury in SLJ syndrome, a compression or tension brace will usually be enough to help decrease the pain.  This often provides enough pain relief to allow them to return to school or other activities with minimal pain and all healing to take place.
Stretch the Quad and Hip Flexors
Stretching the quadriceps muscle is important to try and help reduce the tension on the patella and the patella tendon. The less tension on the tendon itself, the less tension that will be applied to the inferior patella and causing pain. Stretching the hip flexors with also help to reduce the overall load on the quadriceps and can help with pain in the knee for teenagers. Try these two stretches and hold 3x for 30 seconds or more.
Improve Hip and Knee Strength
The rotational control of the knee actually comes from the hip and the muscles around the hip. The more strength that you have in the muscles that control rotation at the knee, then there will be less rotational stretching on the patellar pole. Try doing the side-lying clamshell, sidesteps with a band , and even a single leg RDL to gain hip strength without aggravating the knee.
Try Taping for Pain Relief
Sometimes the simple act of using Kinesiotape is enough to help decrease pain with SLJ syndrome. No, KT tape will not cure the syndrome by any means, but if it takes the pain down a notch or decreases the need for Ibuprofen then why not? The tape can last 3-5 days, can survive most showers, and hopefully can be easy enough to apply at home. See our reviews of the best Kinesio tape to make sure it stays on the longest.
Try an Insole to Relieve Pressure on the Knee
The feet also play an important role in the position of the knee and the forces through the knee cap. By using an insole for anterior knee pain you can prevent the knee from rotating inward. The insoles may also provide a cushioning effect on the whole lower extremity which can help decrease force and pain in the knee cap region.
Sinding-Larsen-Johansson Syndrome can be a tough and frustrating diagnose for teenagers. It limits their ability to play sports, socialized with their friends, and do their normal routine. With adequate rest, home treatment, and targeted exercises your teeanger or pre-teen with be feeling better in no time.
Disclaimer: The information provided in this post is for educational purposes only. This is not a substitute for a medical appointment. Please refer to your physician before starting any exercise program.