Indoor Cycling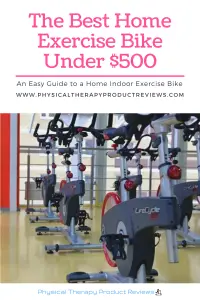 There's no argument that exercise is one of the best things you can do for your health.  While exercise is typically thought of as a tool for weight management, there is a wide range of benefits to adding physical activity into your life.
Regular exercise can reduce the risk of cardiovascular disease, type 2 diabetes, and even some cancers.  Exercise strengthens bones and muscles and also keeps your brain healthy by improving cognition and reducing depression and anxiety.
Many people can find going to the gym expensive and time-consuming, and between family, work, and social obligations, exercise can become the last priority.  Fortunately, a stationary exercise bike is one of the best and most budget-friendly ways to exercise in your own home.
What is an Indoor Exercise Bike?
An Indoor Exercise Bike is a piece of exercise equipment that resembles a bicycle without wheels.
There are two main types of exercise bikes – the recumbent bike and the upright bike.  The recumbent bike offers a reclined body position, a larger seat, and pedals that are positioned in front of the body.  The upright bike offers an upright riding position, a smaller seat, and pedals positioned under the body.
Many bikes are equipped with multiple accessories to enhance your riding experience, varying resistance levels, and LCD screens, so riders can see their time, distance, speed, pulse, and calories.  Some bikes even include workout programs, so riders can switch up their exercise routine.
What are the Benefits of using an Indoor Spin Bike?
Cycling is one of the best ways to exercise for many reasons. It's easy on the joints and non-compressive, it challenges the cardiovascular system, and is low cost overall. Here are few more of the benefits.
C

ardiovascular health – reduced risk of high blood pressure, heart attack, stroke

A safe form of exercise

Weight management/weight loss

Moderates blood sugar

Low impact – easy on joints

Improves muscle tone

Improves circulation

Can be used for injury rehabilitation
How to Use an Indoor Spin Bike?
Getting your bike adjusted is really easy and important. First off, adjust your saddle height so it's parallel with your hip and at the top of your pelvis. Once you're on the bike, one knee is over the ball of your foot with the pedal at 3 o'clock.  Also, your knee should be slightly bent when the pedal is the at 6 o'clock position.
From there you want to hinge from the hip joint and not the low back. To do this tighten your abdominals, maintain a neutral spine and hinge forward to the handle bars. Maintaining good form and good posutre with help prevent overuse injuries and work each area of the body equally.
Home Indoor Cycling Training Programs
Now that you have a bike, what do you do? We suggest taking it easy at first, especially if you haven't exercised or been on a bike in a long time. Start with something simply like a light cycle for 15-20 minutes and then see how you feel the next day. The gold standard is to increase the resistance by 10-15% each week to avoid causing any injuries.
There are also hundreds of different online training programs that you can download or follow. Per the research, high intensity interval training is the best option for overall health gains and weight loss for the amount of time. You can also try youtube or get a paid subscription to some of the cycling classes such as studio sweat or Peloton.
What to Look for in a Quality Stationary Exercise Bike?
Quality is important when it comes to selecting an Exercise Bike.  There are a few things to look for when selecting the perfect bike for you.
Type of resistance and resistance levels

Braking system

Heavy-duty flywheel and frame

Adjustable seat and handlebars

Comfort

Belt drive system

LCD display screen

Warranty
The Best Indoor Exercise Spin Bikes Under $500
L NOW Indoor Cycling Bike Stationary
The L NOW Indoor Cycling Stationary Bike is a top contender.  With a large quantity of high Amazon ratings, this bike includes an LCD display, accessories, and a customizable design to fit most. It is one of the newest bikes to be sold online and comes with all the features that customers like best.
Pros: Easy to assemble, quiet, high quality, LCD monitor
Cons: Seat position/alignment
MEVEM Indoor Cycling Bike-Belt Drive
At a great value, this MEVEM Indoor Cycling Bike is fully customizable to give the rider the most comfortable experience.  The manufacturer boasts its silent experience and low maintenance compared to other indoor bikes. It's one of the best overall values on the list.
Pros: Easy to assemble, quiet, phone holder, LCD monitor
Cons: Small bike (might not be suitable for taller people), seat height
Sunny Health & Fitness Flywheel Exercise Bike
The Sunny Health & Fitness 49 Lb Chromed Flywheel comes highly recommended and is, by far, the most reviewed exercise bike out of our selection.  Ranked #6 in exercise bikes on Amazon, this customizable bike features a rock-solid build and a real-road feeling, without the noise.
Pros: Quiet, comfortable, transportation wheels, 49lb flywheel
Cons: Seat distance, poor warranty/customer service from the manufacturer
 FUNMILY Stationary Indoor Exercise Bike
SGS Certified and ASTM standard, the FUNMILY Indoor Exercise Bike is a quality bike.  With a high supportive capacity at 330lbs, this bike is a good option for just about anyone.
Pros: Heart rate monitor, phone holder, bidirectional flywheel, quiet
Cons: Tension knob can be off, heavy
 ANCHEER Indoor Stationary Exercise Bike
The ANCHEER Indoor Cycling Bike offers an exciting 3-D Virtual Riding Experience, through a free app.  Designed for convenience, this bike is quiet, enjoyable, and sturdy, with a 380 lb max user weight.
Pros: Rust/corrosion resistant, low maintenance belt-drive mechanism, 49lb flywheel
Cons: Heart rate monitor can malfunction
Disclaimer: The information provided in this post is for educational purposes only. This is not a substitute for a medical appointment. Please refer to your physician before starting any exercise program.