A Calf Compression Sleeve Guide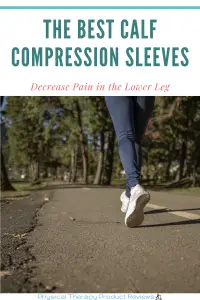 Calf injuries and shin splints may not sound as scary because of how common they are. However, in a study done in 2017 about one in ten athletes suffered calf/lower leg muscle-related injuries. Furthermore, the study concluded that increasing age and previous injuries were linked to future calf strains (1).
Lower leg injuries and calf strains are a little bit of a double-edged sword. While athletes are susceptible to them for overuse, it's actually the people who are inactive who are more at risk. Not feeling that spring in your step as you get older? It's because our fast-twitch muscle fibers slow down as we age, causing that casual pick-up game to be a little less casual.
And with the Centers for Disease Control reporting that only about 23 percent of all U.S. adults get the recommended exercise per week we all feel a little more vulnerable to lower leg injuries (2). Something as simple as a slip could cause a calf injury resulting in anywhere from days to weeks to recover. (3).
The good news is that no matter what side of the fence you fall on (warrior-athlete, Netflix-binger, or both) it's all very treateable with aides such as calf compression sleeves.
What is a Calf Compression Sleeve?
Think long-sleeve for your lower leg. While there are many companies that make them, compression sleeves are similar in the fact that they are a tube-like stretchy material that fits snugly around your calves and shins. Whether it's for your sport or being on an airplane, calf compression sleeves benefit everybody. Calf sleeves allow the joints to feel alleviated stress because the muscles are capable of working more efficiently when compressed. This sets off a chain reaction of benefits that's worth talking about.
How to Put on A Calf Compression Sleeve
What are the Benefits of a Calf Compression Sleeve?
Imagine if you could promote faster recovery, take care of a current calf strain, and prevent future injuries? Well, you can when wearing a sleeve and that's just to name a few positives. You can also count on:
Decreased pain: 
The fit of the sleeve prevents less vibration and movement of the muscles, resulting in less strain and stretching of the tendons when wearing it.
Improvement in blood flow:
Compression also pushes blood back to the heart at a faster rate (up to 40 percent during activity and 30 percent during recovery)  allowing better blood circulation (4).
Decreased swelling:
When someone sprains an ankle the first thing that needs to be done is to wrap it tightly. This is to limit swelling which is the exact function of a compression sleeve.
A decrease in perceived muscle tightness:
Wearing fabric that helps with temperature control aides in keeping muscles loose and prevents them from tightening up. This explains why muscles are more likely to get injured in colder climates.
Reduction in post-workout soreness:
Wearing a sleeve keeps lactic acid build-up to a minimum, which is what causes muscles to feel sore and tight after experiencing fatigue.
What Common Leg Injuries Would Benefit from a Compression Sleeve?
When wearing a calf compression sleeve you can treat the most common lower leg injuries. Imagine no more nagging shin splints or aching tendonitis. Here's why.
Shin Splints
Overusing the tendons and ligaments in your leg is the number one cause for shin splints. This doesn't happen when the muscles are more relaxed and less fatigued.
Calf Strains
Over stretching your muscles because they are too tight or not warmed up properly is significantly reduced when using a compressor.
Achilles Tendonitis
Similar to shin splints this type of injury is most felt in the back of the leg rather than the front. And just like shin splints the release in muscle and quick recovery promoted by the tight fit helps in preventing tendonitis in the first place.
Muscle Soreness 
Recovery for everyone is important and that's why increased circulation and stopping excess lactic acid build-up plays a major role in the restoration of muscles. That's exactly what a calf compression sleeve is known for.
The Best Calf Compression Sleeve
BLITZU Calf Compression Sleeve
Summary: As the #1 physician's recommendation for years BLITZU Compression Sleeve offers up-to-date technology in their products to make sure you can work harder while your calves work smarter.
Pros: Customers have said that quality has been a major pro for this product as many of the sleeves are identical which is important when dealing with injuries on different legs. Along with making a quality product BLITZU has been highly rated for durability and long-lasting sleeves.
Cons: Sizing at BLITZU is a little more general with there only being two groups to choose from. You're either a S/M or L/XL which some people find to be too broad.
Crucial Compression Calf Sleeves
Summary: The Crucial Compression Calf Sleeves have details that really make a difference. Such as little rubber dots that keep the sleeve from slipping down the leg. This is an overall calf sleeve that is well thought out top to bottom.
Pros: This brand offers a little more bang for your buck as they give an affordable option for the market. They also offer a 100% money-back guarantee if you aren't happy with your purchase. Reap the same benefits for a better price.
Cons: While some customers love the thickness of this sleeve, others consider it to be too much.
Rymora Calf Compression Sleeve
Summary: If you are someone who likes options then consider Rymora's Calf Compression sleeve where you can choose from a variety of colors. Also, getting the fit right is important to them so they offer six different sizes. Whether you're a newbie to calf compression or a lifelong supporter, there's a sleeve for everyone.
Pros: This compression sleeve has a great fit keeping everything in place without it being too tight. This allows users to wear them for longer periods of time.
Cons: It's possible that after consistent use, depending on how often you are wearing them, the material will start to thread or pull.
BAMS Bamboo Leg & Calf Compression Sleeve
Summary: With bamboo being the strongest and most flexible plant out there, the BAMS compression sleeves offer a different material compared to polyester/nylon sleeves. This soft sleeve also offers 3x more moisture-wicking quality than other fabrics.
Pros: This sleeve offers a natural choice of synthetic materials. This allows the sleeve to be breathable while moving sweat quickly to the outer surface at a faster rate.
Cons: This sleeve is a real winner with little to no complaints. However, if you do have an allergy to bamboo, this one is not for you.
Run Forever Calf Compression Sleeve
Summary: The Run Forever Sports Compression Sleeve has been in the calf game for a long time and knows what you need to get the job done. With four sizes to choose from their nylon/lycra blend offers maximum comfort while keeping the benefit of compression.
Pros: They stand by their product so if you don't like the fit you don't have to worry. They'll be glad to assist you. Many people however do stand by their product as they've been a popular choice for quite some time.
Cons: This sleeve can run a little longer in length than other companies and some users have found this to be slightly uncomfortable.
Disclaimer: The information provided in this post is for educational purposes only. This is not a substitute for a medical appointment. Please refer to your physician before starting any exercise program.