Maintaining your health in the modern world is becoming an increasingly glaring problem. With many people having to work two, or even three jobs just to make ends meet, health eventually takes a back seat.
The constant work and stress take its toll on motivation and often when people end their day they simply don't have the energy or time to go to the gym, work out, go home, and shower.
Having at-home equipment such as a treadmill is a great way to make working out easier and more convenient.
It's an efficient use of time, readily available, for whenever you have time and have the energy to exercise.
People often think that having home exercise equipment has to be expensive but this isn't always the case. Some of the budget treadmills under 300$ can offer a great way to stay healthy at home.
Comparison Table for Budget Treadmills
About Budget Treadmills
There are all manners of treadmills that are available in the market that have features such as heart monitoring, calorie counting, belt resistance, and adjustable grading.
All of this is designed to make these high-end features seem like a worthwhile investment, often reaching prices of over $1,000. For higher-end treadmills see our post on the best treadmills for low back pain here.
At the very end of the day, the point of a treadmill is to run, burn calories, build conditioning, and cardio. So if you are looking to make a solid investment in a treadmill, a lower-cost treadmill will do the job just fine.
In fact, the higher-end treadmills with complex sensors and systems may be more likely to break and result in a costly repair.
What's the Biggest Difference Between Budget and High-End Treadmills?
Budget treadmills typically do not have the features and benefits found on higher end models. They are designed to help you maintain an active lifestyle without the burden of owning a high-end treadmill, which can cost upwards of $3,000 or more.
While it is true that budget treadmills lack some of the bells and whistles found on the higher priced models, they are ideal for users who want to walk and jog a few times a week.
Their affordability also makes them an attractive option for those looking to test out the treadmill experience, especially since it costs far less to purchase a budget machine than it does a high-end treadmill.
Before you make your final decision, it is important to understand how budget treadmills are different from high-end models.
Why Are Budget Treadmills More Affordable?
There are several reasons why budget treadmills are generally less expensive than their higher end counterparts.
The first has to do with what goes into manufacturing and assembling the machine itself.
There is simply less technology and more machine to make a budget treadmill. High-end treadmills require both superior components and assembly to deliver the type of ride you expect, while cost efficient models need less from each.
Additionally, because they are designed for users who want to maintain an active lifestyle on a limited budget, they tends to be fewer features included which helps keep the cost down.
Features that you may not find or have less features are:
touchscreen display
larger belt size
larger motor
shock absorbing
amount of incline
noise level
Budget Treadmill Design
When it comes to treadmill design basic features are generally enough. When it comes to treadmills that cost less than $300 you want to look for a few features to make sure you are getting what you need for your home and exercise needs.
Does this model fold and is it easy to move? Since this is an at-home piece of equipment being foldable and movable is pretty important. Allowing you to go about your day without constantly having to move around the large piece of equipment.
Does the model come with handrails for safety?
What speed is the model capable of?
While the lower-cost models of treadmills may not be as aesthetically pleasing, this is all the functionality a person needs in order to get a quality piece of exercise equipment for the home.
Budget Treadmill Motor
One of the deciding factors of cost in a treadmill is its motor. Besides just the feature of being foldable and having rails, the motor determines how much exercise use you can get out of the machine. The treadmills in this price range can reach speeds of more than 6-7 mph. This is about the speed of a fast jog and more than enough for a good workout.
While Usain Bolt has a phenomenal record of 28mph while sprinting, a sustained fast jog will do more than enough to maintain cardio and muscle strength, burn calories, and improve heart health.
Budget Treadmill Belt
Another thing to take into consideration when purchasing a treadmill is the width of the belt.
Different people have different running patterns, and many people have different sizes. The belt width in this price range can be anywhere from 14" to 40" in width.
A good rule of thumb here is to use your shoulder width. This should determine how wide you need a belt to be on a treadmill.
Budget Treadmill Accessories
Some of the common accessories the budget treadmills may have and that you can look for are:
Touchscreen: You can expect models in this price range to include a touch screen for ease of use and control, and to quickly review your statistics.
Heart Rate Monitor: Models of this price range have a Heart Rate Monitor.
Ability to Incline: These models can incline, naturally increasing the effort needed and calories spent.
Ability to Fold Up: Folding is one of those features that makes at-home treadmills truly useable.
Wheels for Transportation: Having wheels allows these devices to be quickly and efficiently stored in between exercise sessions.
Easy to Lubricate: Being able to access the moving parts of the device and maintain them is crucial to the long-term life of the device. Here is a video on how to lubricate a treadmill belt.
Safety auto-stop feature: Mistakes happen, and on a treadmill having a safety auto-stop helps to prevent injury
The Best Budget Treadmill Under $300
Budget treadmills are still a great way to get in a quick run at home, especially when the weather is bad. Most of the name brand treadmill manufacturers have a budget treadmill and we do recommend staying wth the brands that are known for quality in their other equipment.
Note: Some of these treadmills retail for over $300 but are on sale at this time. 
Sunny Health & Fitness Budget Treadmill
Summary: The Sunny Health And Fitness budget treadmill is another highly compact budget treadmill built to really save space in the home. Sunny Health has a reputation for providing quality exercise equipment and excellent prices. We've heard great things about their customer service and love their products.
Pros: The Sunny Health & Fitness Exercise Treadmill is designed to be easily folded and moved. The whole machine comes in at a weight of 103lb, easily being one of the lightest treadmills on this list.
Cons: Unfortunately, due to the lightweight and compact design, this machine may not be suitable for those bigger than a medium build or with a long stride. 
Weslo Cadence G 5.9i Cadence Folding Treadmill
Summary: The Welso Cadence Folding treadmill comes with Bluetooth technology allowing it to connect to a fitness app. This looks and feels like a much more expensive treadmill than it actually is.
Pros: The fitness app that this model connects to has nearly unlimited exercise options, being able to suit and build different exercise programs for the user. The frame of the treadmill also includes cushioning to help preserve the knees from impact.
Cons: Unfortunately, in order to activate this treadmill the user will have to first subscribe to the iFit application at a rate of $15 a month.
SereneLife Budget Treadmill
Summary: This is a compact treadmill offered by Serene Life for those on a budget. It's able to provide some of the same features that more expensive treadmills offer but at a smaller price point.
Pros: This model of the treadmill has all of the above-mentioned features: a heart rate monitor, a safety auto-stop feature, handlebars, and an LCD screen. This model also folds into a very compact form with wheels that allow it to be easily moved. Also, lubrication for the motor is very accessible and convenient for users.
Cons: This model may be too small for people larger than an average build. 
XTERRA Fitness TR150 Folding Treadmill
Summary: Another treadmill for those on a budget. The Xterra Fitness treadmill is a great choice for any home gym. The company has a great reputation for making quality products.
Pros: This treadmill has 12 pre-programmed workout routines for your specific exercise needs. Also, this model can reach speeds of 10-mph, which is plenty for any serious runner.
Cons: The width of the belt on this machine is 16"
Best Choice Products 800W Folding Electric Treadmill
Summary: The Best Choice Treadmill is a well-rounded budget treadmill, with solid design and engineering. We love the simplicity with 3 set programs; beginner, intermediate, and advanced. One of our favorite budget treadmills for runners simply looking to get at it.
Pros: This treadmill boasts an incline feature, allowing the user to experience exercise in three different grades of difficulty. The treadmill itself is very low noise and smooth operating, letting you watch your favorite t.v. show while exercising easily.
Cons: This treadmill tops the price chart for budget treadmills just barely under 300$.
Conclusion
With the power and efficiency of these budget treadmills at such an affordable cost, it hasn't been easier to maintain cardio in the home. With the lightweight design and foldability, storage for many of these machines is a breeze. An at-home gym that can be tucked away with ease, home exercise hasn't been easier.
Other Great Rehab Related Articles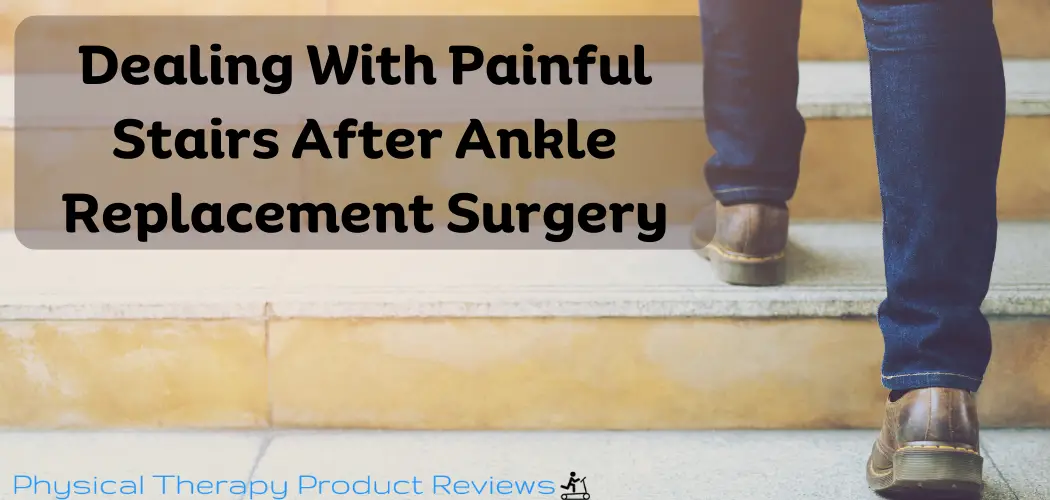 After undergoing an ankle replacement surgery, patients may experience pain when climbing stairs. The level of pain can vary from mild discomfort to severe pain, ...
Disclaimer: The information provided in this post is for educational purposes only. This is not a substitute for a medical appointment. Please refer to your physician before starting any exercise program.