If you've ever suffered from elbow pain or other musculoskeletal problems, then you know just how damaging it can be to your daily routine. Various injuries or conditions can cause elbow pain.
The most common cause of chronic elbow pain can also be a result of Arthritis. Osteoarthritis, which is the most common form of arthritis, is the wear and tear of the cartilage around the joints. This often happens as a result of wear and tear during aging or after a serious injury. The difficult thing about elbow pain is that it affects all aspects of life. Try doing something with only one arm!
If you or a loved one is suffering due to elbow pain, try one of our recommended products below to start feeling better soon! 
Improve Arm Strength with a Desk Bike
This DeskCycle pedal exerciser machine is the perfect gift to keep your loved ones active and relieve their elbow pain. The compact size makes it perfect for putting in your home or office. Easy low resistance exercise is a great way to build strength in painful joints.
The desk bike can be used easily with desks as low as 27 inches. The bike pedals have a quiet, healthy, and smooth motion that is easy on your joints. The product comes equipped with eight different resistance settings to accommodate people that want to burn calories at all different levels. Other pedal exercises typically only come with four different resistance levels.
The LCD display of the desk bike also includes five functions and can count up to 1000 minutes. You can monitor your time, distance, speed, calories, and scan with the LCD display.
Help With Pain and Muscle Tension with a Trigger Point Massage Gun
This deep tissue massage fun by Flyby is the perfect gift for those who want relief from their constant elbow pain. The Flyby F1 Pro handgun comes equipped with a quiet handheld percussion massager. It can be conveniently placed in a handbag and will not be loud and bothersome in a crowd of people.
It makes it easy to give yourself a massage! 
This lightweight gun has a long battery life, so it is perfect for travel. The gun includes three speeds and six heads to give the user different options for different pain levels. It is the perfect gift to give to any athlete in your life who wants relief from muscle soreness and elbow pain.
Target Constant Pain with a TENS Machine
The AUVON 4 Outputs TENS Unit helps relieve elbow pain by targeting specific pain levels. Unlike the standard dual channel TENS UNIT, this product comes with four channels (A1, A2, B1, B2).
Users can apply up to eight pads at once with the four outputs, which maximize their pain relief.
This unit combines TENS and EMS to provide two therapies in a single device. The TENS portion helps stimulate the muscles and relieve pain, while the EMS uses electrical impulses to elicit muscle contraction and improve strength.
This AUVON product comes with 24 different modes for the electric pulse massager. The dimensions of the black electrode pads are 2″ and 2″ x 4″. You can set the timer on the machine for anywhere from 10 to 90 minutes. That way, you do not have to keep watching the clock. The device also comes equipped with a long-lasting lithium battery that can recharge. The TENS unit's pads are made of leading industry adhesive so that they will stick firmly to your skin.
Start Healing with an Elbow Pain Compression Sleeve
Venom Sports fitness has created an amazing compression sleeve that helps relieve elbow pain. The sleeve comes with heat retention and focused compressing, which helps joint inflammation, tennis elbow, golfer's elbow, arthritis, and more.
The sleeve works by decreasing muscle swelling while also giving support to the tendons and the elbow joint.
The sleeve also has a lightweight design for added comfort. You will be able to move your arm with minimal restriction. The sleeve is made from high-quality fabric with elastic support that can withstand daily wear and tear. 
Put a Pause on Pain with Elbow Lidocaine Patches
These Icy Hot Max Strength Lidocaine Plus Menthol patches are perfect for relieving elbow pain. The patches specifically target pain points for the best results. The Lidocaine patches work by focusing on pain receptors and de-sensitizing aggravated nerves. Both of the temperatures on the patches work together to create long-lasting and maximum relief. The heat will help relieve any achy muscles, while the icy coolness will dull the pain. These Lidocaine patches can be an amazing gift for a loved one who suffers from joint pain, cramps, muscle aches, or arthritis.
Improve Elbow Strength with a Resistance Band Set
This set of resistance bands by Black Mountain Products is the perfect gift for improving elbow strength. The set comes with an ankle strap, exercise chart, and door anchor for added convenience. It also comes with a carrying case which makes it convenient to travel anywhere with the set without worrying about damaging it.
The set comes with five bands with different colors and weights. All of the bands are 48 inches long. That stackable set of bands can produce a maximum of 75 lbs. Also, this set of resistance bands comes with a manufacturer's lifetime warranty. Black Mountain is very confident in the quality of the products they create. 
Try Voltaren - A Topical Pain Cream That's Prescription Strength
This topical pain cream by Voltaren is prescription strength and ideal for gifting loved ones with arthritis. There are two 3.5 oz/100 g tubes included in each package. The cream reduces stiffness and improves mobility for those who suffer from elbow pain.
The diclofenac sodium in the gel deeply penetrates the skin to attack pain caused by arthritis directly. Users can apply it to areas such as their hands, feet, ankles, and knees along with the elbow. This cream is also non-greasy, making it more comfortable to wear if you have to be productive with your hands soon after putting the cream on.
Worst Gifts for Someone with Elbow Pain
Even though most gifts are meant to help, there are some that might be taken the wrong way or even cause more of a financial burden.
Try and avoid any gifts that target anything the person may be self-conscious of their image or weight.
Some examples include:
A posture brace 

Anything to do with weight loss or underarm flab

Any subscription service to vitamins, pain creams, etc that they would have to continue with

A gift of treatment that they would need more treatments than the gift is for – chiropractic or massage
FAQ About Elbow Pain
How is Elbow Pain Diagnosed
The location, mechanism of injury, and aggravating movements go a long way in diagnosing elbow pain. The most common areas of elbow pain are in the medial and lateral compartments which are often overuse or tendonitis type of issues.
What are the Most Common Type of Elbow Pain
The most common types of pain in the elbow are tendinopathy's or tendonitis. This includes Tennis Eblow and Golfer's Elbow. If you are a pitcher or another type of over head athlete like a Quarterback then ligament injuries on the inside of the arm become more common.
What's the Difference Between Golfer's Elbow and Tennis Elbow
They are very similar in pathology but the main difference is the location of the injury. Tpyically both injuries are from repetitive overuse injuries, neither require surgery, and most cases respond well to Physical Therapy.
In Tennis Elbow the tendonitis is located in the forearm and wrist extensor tendons. The pain is more on the top or the outside of the arm.
In Golfer's Elbow the tendonitis and injury is on the inside of the elbow where the forearm and wrist flexor tendons are located.
Truly, thinking of the perfect present to give your loved ones can be a challenging task. Why not give them something they need as opposed to something they want. Your loved ones will appreciate you for helping relieve their elbow pain by gifting them with one of the items listed above!
Other Great Rehab Related Articles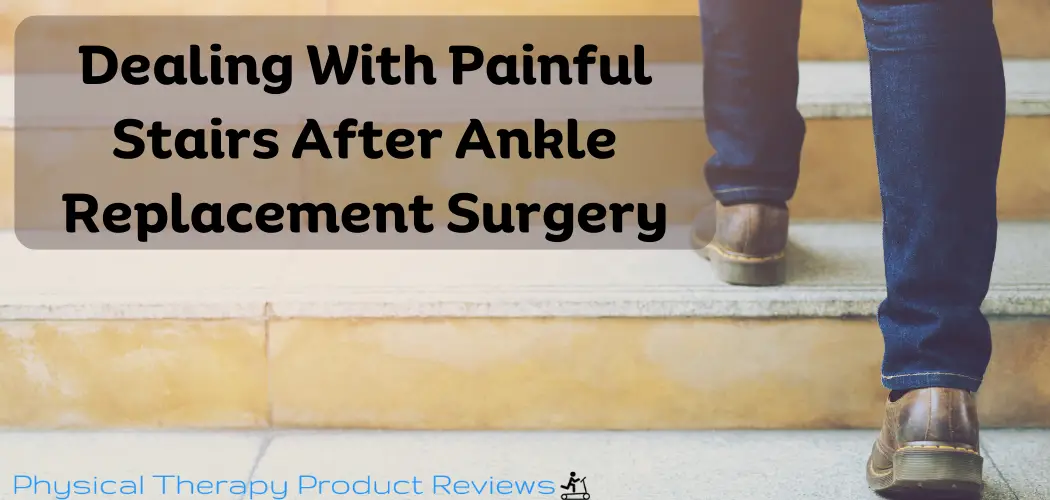 After undergoing an ankle replacement surgery, patients may experience pain when climbing stairs. The level of pain can vary from mild discomfort to severe pain,
Disclaimer: The information provided in this post is for educational purposes only. This is not a substitute for a medical appointment. Please refer to your physician before starting any exercise program.