Are you tired of paying a massage therapist to relieve your sore, achy muscles only to end up tied up in knots again when you get the bill? Tight muscles can cause an increase in pain, limit. joint motion, and reduce overall activity levels. Over time those tight muscles can lead to chronic pain and actually a reduction in muscle strength because they are always on! 
A great way to help with tight muscles is you take actions into your own hands. When your body feels like it's fighting against you(and your wallet), fight back with a trigger point massage ball.
What is a Trigger Point Massage Ball?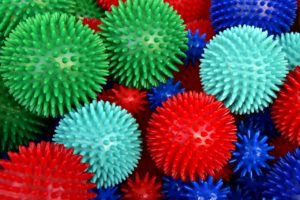 A trigger point massage ball is a simple tool used for relieving deep tissue aches, muscle fatigue, and muscle pain by using compression to target small areas.
It is a ball that comes in various sizes but is made from a firm but not solid material. This material allows for some compression but still adds a firm pressure agains tight and achy muscles. 
What are the Benefits of using a Massage Ball?
Using a trigger point massage ball can: 
Alleviate pain

Improve posture

Increase blood and oxygen flow to the muscles

Increase flexibility

Improve range of motion

Reduce headaches
How to Use a Trigger Point Massage Ball?
Using a trigger point massage ball can take some time to get comfortable with, but once you master the technique you'll be extremely happy that you took the time to learn. Below are the basic steps of using a trigger point massage ball: 
Locate the area that needs to be massaged.

Start by rolling the ball over the painful area in small circles using light pressure, applying too much pressure initially can be painful. 

Gradually increase the amount of pressure to the affected area.

Maintain a pressure that is tolerable to you.

Continue rolling the ball in small circles.
The amount of time spent on a trigger point or source of pain varies on the individual; however, the average time you should typically spend on each trigger point is around 30 seconds and no longer than 5 minutes in most cases.
How to Use a Trigger Point Massage Ball
The Best Trigger Point Massage Ball
TriggerPoint Performance Foam Massage Ball
Summary: The TrigerPoint Foam Massage Ball for Deep-Tissue Massage was designed to mimic the feel of massage therapists' hands. It is made with EVA foam for a dense, compressible surface that allows for better gripping of the muscles. 
Pros: Perfect for any age, the size is convenient, it's great for athletes, offers different densities of foam depending on the individual's need, and has a one year warranty.

Cons: Many reports of balls cracking, falling apart or splitting in half after prolonged use, and users experienced soreness of muscles after using
Kieba Massage Lacrosse Balls for Myofascial Release
Summary: The Kieba Massage Lacrosse Balls eliminate muscle knots and tension. It is easy to use and can be used anywhere. It also helps to increase circulation. 
Pros: 100% satisfaction guarantee, it's easy to use, and gives immediate results

Cons: Some customers said it is too firm, especially those new to trigger point therapy, others complained it was too small.
Massage Ball Kit for Myofascial Trigger Point Release
Summary: The Complete starter kit for myofascial trigger point release is great for beginners and people who need more than just a standard trigger point massage ball. It includes six commonly used tools for releasing pressure and muscle pain. 
Pros: Improves athletic performance, increases circulation, and has multiple tools to target different areas

Cons: Some customers reported the peanut falling apart at the seams and others noted the storage bag could be larger.
Summary: The Rocktape massage ball is a grid foam ball that combines the benefits of a massage ball and foam roller in one. It promotes blood and oxygen flow for faster muscle recovery.
Pros: It's easy to use, gives the benefits of using a massage ball and foam roller, and imitates the feeling of a massage therapist's hands.
Cons: It's not good for people who require more pressure and there are some complaints that it's too soft and loses its shape.
TriggerPoint MB Vibrating Massage Ball
Summary: The MB Vibrating Massage Ball adds an extra element to a traditional massage ball. The multiple vibration speed helps to relax your deep muscle pain and stiffness. It is cordless and comes with a charger. 
Pros: Gives the sensation of a professional massage, increases circulation, and relieves stiff muscles and deep tissue pain with vibrations
Cons: Keeping track of the cord to charge the battery is a hassle, and the battery does not stay charged after using for more than a month
Other Great Health Related Articles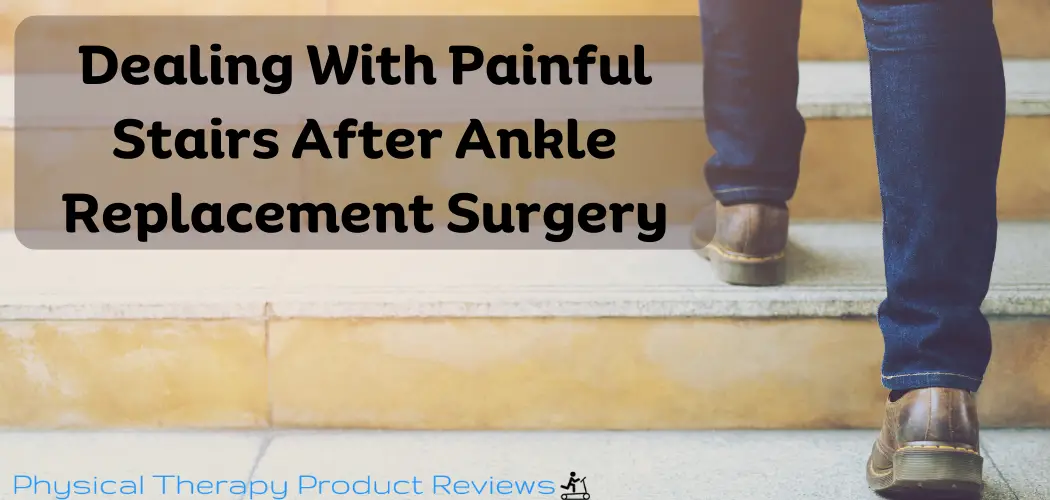 After undergoing an ankle replacement surgery, patients may experience pain when climbing stairs. The level of pain can vary from mild discomfort to severe pain, ...
Disclaimer: The information provided in this post is for educational purposes only. This is not a substitute for a medical appointment. Please refer to your physician before starting any exercise program.