Life is no fun when you're not getting enough sleep. A lack of sleep has negative effects on every aspect of our lives. Trying to sleep after having a total shoulder replacement is painful and nearly impossible. 
Not only is a lack of sleep annoying and disruptive, but it also slows down the body's natural healing process. Your body needs rest to heal properly.  
If you're having a total shoulder replacement, or are currently recovering from one, and need some advice on how to get some sleep, you're in the right place.
Sleeping after a Total Shoulder Replacement - The First Two Weeks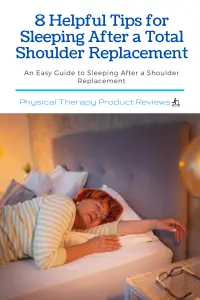 As with any type of surgery, the first two weeks are often the most painful and uncomfortable. After a total shoulder replacement, you face a lack of mobility, post-surgical pain, and trying to get comfortable when you are resting. 
This section will discuss some ways to help relieve your discomfort and get you those precious Z's that you are so desperately needing right now.
Your surgeon will tell you that you need to do this and for good reason. You don't want to inadvertently hurt your arm while you are sawing lumber in dreamland. A sling will keep your arm safe and secure so you don't wake up in a bad and potentially painful position.
Plan on wearing your sling to bed for at least 4-6 weeks after surgery.
Sleep in an Inclined Position
A recliner is the best sleep aid you can get. It keeps you in the perfect inclined position all night. If you don't have one, you'll need to use pillows to keep yourself inclined in bed.
This will also help to keep you from moving around too much, keep things stable, and your shoulder as comfortable as possible. This position will also mean that you are less likely to roll over onto the sore shoulder in your sleep. 
Sleeping flat on your back puts too much strain on the front of the shoulder where the surgical scar is healing. You won't be able to lie flat on your back for long before pain sets in.
Use Pillows to Support the Surgical Arm
It doesn't matter what kind of pillow you use, as long as it is comfortable for you. Many people use wedge pillows, which work well. Wedge pillows are great because you won't have to adjust a whole pile of awkward pillows every time you move.
Using wedge pillows maybe help you sleep in your own bed but in a reclined position. Most people love their wedge pillow sets that they keep using them long after they have healed from the surgery.
Follow Your Surgical Precautions
If you pay close attention to what your surgeon and physical therapist recommend and stick to a strict recovery schedule throughout the day, you won't have as much pain at night when you are trying to sleep.
A strict recovery schedule means you are taking your medication as recommended, doing the recommended exercises if any, and getting plenty of rest. 
You can only speed up the healing process so much, but you can certainly slow it down and make it worse.
Keep Your Blood Flowing and Body Moving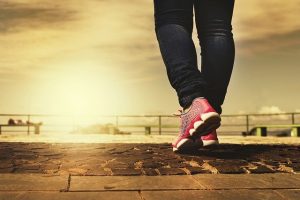 If you're physically able to go for a walk, do it!
You don't need to break the speed-walking record or anything, but taking a casual stroll around your property or neighborhood will keep your blood pumping.
Circulation promotes healing and reduces pain caused by swelling and stiffness.
Ice the Shoulder.... A Lot
Although too much ice can be harmful, 15 – 30 minutes of ice can do a lot of good. Before you are ready to settle down for your evening nap, sit back and relax with a soft ice pack on your shoulder. Be careful not to let it sit longer than 30 minutes.
We actually recommend using an ice machine that fits perfectly on the shoulder and has an automatic timer that you can set and forget about it. This is especially nice when you fall asleep.
Pro-Tip: If you don't have soft ice packs, a bag of frozen peas or corn will do the trick!
Avoid Sleeping On Your Bad Shoulder
Putting weight on your bad shoulder may cause further damage, delay the healing process, and increase swelling and stiffness.
This is one reason why it's important to wear the sling while you sleep. During the first few weeks you will be on narcotic pain medication and you might not wake up if you roll on the surgical shoulder.
Pro Tip: Create a barrier of pillows to prevent you from rolling over.
This may sound funny, but if you can't sleep in a recliner, it is essential to build a cradle of sorts out of pillows or rolled blankets to prevent you from rolling over onto your bad shoulder. 
Sleeping After Shoulder Surgery
Products to Help You Rest and Recover Faster After a Shoulder Replacement
The following products are examples of items you can use to aid your recovery process and make you more comfortable so you can rest more easily.
If you cannot sleep on your back or in a reclined position, this may help end your sleepless nights. This amazingly innovative design allows you to lie in your favorite positions without putting unnecessary pressure on your shoulder. This wedge offers many benefits other than shoulder relief. You can use it as a body pillow to support your knees, neck, and back.
If you can afford it, look into getting an electric recliner. This thing can do almost everything but was your dishes and fold your towels. If you are looking for a place to recline and relax as you recover, getting a chair like this will surely be beneficial. This is just one example of many options available. Some are more basic, while some are like the one discussed here with all the bells and whistles.
Check with your surgeon or physical therapist before wearing this support. This is a fantastic way to support your shoulder and get the hot or cold compression that you desire. It can be worn on either shoulder and is reported to help speed up recovery. 
Overdoing It After a Shoulder Replacement Extends Recovery Time
Other Great Rehab Related Articles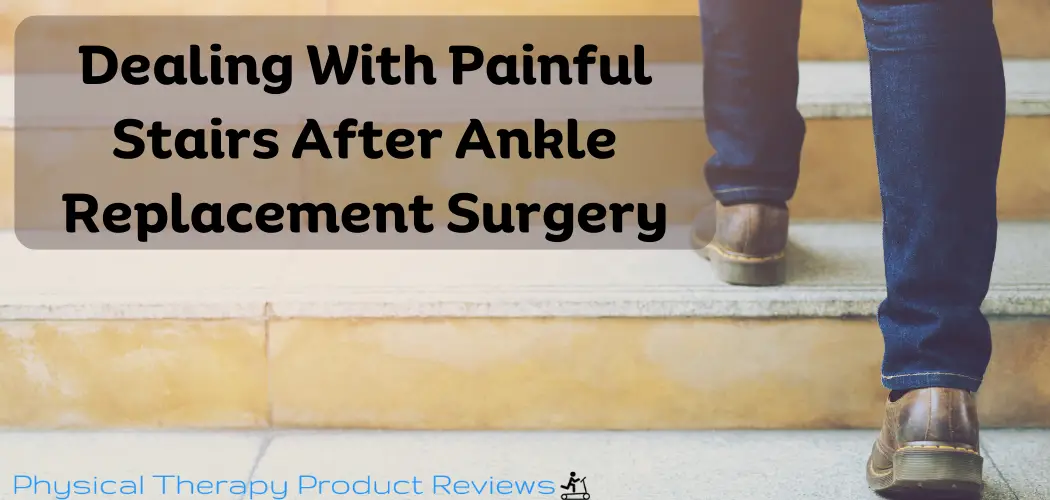 After undergoing an ankle replacement surgery, patients may experience pain when climbing stairs. The level of pain can vary from mild discomfort to severe pain,
Disclaimer: The information provided in this post is for educational purposes only. This is not a substitute for a medical appointment. Please refer to your physician before starting any exercise program.